3 Best upgrades to Boost Performance of Dodge/Ram 1500 | Best Mods combination
Are You in search of best performance upgrades for your Dodge/RAM 1500?
If yes!
Then you landed at right place.
Here in this article you will find the Top 3 Best Mods and upgrades that will helps you in boosting your Dodge/RAM 1500 Truck's performance level.
After reading this article you will be ready with the combination of 3 Best Mods that will shoots the horsepower, torque and MPGs while maintaining the engine sound and looks of your Dodge/RAM truck.
This list is totally based upon our research and customer reviews. If you want to add any other mod in this list, Feel free to comment we will add that in this list later on.
So without wasting much time let's start our list of 3 Best Mods/Upgrades that will boost the performance level of Dodge/RAM 1500.
Here we go!

3 Best Mods to Boost Performance
Cold Air Intake with aFe Power Momentum GT 54-72102 Dodge RAM HEMI Performance Intake System (adds up to 14 Hp & 19 lbs x ft Torque)
Cold Air intake plays a important role in vehicle performance level.
Basically the purpose of Air Intake is to deliver right amount of air into engine. Cold air intake sucked cold air and mix it with fuel, burnt and exhausted. And as the density of cold air is much higher than of hot air, cold air brings more oxygen and makes more power.
You will see improved performance with more horsepower, acceleration and gas mileage along with good sound by using cold air intake in your vehicle.
Now moving towards our First mod and one of the best air intake that boost the performance level of your Dodege/RAM is aFe Power Momentum GT 54-72102 Dodge RAM HEMI Performance Intake System.
You can also Choose from our List of top 5 Best Cold Air Intake for Dodge/Ram 1500 to boost the Performance Level.
Outflow your factory intake by up to 23 % and boost the trapped power of your engine with the aFe Power Momentum GT 54-72102 Dodge Ram HEMI Performance Intake System.
With its unique design the aFe Power Momentum cold Air intake system adds up to 14 Hp and 19 Lbs x ft torque gain .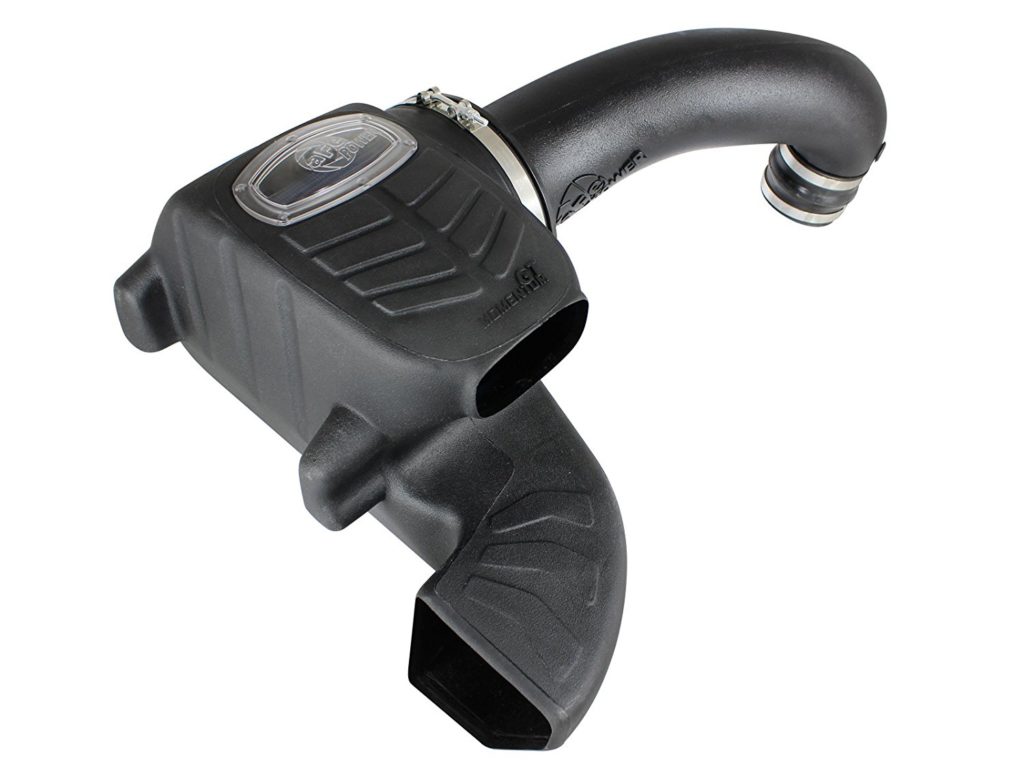 The smooth one-piece sealed housing with auxiliary air scoop is used to eliminate the use of multiple-piece housings and ensure the coolest air intake charge available.
A large, clear sight window is used for a hassle-free filter inspection and an aggressive style.
The Momentum GT intake is designed around a pre-oiled, large 9″ round 360 degree radial flow performance air filter with 5-layers of progressive finer mesh cotton media providing maximum airflow and performance.
The unique air filter-to-housing interface (patent pending) allows for maximum filter size which increases the available air volume while simplifying the installation process.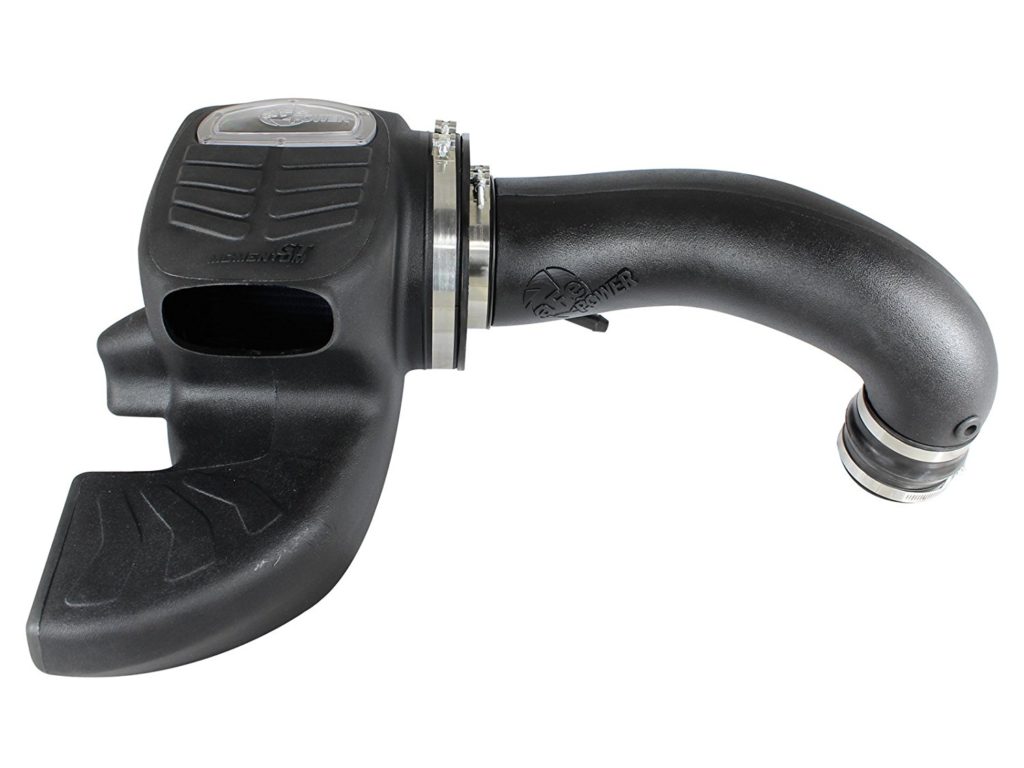 A Premium stainless steel T-bolt clamps and a urethane hump coupler are used for strength and durability while also providing the most secure installation available.
Momentum GT intakes are designed with fewer parts for a quick and simple installation. No Cutting or Drilling required on factory parts.
This product is not CARB exempt at this time and is not legal for sale in California or use on vehicles registered with the California Department of Motor Vehicles.
Check out Customer Reviews & ratings
Key Features
+14 HP / +19 lbs. x ft. Torque max gain
Outflows factory intake by up to 23%
CAD-Designed Roto-Molded Intake Tube
One-Piece Sealed Housing
Pro 5R oiled 5-Layer Progressively Finer Mesh Cotton Gauze Oiled Media for Maximum Performance
Built-In Sight Window Provides Easy Inspection of Filter Without Disassembly
Unique (Patent Pending) Filter-to-Housing Interface for Easy Installation
No cutting or drilling on factory parts for faster installation
---
back to menu ↑
Programmer Upgrade with DiabloSport T1000 Trinity Dashboard Tuner and Diagnostic Tool (adds up to 100-185 Hp & 220+ Torque)
Programmer and Tuners are both designed to maximize your engine's power output with easy plug n play installation. These will give your truck big boost in horsepower and torque along with helps your engine run more efficiently therefore increasing your MPGs.
While choosing tuner for your vehicle you need to determine exactly what kind of results you wants to achieve with your performance chip. Whether you want horsepower, torque and fuel economy or you want it as speed limiter, tire size, rev limit and also use it as checking and clearing diagnostic cods. All depends upon your need.
So moving towards our 2nd Mod and one of the top rated programmer that boost the performance level of Dodge/Ram 1500 is DiabloSport T1000 Trinity Dashboard Tuner and Diagnostic Tool.
Founded in 2000, DiabloSport designs and manufactures the industry's most unique line of performance products for the automotive industry. Featuring automotive products made in the USA, DiabloSport has become a well-known leader in electronic handheld programmers of Engine Control Units for Ford and GM.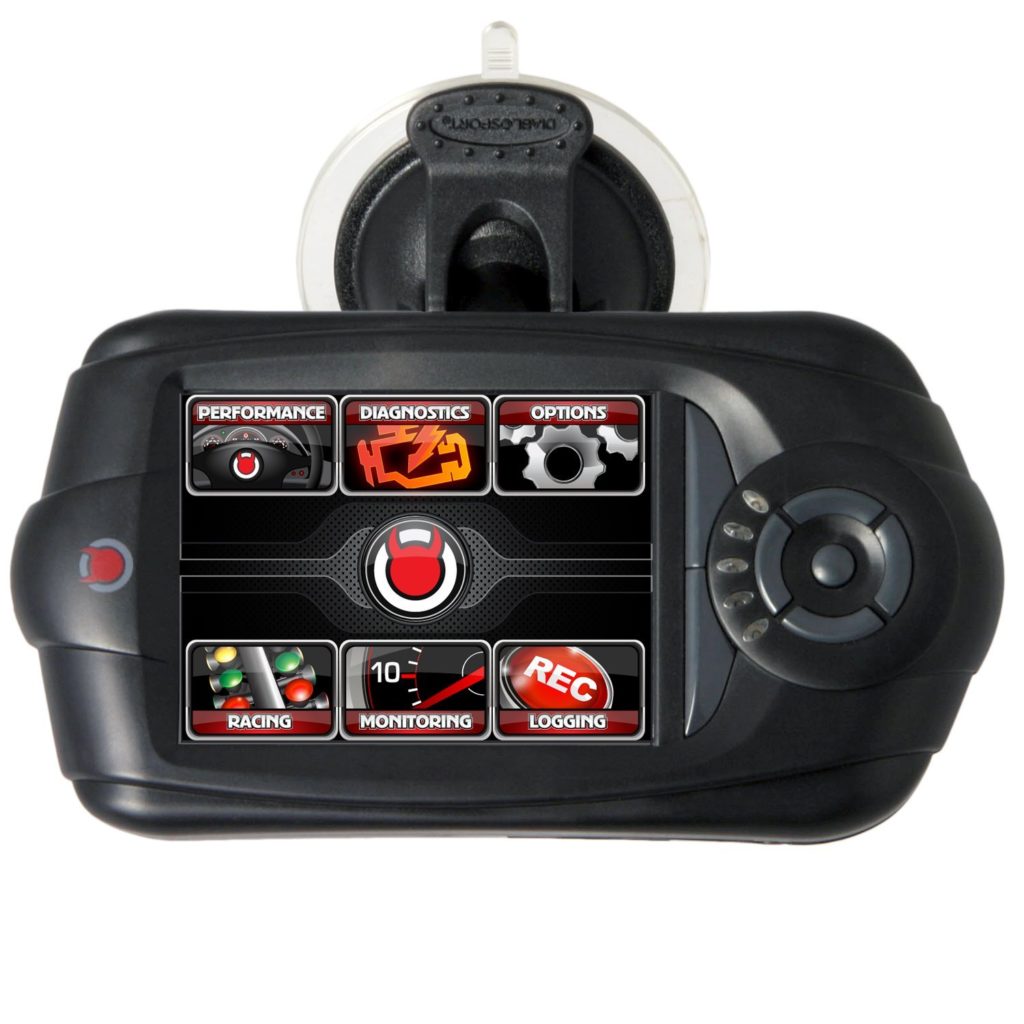 Coming back to DiabloSport Trinity, It is one of the most advanced devices of its kind on the market featuring full Reflash/Reprogram capability, Advanced Data Acquisition, and Customizable Gauges–all displayed and controlled on a color touch screen and housed in a slim, custom-styled, easy to use device.
For all diesel application, the trinity will come preloaded with at least three tuning levels-
The First one is Towing-You can increase your truck's factory towing capacity with the DiabloSport Trinity tuner as it improves your truck's power by 40-60 HP and an average of 100 Ft/Lbs of torque . This setting is designed to increase drivability while towing
Next The Trinity also adds between 60-100 HP and 180-200 Ft/Lbs of torque, with economy gains averaging 2-3 MPG on the highway.
The third tune is the Extreme level-this tune adds anywhere from 100- 185 horsepower and 220+ Ft/Lbs. of torque and is specifically for tearing it up at the strip.
Now coming towards the box, you can get the DiabloSport Trinity unit along with 6-foot ODB-II cable ,Trinity software CD, 6-foot USB to Mini USB cable, suction cup mount, quick start guide, DiabloSport Sticker, warranty.
The Trinity tuner also use for gasoline applications adjusting Idle RPM , Shift points , Mass Air Table . Cooling fan temperature, Spark Advance/Retard, Fuel Tables/WOT Fuel, Raise Speed limited and Raise Rev Limiter.
Thanks to its programmer LED warning lights that can act as a visual gauge alarm for any individual piece of data, or even as a programmable shift light.
With the Trinity tuner you don't need to go out for reading and clearing your trouble codes as the DabloSport Trinity itself act as a diagnostic code reader.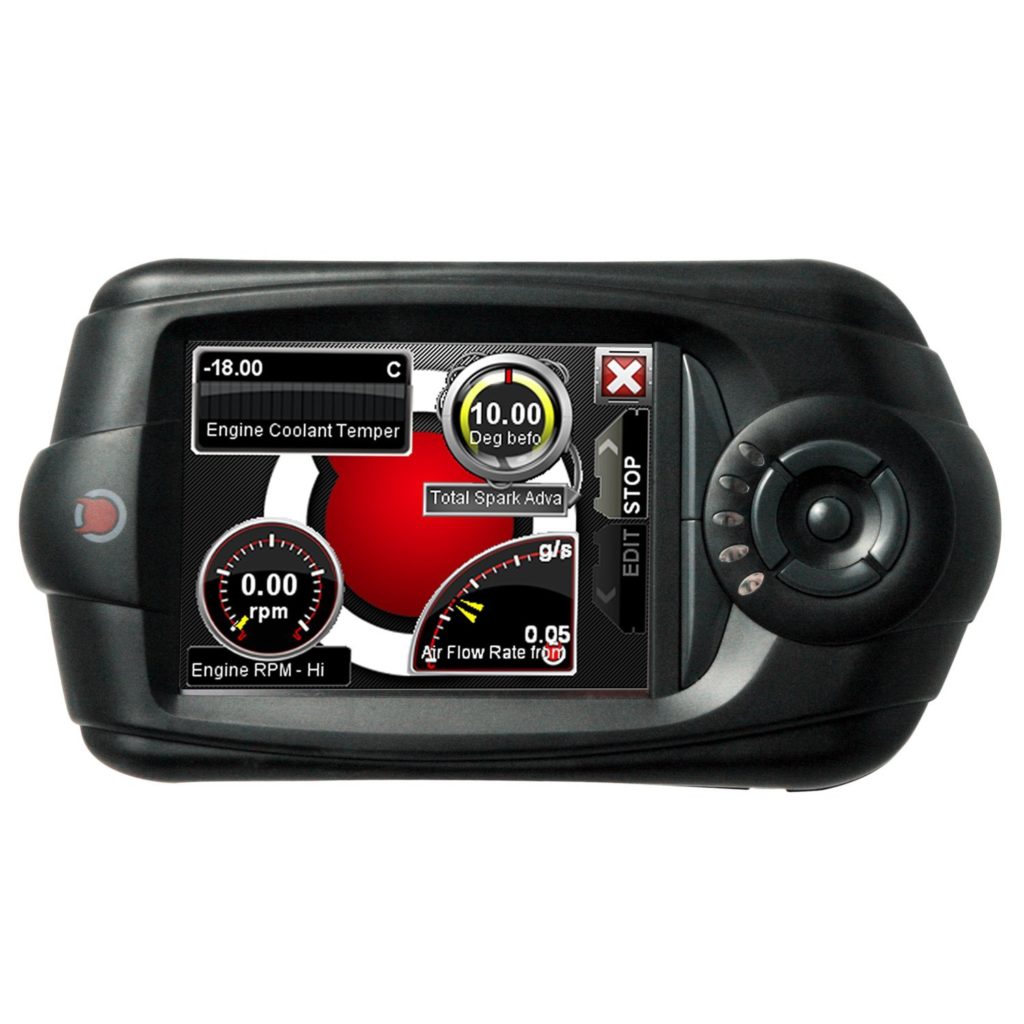 The DiabloSport Trinity tuner can easily download its updates- you just have to enter your information to register the tool on the official website and the DS Downloader takes care the rest.
Check out Customer Reviews & Ratings
Key Features
Preloaded with Three Tuning applications for Diesel vehicles
Available in Towing , Economy and Extreme mode for Diesel vehicles
Adjust Spark Advance/Retard, Fuel Tables/WOT Fuel, Idle RPM , Shift points and more in gas vehicles
Full Reflash/Reprogram capability, Advanced Data Acquisition, and Customizable Gauge
Act as a virtual Guage Monitor/data logging
Reads and clear trouble codes, act as diagnostic code reader
Comes with LED Warning lights
Automatic Online updated
Comes with One-year Warranty and 30- Day Guarantee
---
Conclusion
We hope you enjoyed the article 3 Best upgrades to Boost Performance of Dodge/Ram 1500 | Best Mods combination to Boost Performance to its entire bits.
We do hope that this article helped you in making a definitive choice when it comes to upgrading your Dodge/RAM 1500 and unleashes every pinch of its power.
If it really helped you,we'll be glad if you could share this article on social media services like Google+,Twitter,linkedin,Stumple Upon and Facebook using the Sharing buttons on the Top and End of this articles.
If you have any query Feel free to add you thoughts in the comment section below.
We'll happy to know your views.Do expect a quick reply.
Stay tunned for more updates.Thank You.