5 Best Performance Exhaust Systems for 2009-14 GMC Sierra 1500 You surely want to buy
One of the best way to boost performance and get that deep throat sound from your GMC Truck is to install a new Cat-back exhaust System.
If you're looking for aggressive growl note or the deep throat sound that will also increases the power and torque meanwhile maximizing the performance than take a closer look to these 5 best exhaust system that surely fits your requirement and give your GMC truck a better look.
This list is totally created by looking after Customer Reviews and ratings and moreover the overall performance and looks of different exhausts.
You may have different choice of exhaust that suits your truck better! But if you're enthusiast looking for best performance exhaust that also comes in your budget that we assure you these exhausts will never disappoint you.
Not talking much let's move towards our list of 5 Best exhaust systems for 2009-2014 GMC Sierra 1500 that truly proves best buy for a buck.
Here we Go!
Give your GMC Sierra a unique and deep growling sound replacing the old factory exhaust with Dynomax Ultra Flow Exhaust System.
Dynomax is a recognized leader in automotive exhaust performance and is owned by Tenneco, a major player in OEM and aftermarket manufacturing (and which also happens to be the world's largest producer of exhaust systems). With extremely stringent manufacturing standards and applications to fit a vast assortment of vehicles, you can trust Dynomax to make just what you need to add awesome sound and performance to your ride.
As from the name the Dynomax Ultra Flow Exhaust system comes with straight-through design that ensures unrestricted exhaust flow and reduces back pressure.
Crafted with Stainless steel the Dynomax Ultra FloTM exhaust is free from rust and gives your truck lifelong protection with attractive shiny look.
Moreover its stainless steel mufflers feature 100-percent welded construction for lifelong durability.
The unrestricted, straight-through design is dyno proven to flow up to 2,000 SCFM and support up to 2,000 horsepower.
Each muffler uses the exclusive Continuous Roving Fiberglass (CRF) Technology (in which long and narrow bundle of fiberglass put inside mufflers) to absorb unwanted interior resonance while maintaining a deep performance tone.
The 'Pure Unadulterated POWER' of DynoMax Ultra Flo Welded mufflers are backed by a Limited Lifetime Warranty and exclusive 90-Day Performance & Sound Guarantee.
All Dynomax Performance Exhaust Systems bolt on for easy installation.
Your vehicle's complete exhaust can be quickly and easily customized with an emissions-legal premium performance system from Dynomax.
Check out Customer Reviews & Ratings
Key Features
Custom designed for 2009-13 Chevrolet / GMC Silverado/Sierra 1500 4.8L, 5.3L – Crew Cab / Short Bed; Extended Cab / Short Bed
Free- Flowing and Restriction free pipe designs
Dyno proven to flow up to 2,000 SCFM and support up to 2,000 horsepower.
5-in. Mandrel bent stainless steel tubing
Stainless steel Ultra Flo™ Mufflers Features 100% welded construction for maximum durability
Mufflers uses CRF Technology to absorb unwanted resonance maintaining a deep tone.
Bolt-on Easy installation
Comes with limited lifetime warranty.
---
For the passionate drivers who wants to take their truck to the next level, this dual bolt-on Cat back system is for you.
Gibson Performance is the industry's #1 leading manufacturer of street legal, high performance exhaust systems for trucks, SUV's, diesel, and offroad. Every Gibson product is designed for hassle free, bolt-on installation with professional looking results.
Looking to improve the old factory made exhaust sound?
If yes! then this is the option for you to get a louder and bolder exhaust sound!
Constructed from heavy duty mandrel-bent stainless steel tubing the Gibson 65637 Exhaust system allows for constant exhaust flow through the Superflow Performance Mufflers.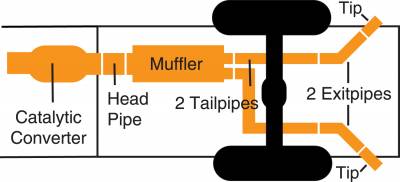 It comes with 3.5″ polished T304 stainless steel exhaust tips that exit from behind each rear tire at an aggressive angle.
Not only this with the Gibson Dual Extreme cat back system you can expect to experience gains on average of 15-20 horsepower along with noticeable increase in mileage.
Gibson muffler provides a mean performance sound and complemented with polished Stainless Tip.
Moreover the installation is quite simple! No need of welding required. Just a easy bolt-on installation.
Check out Customer Reviews & ratings
Key Features
Custom Designed for Crew Cab/Extended Cab 2010-13 Chevy/GMC 1500 Silverado/ Sierra 4.8L, 5.3L or 6.0L Engine.
Free-Flowing Exhaust boosts horsepower, torque and even fuel economy.
Constructed from T304 Stainless steel (Also available in aluminized version)
Comes with Superflow Performance Mufflers
Available in rear exits as exists behind the rear tires at an aggressive angle
Includes 3.5″ Polished T304 Stainless Steel Exhaust Tips and Zinc-Plated Hangers and Clamps
No-weld, bolt-on design uses factory mounts for easy installation
Backed by Limited Lifetime Warranty
---
Let your ride breathe easy with an MBRP S5081304 Performance Exhaust System replacing your old factory exhaust.
For almost 20 years MBRP inc. has been delivering performance enthusiasts the most in power, the most in product quality and the most in customer responsiveness.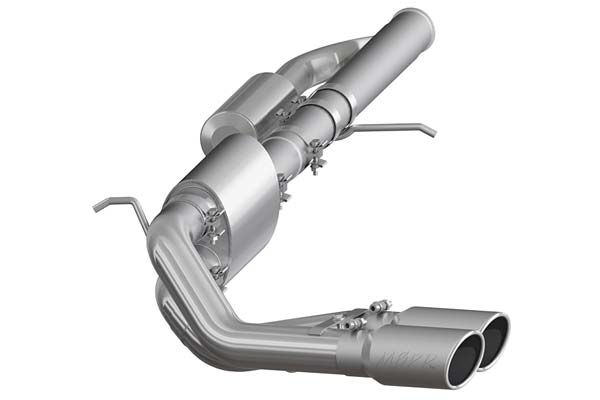 Listed at 3rd MBRP S5081304 Performance Exhaust System is a series designed and built for the serious enthusiast who will settle for nothing less.
Crafted from T304 Stainless steel it delivers you optimal durability along with protection from rust and corrosion.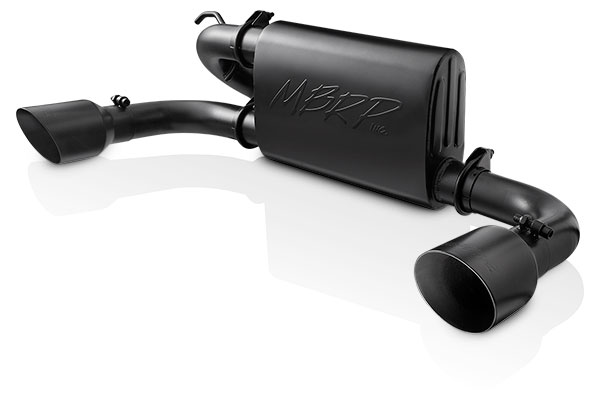 MBRP Performance exhaust comes with smooth mandrel-bent tubing for free unrestricted flow by reducing turbulence and backpressure.
Not only this you can also get aggressive sound along with increase in power up to 25hp and torque boosts of up to 53 ft-lbs.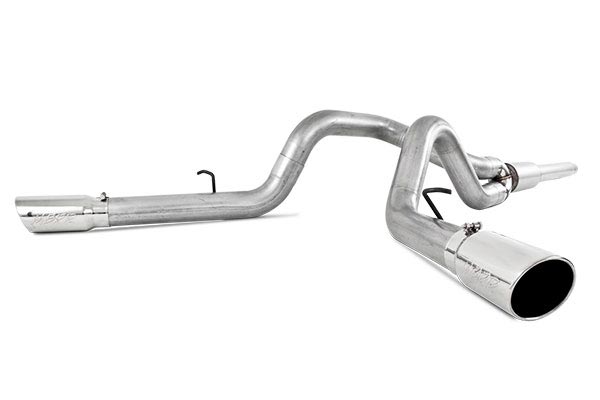 Thanks to its premium quality materials which increases its efficiency by maximizing exhaust flow and minimizing exhaust temperature which results in boosting the fuel mileage of your truck.
You can choose from 7 Powerful different kits designed for all types of driving.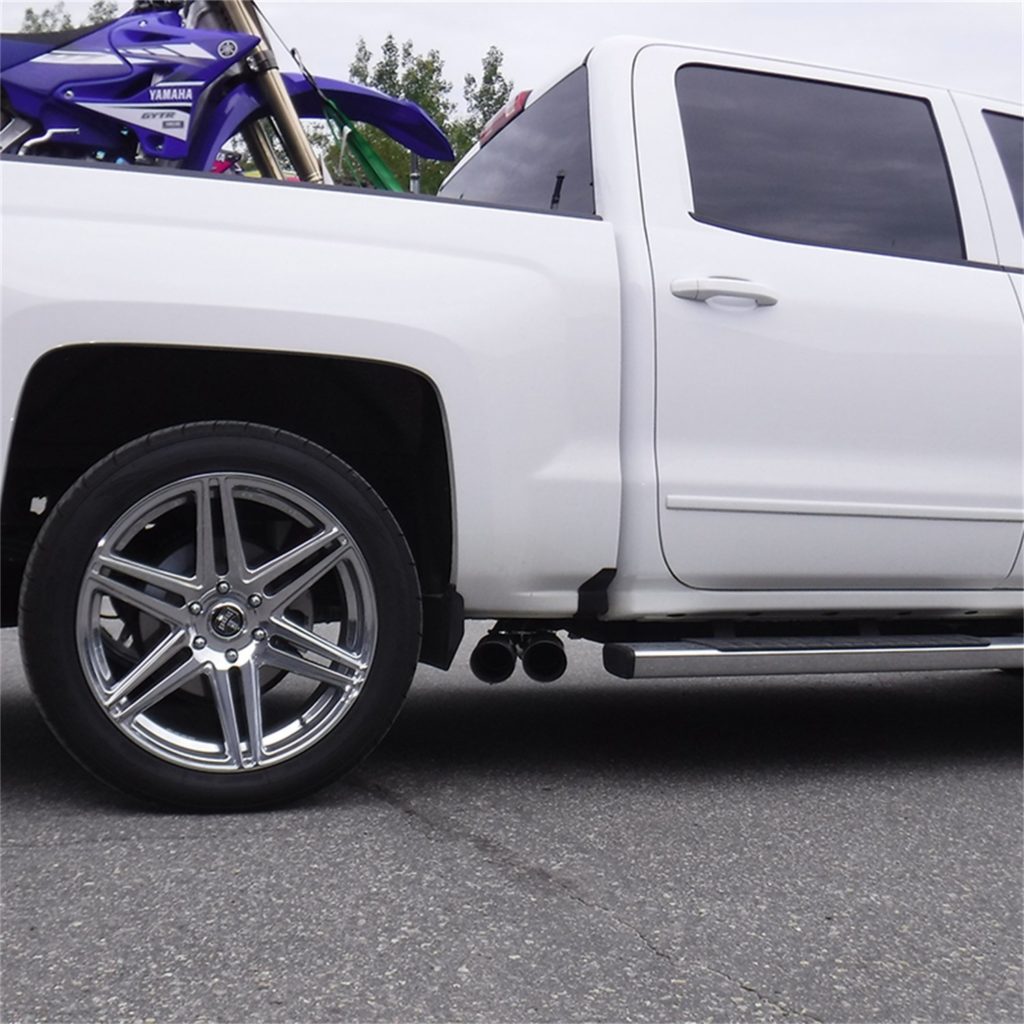 MBRP's performance exhaust systems are built to perform. Moreover it is easy to clean and maintain and is best choice for owners of lifted trucks, show trucks or who operate in severe environments.
Check out Customer Reviews & Ratings
Key Features
Custom Designed for 2009-UP Chevy/GMC 1500 Silverado/ Sierra 4.3L V6, 5.3L V8
Free-Flowing Exhaust boosts horsepower, torque and even fuel economy.
Reduces back pressure and turbulence
Constructed from T409 Stainless steel for maximum durability
Available in Chrome Stainless steel or Durable black coated aluminized steel
You can choose from 7 Different custom made powerful series
Available in single or dual system, and rear or side exits
No-weld, bolt-on design uses factory mounts for easy installation
MBRP includes all necessary hardware, clamps, and instructions to direct fit to the OEM hangers
---
Add a touch of Borla excellence to your GMC Sierra with an Borla 140343catback exhaust system. A Borla catback system will significantly increase exhaust flow over the restrictive factory exhaust system for a dramatic increase in rear wheel horsepower and an aggressive throaty sound that is not for the faint of heart.
Borla Cat-Back exhausts feature patented, straight-through and multi-core technology to unleash hidden horsepower.
Crafted entirely from premium austenitic stainless steel, superior to T-400 series knockoffs, to give absolute best in performance and durability along with offering resistance to corrosion and rust.
The Borla exhaust System comes with mandrel bent tubing to keep the pipes free-flowing and reduces kinks, blockages and back pressure.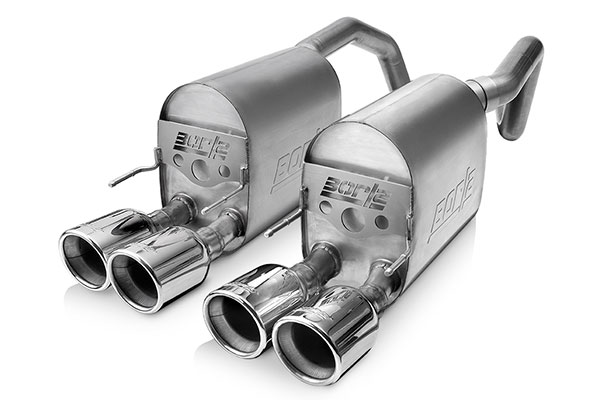 Thanks to highly precise computer-controlled CNC manufacturing process which ensure an accurate fit.
Available in Four Signature Borla Series- Touring Series (for deep throaty sound), S-type Series (aggressive attractive sound), ATAK Series (most aggressive and bold sound of all) and Multi –Core series (offers more performance with growling sound).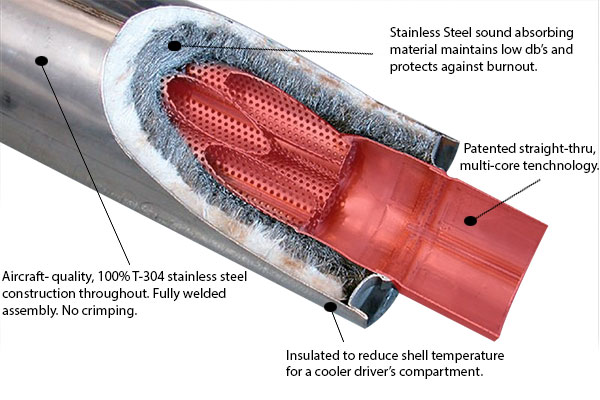 Street legal in all 50 states, your new Borla Exhaust System includes all the required clamps, connectors and hardware needed for a hassle-free installation and the support of a Million-Mile Warranty.
Check out Customer Reviews & ratings
Key Features
Custom Designed for 2009-2013 Chevrolet Silverado/ GMC Sierra 1500 4.8L/5.3L/6.0L V8 AT/MT 2&4WD 4 Door Extended Cab-Standard Bed (78.7″)/ Crew Cab-Short Bed (69.3″)
Free-Flowing Exhaust boosts horsepower, torque and even fuel economy.
Constructed from aerospace-gradeT304 Stainless steel superior to T-400 series
Comes with ultra smooth mandrel bends ensure maximum flow and power
Kits incorporate Borla's patented multi-core and straight-through muffler designs
Choose from 4 Signature Borla Series (depending upon your vehicle)
Includes required Clamps, connectors and hardware
No-weld, bolt-on design uses factory mounts for easy installation
Extensively tuned and tested and Backed by a Million-Mile Warranty
---
Conclusion
We hope you enjoyed the article 5 Best Performance Exhaust Systems for 2009-14 GMC Sierra 1500 to its entire bits.
We do hope that this article helped you in making a definitive choice when it comes to choosing an Best and affordable exhaust System for your GMC Sierra truck.
If it really helped you,We'll be glad if you could share this article on social media services like Google+,Twitter,linkedin,Stumple Upon and Facebook using the Sharing buttons on the Top and End of this articles.
If you have any query Feel free to add you thoughts in the comment section below.
We'll happy to know your views.Do expect a quick reply.
Stay tunned for more updates.Thank You.