3 Best Performance Mods for Dodge | Ram 1500
Top Rated Dodge | Ram 1500 Best upgrades for Ultimate performance boost
Boosting the performance of truck isn't easy task with number of upgrades avialbale in the market.
There are mulitple performance upgrades, Look enhancrs , Cargo management accessories and many more that will surely confuse you while getting the best out of them!!.
But No worries!!  Here in this article you will get your list of Top 3 Performance Mods and upgrades that will helps you in boosting your Dodge | RAM 1500 performance to the next level.
Not just this, after going through this article you will be ready with the combination of 3 Best Mods that will shoots the horsepower, torque and give you some extra MPGs while maintaining the engine sound and looks of your Dodge/RAM truck.
This list is totally based upon our research and customer reviews. If you want to add any other mod in this list, Feel free to comment we will add that in this list later on.
Apart from highlighting the Best 3 Performance MODs, we have listed several other upgrades also as a BONUS that will extract every ounce of power from your beast.
So without wasting much time let's start our list of 3 Best Upgrades & Performance Mods for Dodge Ram 1500
Don't Miss to watch: Best way to recondition your old battery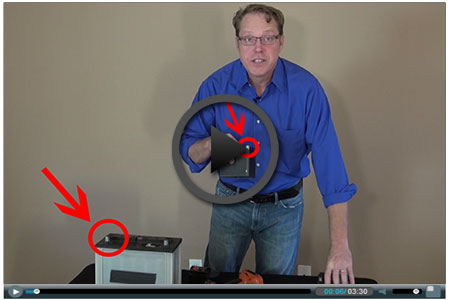 Here we go!

Cold Air intake plays a important role in vehicle performance level.
Basically the purpose of Air Intake is to deliver right amount of air into engine. Cold air intake sucked cold air and mix it with fuel, burnt and exhausted. And as the density of cold air is much higher than of hot air, cold air brings more oxygen and makes more power.
You will see improved performance with more horsepower, acceleration and gas mileage along with good sound by using cold air intake in your vehicle.
Now moving towards our First mod and one of the best air intake that boost the performance level of your Dodege/RAM is aFe Power Momentum GT 54-72102 Dodge RAM HEMI Performance Intake System.
Outflow your factory intake by up to 23 % and boost the trapped power of your engine with the aFe Power Momentum GT 54-72102 Dodge Ram HEMI Performance Intake System.
With its unique design the aFe Power Momentum cold Air intake system adds up to 14 Hp and 19 Lbs x ft torque gain .
The smooth one-piece sealed housing with auxiliary air scoop is used to eliminate the use of multiple-piece housings and ensure the coolest air intake charge available.
A large, clear sight window is used for a hassle-free filter inspection and an aggressive style.
The Momentum GT intake is designed around a pre-oiled, large 9″ round 360 degree radial flow performance air filter with 5-layers of progressive finer mesh cotton media providing maximum airflow and performance.
The unique air filter-to-housing interface (patent pending) allows for maximum filter size which increases the available air volume while simplifying the installation process.
A Premium stainless steel T-bolt clamps and a urethane hump coupler are used for strength and durability while also providing the most secure installation available.
Momentum GT intakes are designed with fewer parts for a quick and simple installation. No Cutting or Drilling required on factory parts.
This product is not CARB exempt at this time and is not legal for sale in California or use on vehicles registered with the California Department of Motor Vehicles.
Check out Customer Reviews & ratings
Key Features
+14 HP / +19 lbs. x ft. Torque max gain
Outflows factory intake by up to 23%
CAD-Designed Roto-Molded Intake Tube
One-Piece Sealed Housing
Pro 5R oiled 5-Layer Progressively Finer Mesh Cotton Gauze Oiled Media for Maximum Performance
Built-In Sight Window Provides Easy Inspection of Filter Without Disassembly
Unique (Patent Pending) Filter-to-Housing Interface for Easy Installation
No cutting or drilling on factory parts for faster installation
---
Programmer and Tuners are both designed to maximize your engine's power output with easy plug n play installation. These will give your truck big boost in horsepower and torque along with helps your engine run more efficiently therefore increasing your MPGs.
While choosing tuner for your vehicle you need to determine exactly what kind of results you wants to achieve with your performance chip. Whether you want horsepower, torque and fuel economy or you want it as speed limiter, tire size, rev limit and also use it as checking and clearing diagnostic cods. All depends upon your need.
So moving towards our 2nd Mod and one of the top rated programmer that boost the performance level of Dodge/Ram 1500 is DiabloSport 9245 DiabloSport Trinity 2 EX Platinum stands which is a great upgrade by DiabloSport in the Trinity T1000 Edition.
Founded in 2000, DiabloSport designs and manufactures the industry's most unique line of performance products for the automotive industry. Featuring automotive products made in the USA, DiabloSport has become a well-known leader in electronic handheld programmers of Engine Control Units for Ford and GM.
Coming back to DiabloSport TrinityT2, It is one of the most advanced devices of its kind on the market featuring full Reflash/Reprogram capability, Advanced Data Acquisition, and Customizable Gauges–all displayed and controlled on a color touch screen and housed in a slim, custom-styled, easy to use device.
For all diesel application, the trinity will come preloaded with at least three tuning levels-
The First one is Towing-You can increase your truck's factory towing capacity with the DiabloSport Trinity tuner as it improves your truck's power by 40-60 HP and an average of 100 Ft/Lbs of torque . This setting is designed to increase drivability while towing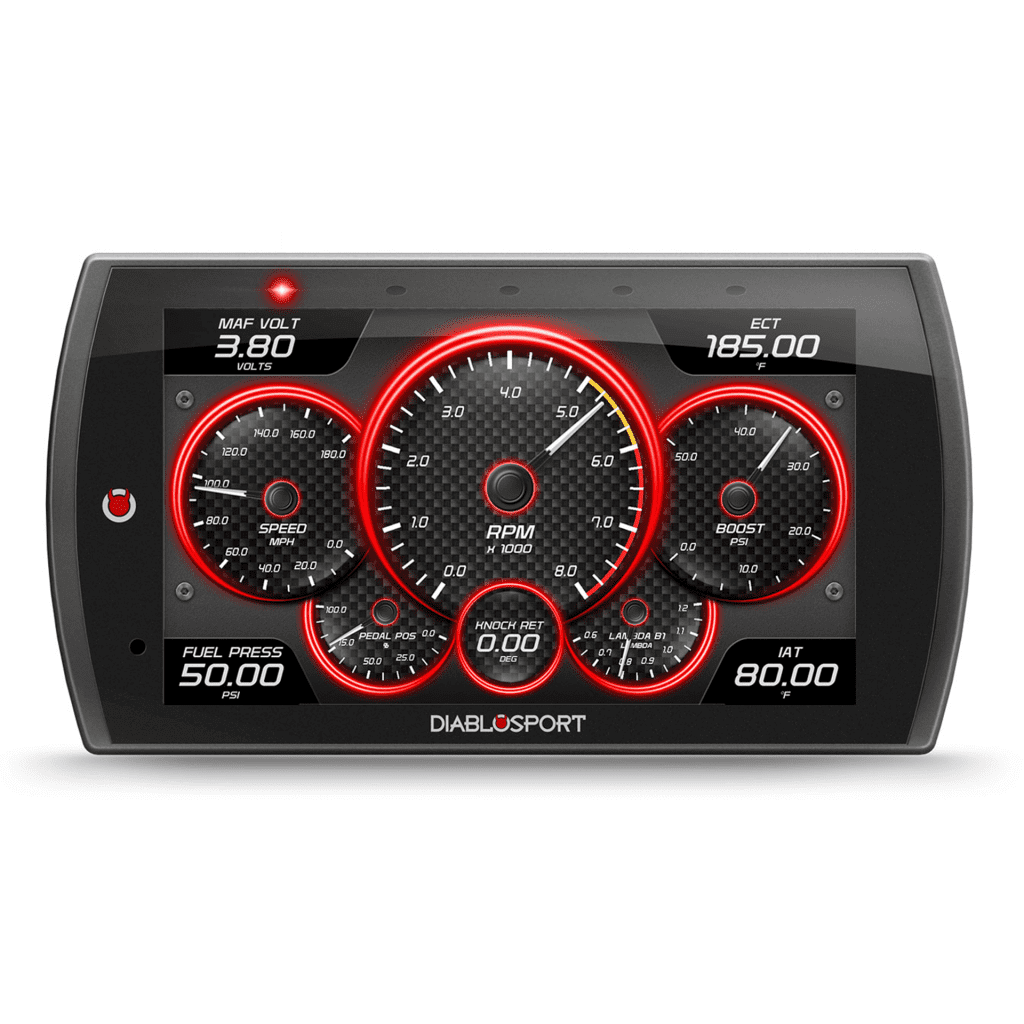 Next The Trinity also adds between 60-100 HP and 180-200 Ft/Lbs of torque, with economy gains averaging 2-3 MPG on the highway.
The third tune is the Extreme level-this tune adds anywhere from 100- 185 horsepower and 220+ Ft/Lbs. of torque and is specifically for tearing it up at the strip.
Now coming towards the box, you can get the DiabloSport Trinity unit along with 6-foot ODB-II cable ,Trinity software CD, 6-foot USB to Mini USB cable, suction cup mount, quick start guide, DiabloSport Sticker, warranty.
The Trinity tuner also use for gasoline applications adjusting Idle RPM , Shift points , Mass Air Table . Cooling fan temperature, Spark Advance/Retard, Fuel Tables/WOT Fuel, Raise Speed limited and Raise Rev Limiter.
Thanks to its programmer LED warning lights that can act as a visual gauge alarm for any individual piece of data, or even as a programmable shift light . Comes with easy to use interface and industry-leading gauge designs , it gives your beast jaw dropping boost in power.
With the Trinity T2 tuner you don't need to go out for reading and clearing your trouble codes as the DabloSport Trinity itself act as a diagnostic code reader.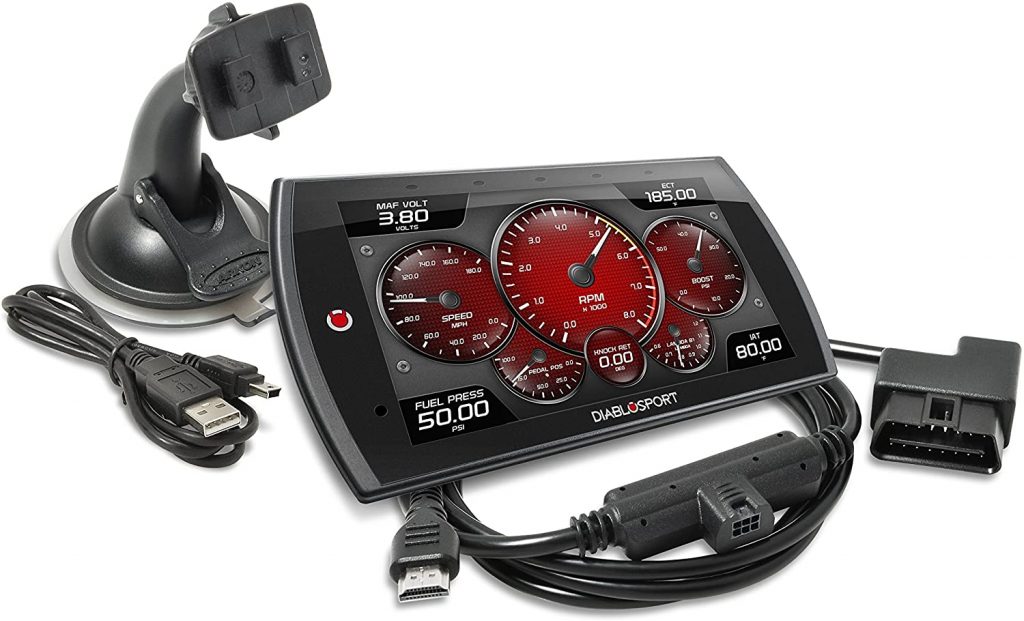 The DiabloSport Trinity tuner can easily download its updates- you just have to enter your information to register the tool on the official website and the DS Downloader takes care the rest.
Check out Customer Reviews & Ratings
Key Features
The all-new Trinity (T2) Platinum PCM Swap is the most advanced performance programmer and monitoring setup of its kind for 2015+ Dodge/Ram/Chrysler/Jeep applications.
Available in Towing , Economy and Extreme mode for Diesel vehicles
Adjust Spark Advance/Retard, Fuel Tables/WOT Fuel, Idle RPM , Shift points and more in gas vehicles
Full Reflash/Reprogram capability, Advanced Data Acquisition, and Customizable Gauge
Act as a virtual Guage Monitor/data logging
Reads and clear trouble codes, act as diagnostic code reader
comes with  high resolution, 5 capacitive touch screen
Automatic Online updated
Comes with One-year Warranty and 30- Day Guarantee
---
Never chained down your beast with restrictive stock equipment. Rather set it free and unleashes every pinch of power it can pump out.
The best way to free your ride and experience the high-speed difference is to install aFe Twisted Steel Headers.
aFe Twisted Steel heads basically are TIG or MIG- welded by certified craftsmen for race proven strength and durability. TIG-welding provides the strongest welds reducing stress cracks. aFe headers are designed to increase exhaust velocity and increase usable torque. This results in a more aggressive throttle response and increased passing power.
It is one of the best way and ultimate exhaust upgrade to boost performance level by adding astounding +37 horsepower and +58 lbs x ft. of torque.
Constructed out of 16-gauge, 1-3/4″ mandrel-bent 304 Stainless Steel for maximum durability, aFe Twisted Headers designed with 4-to-1 formed collectors which decreases turbulence and increases air velocity for improved air flow.
Each tube is cut to the optimal length for true pulse control technology and mandrel bent which improves flow by virtually eliminating all restrictions.
The tubes extend all the way down to the top of the flange and merged with Y-pipe that utilizes a mitered merge collector to eliminate dead space that can cause turbulence and hinder flow.
This y-pipe is designed using 3″ to 3-1/2″ transition and it utilizes Dual high flow catalytic converters which gives maximum flow.
For a leak free fit, aFe Headers comes with high quality OE style 3/8″ to 1/2″ flanges and band clamps that are used for a complete all around sealing surface with no modification needed.
Manufactured in USA the performance header and y-pipe are backed by limited lifetime warranty and are designed to be a true bolt on system with no cutting or modifications required.
Also Check 5 Best Performance Exhaust Systems for Dodge/RAM 1500 You surely want to buy
Key Features
aFe Power 48-42010-YC Twisted Steel Header is custom designed for Dodge/RAM 1500.
Added an astounding +37 horsepower and +58 lbs. x ft. of torque
Free- Flowing and Restriction free large pipe designs
True formed (headers) and mitered (y-pipe) merge collectors eliminate dead zones for improved flow
100% hand MIG-welded construction ensures optimal strength and durability
Optimized tube lengths and 3/8″ thick CNC laser cut flanges
Incorporates high-Flow, 400 cell catalytic converters for improved flow
Easy, no-hassle bolt on installation with no cutting or modification required.
Street legal in 48 States
Backed by lifetime warranty.
---
Aditional Performance Upgrades
Others best Upgrades/Mods that will Also help you in Boosting Performance
Apart from above listed 3 best upgrades, there are other mods also that will also proves to be best combination and will surely helps in boosting the overall performance to next level.
Don't just go with our words, try it and then know it yourself. It will sure that you will never regret after that..These modifications will improve the driviablity and performance in one way or other and are going to be best partner for your beast.
So, without wasting more time let's move towards the bonus Upgrades.
An intercooler, or "charge-air cooler", is an air-to-air or air-to-liquid heat exchange device used on turbocharged and supercharged (forced induction) internal combustion engines to improve their volumetric efficiency by increasing intake air-charge density through isochoric cooling.
Here we're talking about heat exchanger which is basically a intercooler only. Basically, Heat Exchanger uses air from the atmosphere, flowing over and around a lot of finned tubes to remove heat from the intake air charge which means it reduce the temperature of the air that has been pressurized by the supercharger/turbocharger that is going through the intake tubes.
In layman terms, a heat exchanger is a device designed to efficiently transfer or "exchange" heat from one matter to another. When a fluid is used to transfer heat, the fluid could be a liquid, such as water or oil, or could be moving air.
When you use air-to- air heat exchanger, cooler air will be directed towards the tubes that will maximise the cooling effect and ultimately create impact on the performance of the vehicle.
So, upgrade your GM truck with universal fit Edelbrock HEAT EXCHANGER. You can choose as per your truck specification and other measurement details.
And, if you're looking to upgrade your truck with all new Intercooler kit then there is no other better option than Spectra Premium 4401-1309 Turbocharger Intercooler that offers smooth and increased airflow and surely comes in your budget. This is best intercooler at great price.
If you don't want to hit your pockets by spending large on full intercooler kit or turbocharger, then you can also choose the other more convenient option of getting aFe Intercooler Tubes Hot and Cold Side 46-20174-B for Your RAM 1500 that is made to increase overall performance by outflowing the factory tubes up to 38%.
The high quality aluminised tube are mandrel bent and powder coated to Offer maximum flow and performance. The bends are perfectly made to decrease turbulence and minimize pressure loss while increasing HP and Torque.
Moreover, the I/C tube kit transfers hot air smoothly to the intercooler to accelerate heat transfer then cooled air to the engine to help make more power.
Easy to fit and featuring quick installation, the kit tubing comes in wrinkly-black powder coating with badge engraved on it giving it impressive appealing look.
This can easily be fit on 2014-2015 Dodge/RAM 1500 Ecodiesel V6 3.0L diesel trucks.
We all know, the fuel in the truck contains contaminants dirt, water and air/vapour that is reducing power and damaging the diesel fuel injectors.
To resolve this problem, Afe comes with Fuel Filtration and Air Water Separation system that will completely uproot the contaminants from the fuel.
It will improve quality of diesel fuel and make your engine run more smoothly and efficiently.
It will basically remove or separate the entrapped air from your diesel fuel while improving the pressure and flow to your RAM. It will also add additional filtration to deliver clean and pure fuel that will increase performance and reduce injector wear.
Not only this, it will also protect your fuel from dust intrusion and powerful water jets.
Easy to install, the system comes in several different models and available for vehicle-specific kit. Moreover, there is no need of cutting or drilling or modifying the fuel tank to install it.
You just have to attach harness (that comes with kit) to the battery and utilizes Deutsch weather-proof connectors for plug-n-play installation.
Comes with limited lifetime warranty, the system supports up to 1 Micron Filtration. So can easily imagine the quality of fuel fed to your engine.
We personally like this system, as this system is one of the best of its kind that will remove all the impurities and give your engine clean and pure fuel. It's like, if you're eating pure and healthy food you will definitely boost up with lots of energy. Same way engine works.
Bu using the pure fuel, the engine will work more efficiently and gives better results in form of increased HP, torque and overall better performance.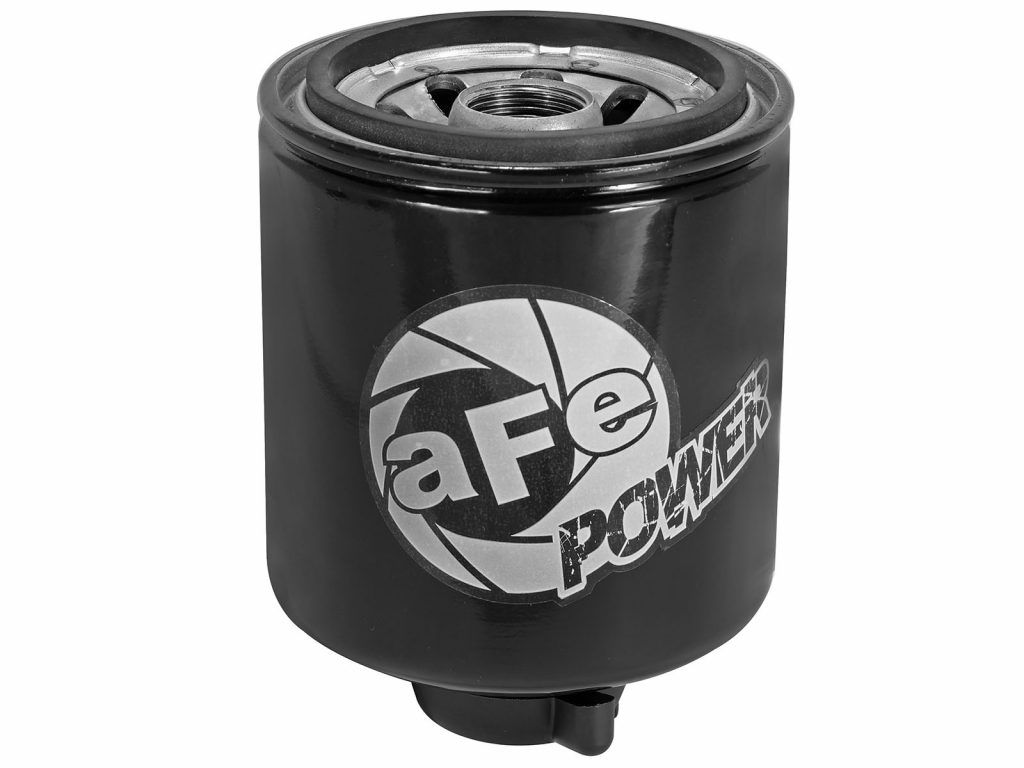 So why waiting!! Upgrade your vehicle with all new Diesel Filtration and Air-water separation system for increase engine efficiency and performance.
Note: Compatible with diesel and biodiesel fuels.
#4

 Upgrade with Catalytic Converter
In case if you're not aware of Catalytic Converter, It is an exhaust emission control device that reduces toxic gases and pollutants in exhaust gas from an internal combustion engine into less-toxic pollutants by catalyzing a redox reaction.
In other words, A catalytic converter is a device that uses a catalyst to convert three harmful compounds in vehicle exhaust into harmless compounds.
And, by neutralizing hazardous compounds in your exhaust such as carbon monoxide, it will ultimately be increasing the gas mileage and performance.
It is built into the vehicle's exhaust system, and directly affect the performance of the engine. That's why we included it in this list of performance upgrades.
If the catalytic converter develops any issue or if it will get clogged due to any reasons, then it will directly impact on the performance of your truck as it will restrict the exhaust flow and if it will undergo any crack then there is high chances of leaking harmful gases.
So, its better to check any cracked or leaked catalytic converter to avoid failing in performance level.
This is not the additional upgrade but failing to this will surely crate noticeable impact on performance and also spread harmful gases in the environment.
So, if you have old catalytic converter or you're planning to change into better one , then there is no better option than upgrading your exhaust system with MagnaFlow 49664 Direct Fit Catalytic Converter 
Made to fit on most of the RAM models upto 2019 V8 5.7L, this catalytic converter is best option to increase your exhaust life and moreover in-directly increase performance of your truck.
The other performance upgrade that will offer up to +20 horsepower increase and +30 Lbs x ft torque- is Twisted Exhaust headers.
These headers retain your stock catalytic converters and are a direct bolt-on installation which requires no cutting or drilling to provide a hassle-free installation.
Guaranteed to increase HP of +20 and +30 lbs x ft torque when using with aFe Y pipe . You will use these headers if you're not using AFe twisted Steel headers with Y pipe that we already mentioned in our top 3 best Performance Mods list.
The header's 4-to-1 mitered merge collectors decrease turbulence and increase exhaust velocity. The result is increased horsepower, torque and improved throttle response.
Tube lengths are accurately optimized for true pulse control technology which ultimately improves flow and performance.
You can go with this option if you're looking for only header upgrade and don't want to spend on whole exhaust kit.
If you're looking to improve drivability without putting any extra tuning mods, then The Sprint Booster is a perfect alternative for you!
The best thing about this upgrade is -you can easily use it with or without other tuners/programmers due to its ability to work independently from other modifications.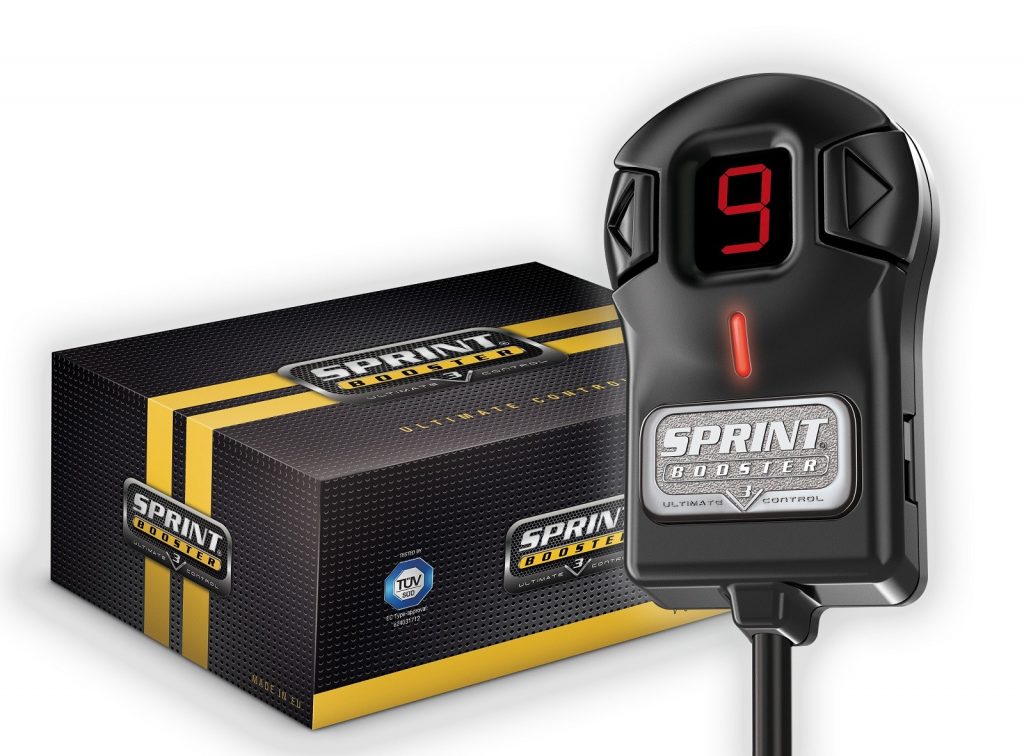 Basically Sprint Booster modifies the signal between the accelerator pedal module and the ECU. The improved signal encourages the throttle to open "more" than what the stock signal was providing at a given pedal position. The end result is the idle-to-full-throttle pedal travel is reduced.
Sprint Booster basically makes your truck "feel" more powerful because the given pedal input produces greater throttle opening.
Easy and quick installation, this performance mod is one of the perfect and effective upgradation for your truck.
---
Apart from these mods there are other basic upgrades also that you can add in your list that will create noticeable increase in performance while increasing the life of your  truck directly or indirectly.
Last but not Least
It's best practive to keep oil filter clean on regular basis to increase it's life . Choose wisely and get the best upgrade for your beast.
---
Frequent Asked Questions about Performance Upgrades for Dodge | Ram 1500
How can I improve my RAM 1500 performance?
Ans. There are multiple upgrades and mods that you can use to improve your Ram 1500 performance. Some upgrades will directly increase the performance while others indirectly make impact.
There are Tuners & programmers, cold air intakes and exhaust systems, that are widely acceptable and make direct impact while cargo management accessories, tonneau covers and many more will impact indirectly on performance.
How much Horsepower can I get out of a 5.7 hemi?
Ans. The 5.7L V8 HEMI® engine is available only on the R/T trim This engine offers 370 horsepower with 395 lb-ft of torque. With some of the upgrades you can easily get increment of power and mileage.
Can a 5.7 Hemi handle a supercharger?
Ans.  If your 5.7 HEMI is lagging power that you are looking for, then upgrade it with a 5.7L HEMI supercharger. This is a quick and easy, reliable horsepower boost. Superchargers are a great option to add serious power at a very reasonable price tag.
How much HP do headers add to a 5.7 HEMI?
Ans. Headers are another great option of increasing power output from your 5.7 HEMI. You can expect easily up to +20 horsepower and +30 Lbs x ft torque increase and even more in some of the headers.
How much does it cost to tune a RAM 1500?
Ans. There is not a single answer to this. IT can vary as per your requirement and upgrade that you choose. You can spend anywhere between $100 to $10k , totally depends upon your need.
---
Conclusion
We hope you enjoyed the article 3 Best upgrades to Boost Performance of Dodge/Ram 1500 | Best Mods combination to Boost Performance to its entire bits.
We do hope that this article helped you in making a definitive choice when it comes to upgrading your Dodge/RAM 1500 and unleashes every pinch of its power.
If it really helped you,we'll be glad if you could share this article on social media services like Google+,Twitter,linkedin,Stumple Upon and Facebook using the Sharing buttons on the Top and End of this articles.
If you have any query Feel free to add you thoughts in the comment section below.
We'll happy to know your views.Do expect a quick reply.
Stay tunned for more updates.Thank You.