Top 3 Best Mods/upgrades to Boost Performance of Ford F 150 | Best Combination to upgrade
Best buy for buck
Top Picks
Monstrous Boost of power
Improve Drivability
Are you a Ford guy and looking for best mods and upgrades to boost your beast's performance?
If yes!
Then you come at right place.
Here in this article you will find the Top 3 Best Mods and upgrades plus adiitonal performance upgrades that will helps you in boosting your Ford F150 Truck's performance level.
After reading this article you will be ready with the combination of 3 Best Mods + additional performance mods that will shoots the horsepower, torque and MPGs while maintaining the engine sound and looks of your Ford truck.
This list is totally based upon our research and customer reviews. If you want to add any other mod in this list, Feel free to comment we will add that in this list later on.
So without wasting much time let's start our list of 3 Best Mods/Upgrades that will boost the performance level of Ford F 150.
Top Rated Best Truck Tents, Truck Bed Tent, Rooftop Tents- Complete Buying Guide
Here we go!

Cold Air intake plays a important role in vehicle performance level.
Basically the purpose of Air Intake is to deliver right amount of air into engine. Cold air intake sucked cold air and mix it with fuel, burnt and exhausted. And as the density of cold air is much higher than of hot air, cold air brings more oxygen and makes more power.
You will see improved performance with more horsepower, acceleration and gas mileage along with good sound by using cold air intake in your vehicle.
Now moving towards our First mod and one of the best air intake that boost the performance level of your Ford F 150 is K&N Performance Cold Air Intake Kit 63-2592.
You can also Choose from our List of top 5 Best Cold Air Intake for Ford F150 to boost the Performance Level.
Whether to Haul ,tow or climb the stope the K&N Performance Cold Air Intake Kit is your best bet to boost up your performance level of your truck.
Before moving forward let's take a look on manufacturer- K&N Engineering, of Riverside, California, is the inventor and leading innovator of reusable cotton gauze filter technology for automotive applications.
Now Coming towards the Performance Cold Air Intake Kit- it is custom designed for your specific made , make and model.
The K&N 63-2592 Air Charger air intake system replaces the restrictive factory air filter and air intake housing on specific Ford F150 EcoBoost models.
K&N air intakes are designed to dramatically reduce air intake restriction as well as smooth and straighten air flow.
This allows your engine to inhale a larger amount of air than the factory air filter assembly. More air means more usable power and acceleration throughout the engine's RPM range.
The air intake comes with a chrome topped K&N high-flow air filter and a heat shield that installs into the original air box space.
Air is directed through an aerodynamically engineered intake tube into the engine's throttle body and turbo inlet for a guaranteed power gain.
The tube accommodates the factory air temperature sensor. The oversized cone shaped air filter can be used for up to 100,000 miles before servicing is needed depending on driving conditions.
This air intake is relatively easy to install, usually in 90 minutes or less using your vehicle's existing factory mounting points. The tools needed are a screwdriver and an Allen wrench.
Check out Customer reviews and ratings
Key Features
Guaranteed to Increase Horsepower and performance
Designed to improve throttle response and engine sound
Add up to 26 horsepower to the pedal
Comes with Largest possible K&N Filter charger cotton-gauze filter (washable & Reusable)
Lasts up to 100,000 miles before service is required (depending on driving conditions)
Replaces entire factory air intake system
Free-flowing high density polyethylene tube
Easy installation with details instructions and a complete hardware kit
---
Programmer and Tuners are both designed to maximize your engine's power output with easy plug n play installation. These will give your truck big boost in horsepower and torque along with helps your engine run more efficiently therefore increasing your MPGs.
While choosing tuner for your vehicle you need to determine exactly what kind of results you wants to achieve with your performance chip. Whether you want horsepower, torque and fuel economy or you want it as speed limiter, tire size, rev limit and also use it as checking and clearing diagnostic cods. All depends upon your need.
So moving towards our 2nd Mod and one of the top rated programmer that boost the performance level of Ford F 150 is Edge Products 85450 CTS2 Gas Evolution Programmer.
You can also see our list of 5 Best Tuners & Chips to Increase Mileage, Efficiency & Horsepower for Ford F150.
Now coming back to Edge Evolution CTS2 Gas Programmer – basically it reprograms your vehicle's stock computer.
It resides in the cab with one simple cable connection to the OBDII (diagnostic) port. The Evolution is used to save the stock files from the vehicle's computer and then upload the Edge calibrations into the vehicle's computer.
This amazing product is available for both gas and diesel pickups and SUVs. It has low-profile design and comes with the extra-large 5' high-res color touchscreen that is ample enough to monitor all your vital engine data and more.
This product comes with multiple power levels custom tuned by a whole team of engineers, and can be installed in minutes without ever popping the hood.
The Evolution CTS2 greatly increases horsepower and torque- depending upon your vehicle and other mods,the powerful tuner is capable of adding up to 180 hp and 440 ft-lbs of torque on diesels and up to 50 hp and 50 ft-lbs of torque for gas vehicles.
Not only does it re-tune your vehicle, it stays mounted in the cab and features real-time, monitoring of vital engine data.
Check out Customer Reviews and Ratings
Key Features
Unlocks every ounce of power with the powerful Edge Evolution CTS2 Programmer
Boosted horsepower and Torque to great extent
Custom–tuned power levels for shift points, shift firmness, torque management and fuel pressure
Comes with large 5" high-resolution, full-color touchscreen gives you easy access
Add up to 180 hp and 440 ft-lbs of torque on diesels & up to 50 hp and 50 ft-lbs of torque on gas
Low-profile design easily adjusted in your truck
stays mounted in the cab and features real-time, monitoring of vital engine data.
---
Never chained down your beast with restrictive stock equipment. Rather set it free and unleashes every pinch of power it can pump out.
The best way to free your ride and experience the high-speed difference is to install aFe Twisted Steel Headers along with Y pipe.
You can also select from our list of Best top rated exhaust system for Ford F150.
aFe Twisted Steel heads basically are TIG or MIG- welded by certified craftsmen for race proven strength and durability. TIG-welding provides the strongest welds reducing stress cracks. aFe headers are designed to increase exhaust velocity and increase usable torque. This results in a more aggressive throttle response and increased passing power.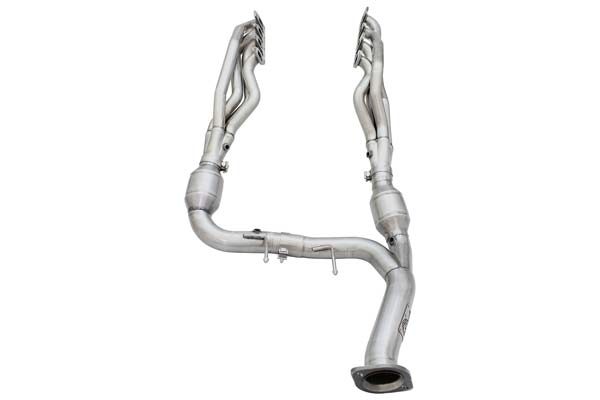 It is one of the best way and ultimate exhaust upgrade to boost performance level by adding astounding +22 horsepower and +25 lbs x ft. of torque.
Constructed out of 6-gauge, 1-7/8″ mandrel-bent 304 Stainless Steel for maximum durability, aFe Twisted Headers designed with 4-to-1 formed collectors which decreases turbulence and increases air velocity for improved air flow.
Each tube is cut to the optimal length for true pulse control technology and mandrel bent which improves flow by virtually eliminating all restrictions.
The tubes extend all the way down to the top of the flange and merged with Y-pipe that utilizes a mitered merge collector to eliminate dead space that can cause turbulence and hinder flow.
This y-pipe is designed using 3″ to 3-1/2″ transition and it utilizes Dual high flow catalytic converters which gives maximum flow.
For a leak free fit, aFe Headers comes with high quality OE style 3/8″ to 1/2″ flanges and band clamps that are used for a complete all around sealing surface with no modification needed.
Manufactured in USA the performance header and y-pipe are backed by limited lifetime warranty and are designed to be a true bolt on system with no cutting or modifications required.
Check out Customer Reviews & Ratings
Key Features
aFe POWER 48-33002-YC Twisted Steel long header with Y-pipe is custom designed for Ford F150 2010-14 . Click to see twisted steel headers for all years of Ford F 150.
Added an astounding +22horsepower and +25lbs. x ft. of torque
Free- Flowing and Restriction free large pipe designs
True formed (headers) and mitered (y-pipe) merge collectors eliminate dead zones for improved flow
100% hand MIG-welded construction ensures optimal strength and durability
Optimized tube lengths and 3/8″ thick CNC laser cut flanges
Incorporates high-Flow, 400 cell catalytic converters for improved flow
Easy, no-hassle bolt on installation with no cutting or modification required.
Street legal in 48 States
Backed by lifetime warranty.
---
Aditional Performance Upgrades
Others best Upgrades/Mods that will Also help you in Boosting Performance
Apart from above listed 3 best upgrades, there are other mods also that will also proves to be best combination and will surely helps in boosting the overall performance to next level.
Don't just go with our words, try it and then know it yourself. It will sure that you will never regret after that..These modifications will improve the driviablity and performance in one way or other and are going to be best partner for your beast.
So, without wasting more time let's move towards the bonus Upgrades.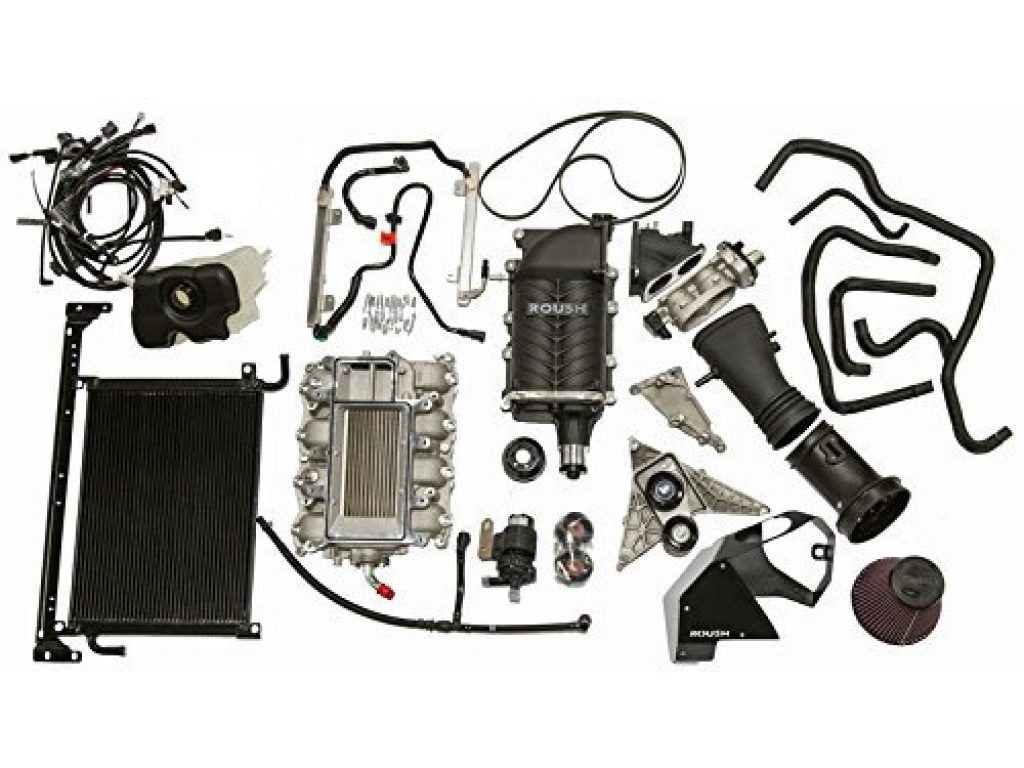 Though, it is one of the most expensive upgrade for your truck and we surely not inclined towards getting this mods for your truck due to its price.
But, it is also not wrong to say that this upgrade made it's place in the market with being known as the top rated and best upgrade to give Monstrous boost to your truck.
If you can afford it, then go blindly with this mod as this supercharger will boost your truck Horsepower up to 625+ and Torque up to 525+ lb-ft and that is surely a mind blowing horsepower you will be getting with just one set of upgrade.
So, it is complete package to tranfer your truck to road piercing beast .Kit comes complete with a R23300 Supercharger with black finish, upper and lower intake manifolds, an air-to-water intercooler, a low temp radiator, an oversized coolant degas bottle, a cold air intake system with 110mm MAF, a twin 60mm electronic throttle body with matching spacer, a 85mm supercharger pulley and a unique fuel rail with 47 lb/hr fuel injectors.
With all these parts and package , you will get extra ordinary power from your beast. Just do your research completly before buying this supercharger.
An intercooler, or "charge-air cooler", is an air-to-air or air-to-liquid heat exchange device used on turbocharged and supercharged (forced induction) internal combustion engines to improve their volumetric efficiency by increasing intake air-charge density through isochoric cooling.
Here we're talking about heat exchanger which is basically a intercooler only. Basically, Heat Exchanger uses air from the atmosphere, flowing over and around a lot of finned tubes to remove heat from the intake air charge which means it reduce the temperature of the air that has been pressurized by the supercharger/turbocharger that is going through the intake tubes.
In layman terms, a heat exchanger is a device designed to efficiently transfer or "exchange" heat from one matter to another. When a fluid is used to transfer heat, the fluid could be a liquid, such as water or oil, or could be moving air.
When you use air-to- air heat exchanger, cooler air will be directed towards the tubes that will maximise the cooling effect and ultimately create impact on the performance of the vehicle.
So, upgrade your Ford truck with universal fit Edelbrock HEAT EXCHANGER. You can choose as per your truck specification and other measurement details.
And, if you're looking to upgrade your truck with all new Intercooler kit then there is no other better option than Spectra Premium 4401-1309 Turbocharger Intercooler that offers smooth and increased airflow and surely comes in your budget. This is best intercooler at great price.
And, if you're looking to upgrade your truck with all new Intercooler kit then there is no other better option thanBladeRunner GT Series Intercooler with Tubes that comes with 21% larger intercooler core offering much better Air flow and cooling capacity then stock.
Basically inter-cooler is a component used in vehicles along with turbo or superchargers. It's main function is to cool down the compressed and heated air which is coming out of the turbo.
By doing so it increases the efficiency of your engine as it provides denser air which then transfer from turbo to engine that contains more oxygen level which is optimal for better combustion.
You will get nice increase in fuel economy while improving overall Engine performance and It also lowers EGTs.
It is not wrong to say that using Heat Exchanger instead of full intercooler kit is more convenient way to increase performance as buying full kit will definitely cut your pocket but if you're looking to get that astounding amount of power then you have to compromise with your pocket and choose the best one.
If you're looking to improve drivability without putting any extra tuning mods, then The Sprint Booster is a perfect alternative for you!
The best thing about this upgrade is -you can easily use it with or without other tuners/programmers due to its ability to work independently from other modifications.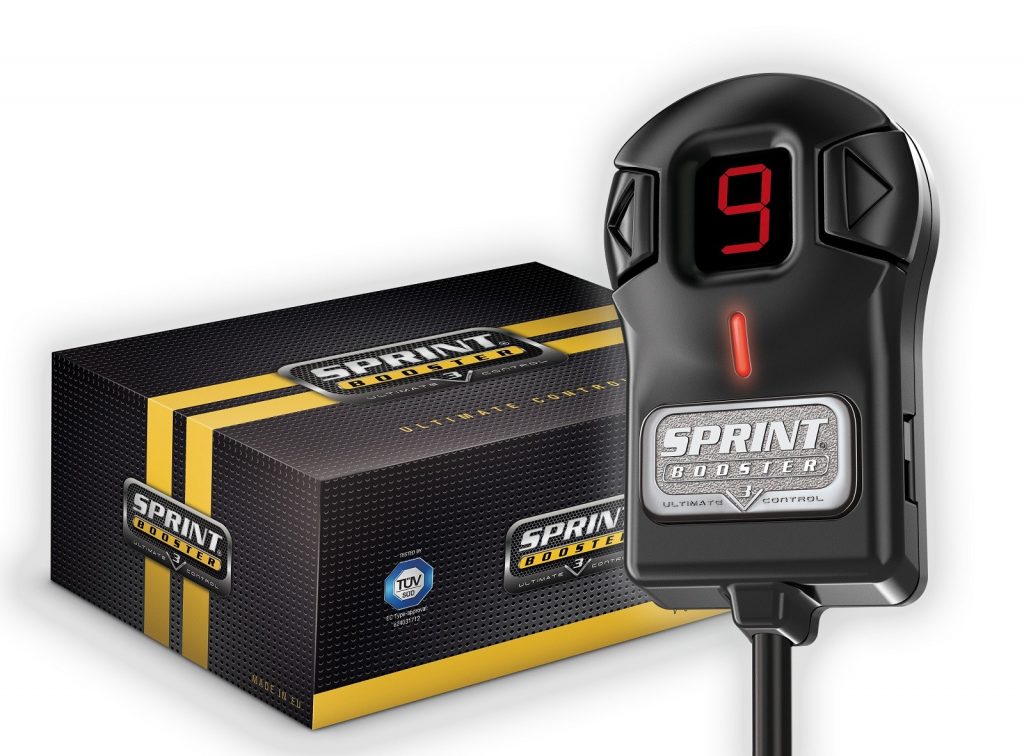 Basically Sprint Booster modifies the signal between the accelerator pedal module and the ECU. The improved signal encourages the throttle to open "more" than what the stock signal was providing at a given pedal position. The end result is the idle-to-full-throttle pedal travel is reduced.
Sprint Booster basically makes your truck "feel" more powerful because the given pedal input produces greater throttle opening.
Easy and quick installation, this performance mod is one of the perfect and effective upgradation for your truck.
#5

 Upgrade with Catalytic Converter
In case if you're not aware of Catalytic Converter, It is an exhaust emission control device that reduces toxic gases and pollutants in exhaust gas from an internal combustion engine into less-toxic pollutants by catalyzing a redox reaction.
In other words, A catalytic converter is a device that uses a catalyst to convert three harmful compounds in vehicle exhaust into harmless compounds.
And, by neutralizing hazardous compounds in your exhaust such as carbon monoxide, it will ultimately be increasing the gas mileage and performance.
It is built into the vehicle's exhaust system, and directly affect the performance of the engine. That's why we included it in this list of performance upgrades.
If the catalytic converter develops any issue or if it will get clogged due to any reasons, then it will directly impact on the performance of your truck as it will restrict the exhaust flow and if it will undergo any crack then there is high chances of leaking harmful gases.
So, its better to check any cracked or leaked catalytic converter to avoid failing in performance level.
This is not the additional upgrade but failing to this will surely crate noticeable impact on performance and also spread harmful gases in the environment.
So, if you have old catalytic converter or you're planning to change into better one , then you can go with universal fit Magnaflow universal Catalytic converter.
Made to fit on most of the Ford models ,this catalytic converter is best option to increase your exhaust life and moreover in-directly increase performance of your truck.
The other performance upgrade that will offer up to +14 horsepower increase and +16 Lbs x ft torque- is Twisted Exhaust headers.
These headers retain your stock catalytic converters and are a direct bolt-on installation which requires no cutting or drilling to provide a hassle-free installation.
Guaranteed to increase HP of +14 and +16 lbs x ft torque when using with aFe Y pipe . You will use these headers if you're not using AFe twisted Steel headers with Y pipe that we already mentioned in our top 3 best Performance Mods list.
The header's 4-to-1 mitered merge collectors decrease turbulence and increase exhaust velocity. The result is increased horsepower, torque and improved throttle response.
Tube lengths are accurately optimized for true pulse control technology which ultimately improves flow and performance.
You can go with this option if you're looking for only header upgrade and don't want to spend on whole exhaust kit.
---
Apart from these mods there are other basic upgrades also that you can add in your list that will create noticeable increase in performance while increasing the life of your  truck directly or indirectly.
Last but not Least
It's best practive to keep oil filter or air filter clean on regular basis to increase it's life . Choose wisely and get the best upgrade for your beast.
Conclusion
We hope you enjoyed the article Top 3 Best Mods/upgrades to Boost Performance of Ford F 150 | Best Combination to upgrade to its entire bits.
We do hope that this article helped you in making a definitive choice when it comes to upgrading your Ford F150 truck and unleashes every pinch of power.
If it really helped you,we'll be glad if you could share this article on social media services like Google+,Twitter,linkedin,Stumple Upon and Facebook using the Sharing buttons on the Top and End of this articles.
If you have any query Feel free to add you thoughts in the comment section below.
We'll happy to know your views.Do expect a quick reply.
Stay tunned for more updates.Thank You.

Best mods combination to boost Performance level of Ford F150
PROS
Best buy for buck
Top Picks
Monstrous Boost of power
Improve Drivability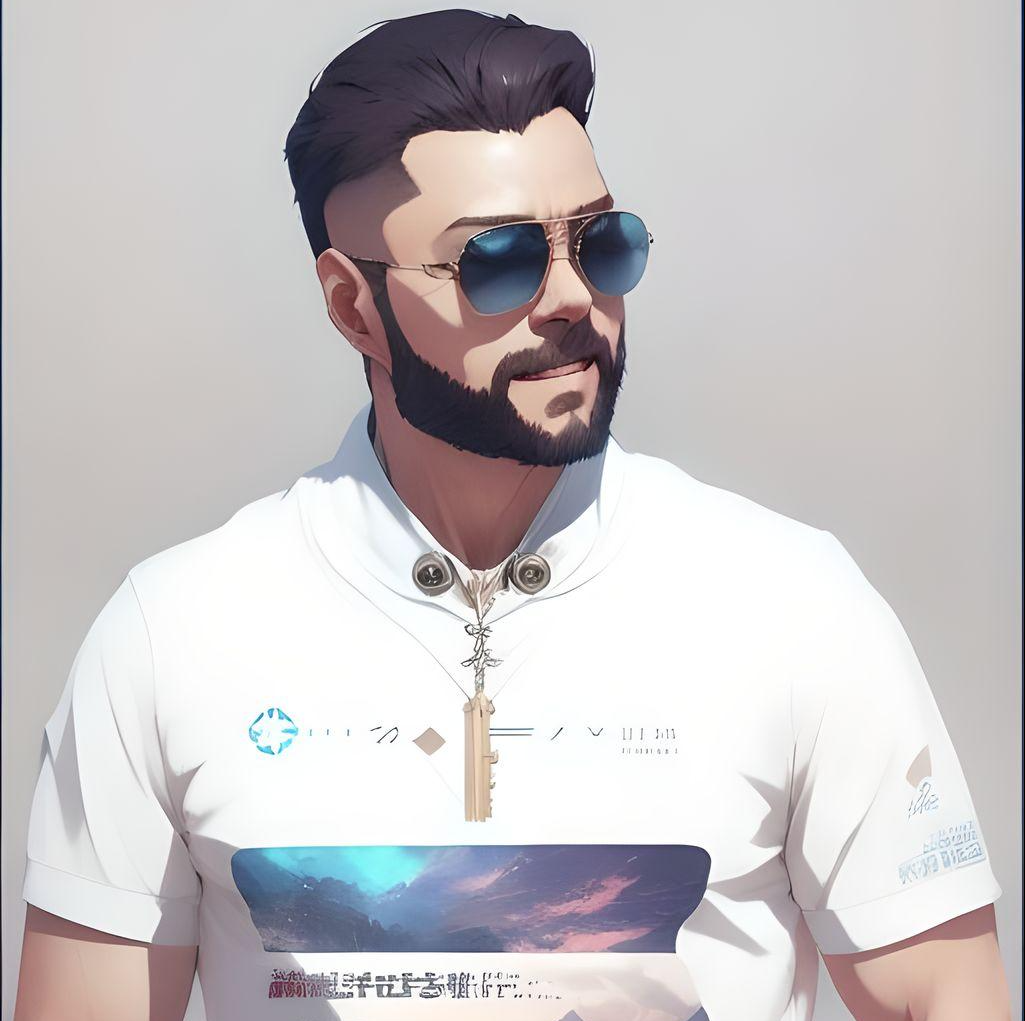 Vicky Dwaj, Founder and CEO of TrucksEnthusiasts ,  is an automobile engineer passionate about pickup trucks and accessories. Follow his journey to discover the latest trends in off-road accessories, cars, and truck parts.