3 Best Performance Mods/Upgrades for Chevy Colorado – Complete Buying Guide
Best Rated Mods
Value for Money
Performance boost
Best performance Upgrades for Chevy Colorado
Are You searching for best performance upgrades for your Chevy Colorado truck?… and confuse in choosing the best upgrades?
If yes!
Then you landed at right place.
Here in this article you will find the Top 3 Best Mods + addiitonal upgrades that will helps you in boosting your Chevy Colorado's performance level.
After reading this article you will be ready with the combination of 3 Best Mods that will shoots the horsepower, torque and MPGs while maintaining the engine sound and looks of your truck.
This list is totally based upon our research and customer reviews. If you want to add any other mod in this list, Feel free to comment we will add that in this list later on.
So without wasting much time let's start our list of 3 Best Mods/Upgrades that will boost the performance level of Chevy Colorado.
Here we go!
Cold Air intake plays a important role in vehicle performance level.
Basically the purpose of Air Intake is to deliver right amount of air into engine. Cold air intake sucked cold air and mix it with fuel, burnt and exhausted. And as the density of cold air is much higher than of hot air, cold air brings more oxygen and makes more power.
You will see improved performance with more horsepower, acceleration and gas mileage along with good sound by using cold air intake in your vehicle.
Now moving towards our First mod and one of the best air intake for Chevy Colorado that Outflow your Vehicle stock intake is the K&N Cold Air Intake kit 77-3104KP.
Whether you have to Haul cargo ,tow or climb the stope – the K&N Performance Cold Air Intake Kit is your best bet to boost up your performance level of your truck.
Before moving forward let's take a look on manufacturer- K&N Engineering, of Riverside, California, is the inventor and leading innovator of reusable cotton gauze filter technology for automotive applications.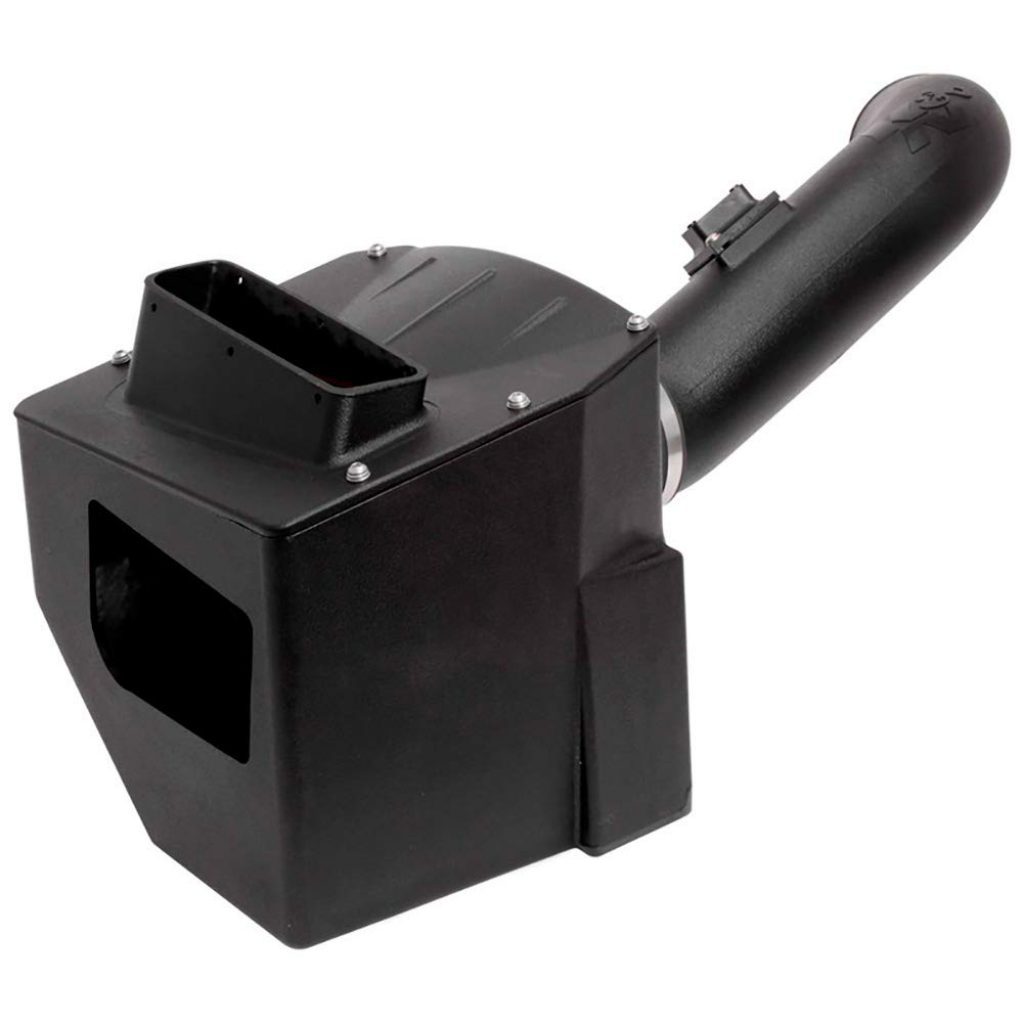 K&N exists as both the sales and brand leader for performance filters, and maintains a stocking catalogue of over 3,500 part numbers, including an extensive line of both factory replacement drop-in filters, FIPK (Fuel Injection Performance Kit) applications, and its line of innovative Performance Gold oil filters.
Now Coming towards the Performance Cold Air Intake Kit- it is custom designed for your specific made , make and model.
The K&N 77-3104KP Air Charger air intake system replaces the restrictive factory air filter and air intake housing on specific Chevy/GMC Colorado/ Canyon models.
K&N air intakes are designed to dramatically reduce air intake restriction as well as smooth and straighten air flow.
This allows your engine to inhale a larger amount of air than the factory air filter assembly. More air means more usable power and acceleration throughout the engine's RPM range.
The air intake comes with a chrome topped K&N high-flow air filter and a heat shield that installs into the original air box space.
Air is directed through an aerodynamically engineered intake tube into the engine's throttle body and turbo inlet for a guaranteed power gain.
The tube accommodates the factory air temperature sensor. The oversized cone shaped air filter can be used for up to 100,000 miles before servicing is needed depending on driving conditions.
This air intake is relatively easy to install, usually in 90 minutes or less using your vehicle's existing factory mounting points. The tools needed are a screwdriver and an Allen wrench.
Check out Customer reviews and ratings
Key Features
Fits on 2017-20 Chevy Colorado 
Guaranteed to Increase Horsepower and performance
Designed to improve throttle response and engine sound
Add up to 14 horsepower to the pedal
Comes with Largest possible K&N Filter charger cotton-gauze filter (washable & Reusable)
Lasts up to 100,000 miles before service is required (depending on driving conditions)
Replaces entire factory air intake system
Free-flowing high density polyethylene tube
Easy installation with details instructions and a complete hardware kit
---
Programmer and Tuners are both designed to maximize your engine's power output with easy plug n play installation. These will give your truck big boost in horsepower and torque along with helps your engine run more efficiently therefore increasing your MPGs.
While choosing tuner for your vehicle you need to determine exactly what kind of results you wants to achieve with your performance chip. Whether you want horsepower, torque and fuel economy or you want it as speed limiter, tire size, rev limit and also use it as checking and clearing diagnostic cods. All depends upon your need.
So moving towards our 2nd Mod which is one of the top rated programmer that boost the performance level of Chevy Colorado that is with DIABLOSPORT TRINITY 2 MX IN-CAB TUNER,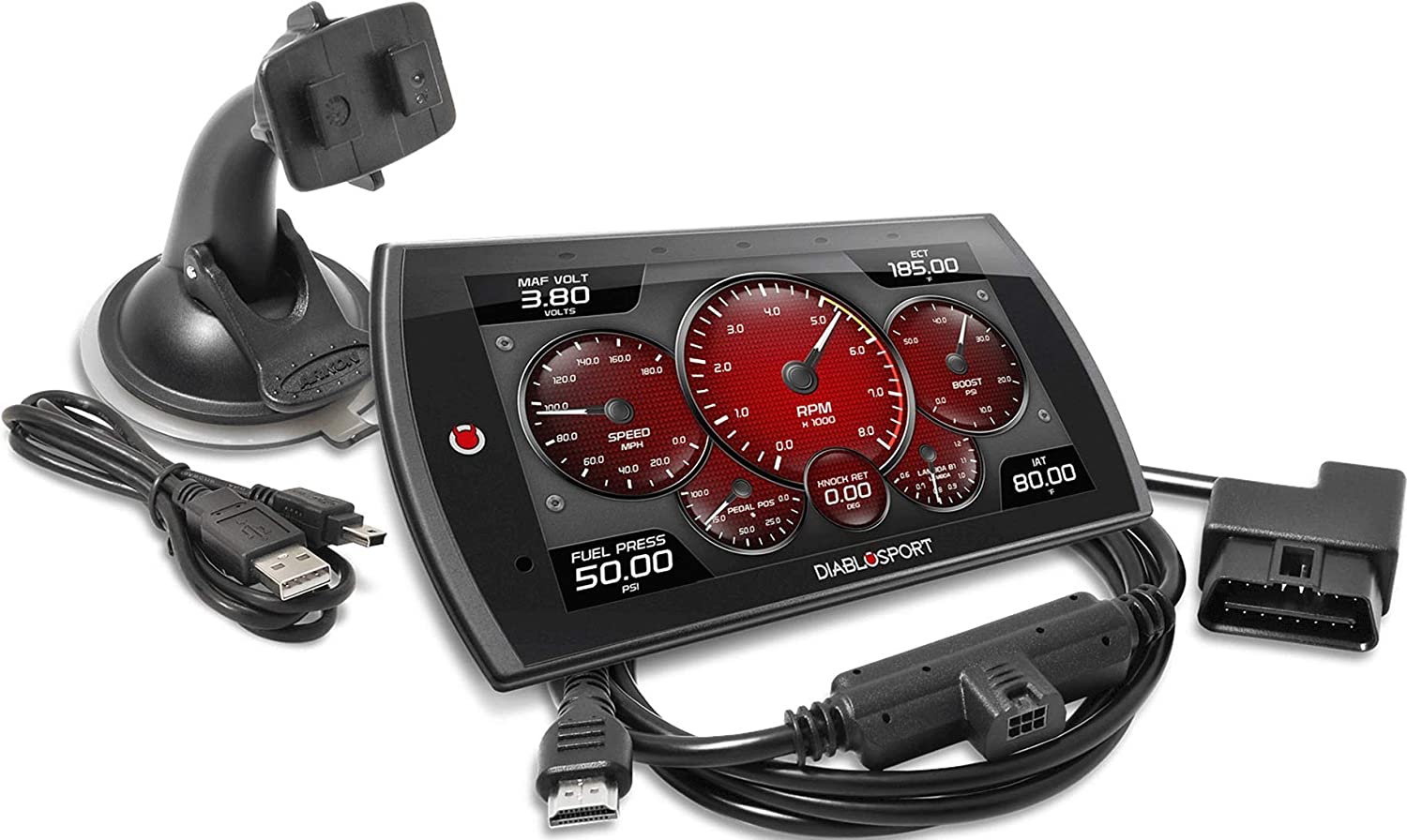 The Trinity 2 MX is an advanced digital gauge solution that boasts unparalleled performance in the current market. Its 5-inch capacitive-touch screen offers a stunning visual experience, with the sharpest graphical display currently available. This provides precise monitoring of your vehicle while also enhancing the aesthetic appeal of your dashboard.
With a newly integrated high-speed processor, the product features intuitive swipe gestures and seamless navigation, creating an unmatched user experience in the automotive aftermarket.
Furthermore, this cutting-edge technology is compatible with any supported OBD2-equipped vehicle, including cars, trucks, and SUVs, making it the ideal addition to enhance your vehicle's capabilities.
The Trinity 2 MX is a revolutionary digital gauge solution that surpasses the limitations of traditional analog gauges by offering expanded monitoring capabilities, diagnostics, performance tests, and data logging. In addition, it provides a hassle-free upgrade path to a full-featured performance tuner (coming soon) through an easy internet update.
This ultimate upgrade for your vehicle features industry-leading display quality, high-definition graphics, and DiabloSport's renowned quality. With the Trinity 2 MX, analog gauges are rendered obsolete, and you can enjoy a superior driving experience with advanced features and monitoring capabilities.
Whether you seek to elevate your dashboard's aesthetic appeal or optimize your driving performance, the Trinity 2 MX is the optimal choice. It delivers unparalleled performance and features, making it the ultimate upgrade for any vehicle.
Check out customer reviews & Ratings
 Features:
Dyno-Proven Gains up to +25 – 90 Max(in some vehicles) HP & +20-60 Lbs x Ft of torque
Increase Fuel Pressure and turbo boost to improve Vehicle performance, Efficiency and Throttle response
Easy and Quick Installation
Accessible through iOS or android device (Supports Bluetooth connectivity)
Can customise each power mode just with your phone
---
Don't let your vehicle's power potential go to waste with restrictive stock equipment. Instead, unleash its full potential and experience the exhilarating performance it's capable of delivering.
The aFe Rebel Series Cat Back Exhaust system is the ultimate solution for freeing your ride and experiencing the true difference in speed and power.
Introducing the new Rebel Series dual middle-side exit exhaust system for the 2015-2020 Chevy Colorado by aFe Power. This system features dual black exhaust tips that exit in front of the rear passenger tire, creating a distinctive and aggressive look that sets your vehicle apart from the crowd.
The exhaust system is fabricated from top-quality materials, including 3″ dual MIG-welded, mandrel bent stainless steel tubing. This ensures maximum flow and improved horsepower and torque, providing a noticeable enhancement in your vehicle's performance.
During the testing phase, aFe conducted in-house dyno measurements that demonstrated the impressive power gains achieved with the installation of the cat-back exhaust system. Results showed an increase of up to 9 horsepower and 10 lbs. x ft. of torque, confirming the significant improvement in your vehicle's overall performance.
The exhaust tips on this system feature distinctive laser-etched aFe Power logos and are crafted from high-quality stainless steel, ensuring exceptional durability and longevity.
Additionally, this cat-back exhaust system features leak-free high-quality clamps and a stainless steel 18″ free-flowing muffler. This muffler effectively absorbs high pitch tones, delivering an impressive, aggressive sound that amplifies your vehicle's power and torque output.
Installing this performance cat-back exhaust system is hassle-free, thanks to the included necessary hardware and clamps. No cutting is required, making it a true bolt-on system that's easy to install and enjoy.
Check out Customer Reviews & Ratings
Key Features
Custom Designed for 2015-2020  Chevy Colorado
Free-Flowing Exhaust boosts horsepower, torque and even fuel economy.
Constructed from 3″ dual MIG-welded, mandrel bent stainless steel tubing
Unique dual, 3-1/2″ Dia. black stainless steel middle exit tips w/ laser-etched aFe power logos
In testing, the Cat-Back exhaust system resulted in gains up to + 9 horsepower and + 10 lbs. x ft. Of torque
Available in Single Side exit system
Uses bayonet style hangers and heavy-duty band clamps for a secure fit
Comes complete with all necessary hardware for a hassle-free installation
Last but not Least
---
Aditional Performance Upgrades
Others best Upgrades/Mods that will Also help you in Boosting Performance
Apart from above listed 3 best upgrades, there are other mods also that will also proves to be best combination and will surely helps in boosting the overall performance to next level.
Don't just go with our words, try it and then know it yourself. It will sure that you will never regret after that..These modifications will improve the driviablity and performance in one way or other and are going to be best partner for your beast.
So, without wasting more time let's move towards the bonus Upgrades.
An intercooler, or "charge-air cooler", is an air-to-air or air-to-liquid heat exchange device used on turbocharged and supercharged (forced induction) internal combustion engines to improve their volumetric efficiency by increasing intake air-charge density through isochoric cooling.
Here we're talking about heat exchanger which is basically a intercooler only. Basically, Heat Exchanger uses air from the atmosphere, flowing over and around a lot of finned tubes to remove heat from the intake air charge which means it reduce the temperature of the air that has been pressurized by the supercharger/turbocharger that is going through the intake tubes.
In layman terms, a heat exchanger is a device designed to efficiently transfer or "exchange" heat from one matter to another. When a fluid is used to transfer heat, the fluid could be a liquid, such as water or oil, or could be moving air.
When you use air-to- air heat exchanger, cooler air will be directed towards the tubes that will maximise the cooling effect and ultimately create impact on the performance of the vehicle.
So, upgrade your Canyon with universal fit Edelbrock HEAT EXCHANGER. You can choose as per your truck specification and other measurement details.
If you're looking to improve drivability without putting any extra tuning mods, then The Sprint Booster is a perfect alternative for you!
The best thing about this upgrade is -you can easily use it with or without other tuners/programmers due to its ability to work independently from other modifications.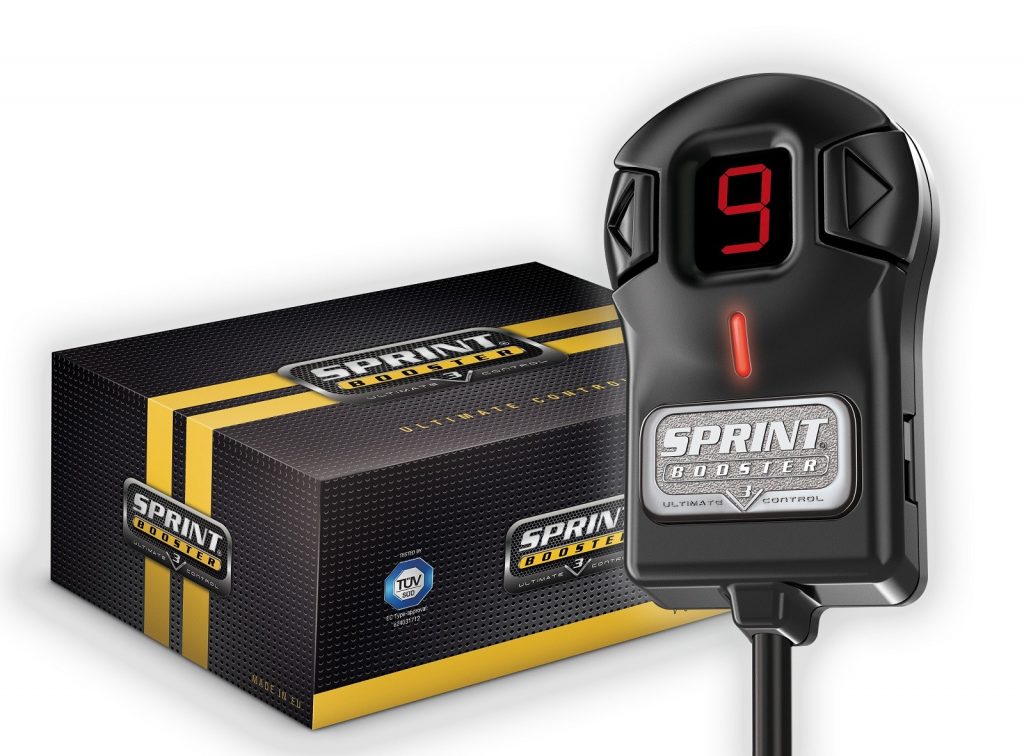 Basically Sprint Booster modifies the signal between the accelerator pedal module and the ECU. The improved signal encourages the throttle to open "more" than what the stock signal was providing at a given pedal position. The end result is the idle-to-full-throttle pedal travel is reduced.
Sprint Booster basically makes your truck "feel" more powerful because the given pedal input produces greater throttle opening.
Easy and quick installation, this performance mod is one of the perfect and effective upgradation for your truck.
---
If you don't want to hit your pockets by spending large on full intercooler kit or turbocharger, then you can also choose the other more convenient option for your beast by getting aFe Intercooler for Your Chevy Colorado that is made to increase overall performance by outflowing the factory tubes up to 38%.
The high quality aluminised tube are mandrel bent and powder coated to Offer maximum flow and performance. The bends are perfectly made to decrease turbulence and minimize pressure loss while increasing HP and Torque.
Moreover, the I/C tube kit transfers hot air smoothly to the intercooler to accelerate heat transfer then cooled air to the engine to help make more power.
Easy to fit and featuring quick installation, the kit tubing comes in wrinkly-black powder coating with badge engraved on it giving it impressive appealing look.
This can easily be fit on  Chevy Colorado trucks.
---
Apart from these mods, there are other basic upgrades also that you can add in your list that will create noticeable increase in performance while increasing the life of your  truck directly or indirectly.
Lastly
It's best practive to keep oil filter or air filter clean on regular basis to increase it's life . Choose wisely and get the best upgrade for your rig.
---
Conclusion
We hope you enjoyed the article 3 Best upgrades to Boost Performance of Chevy Colorado | Best Mods combination to Boost Performance to its entire bits.
We do hope that this article helped you in making a definitive choice when it comes to upgrading your Colorado and unleashes every pinch of its power.
If it really helped you,we'll be glad if you could share this article on social media services like Google+,Twitter,linkedin,Stumple Upon and Facebook using the Sharing buttons on the Top and End of this articles.
If you have any query Feel free to add you thoughts in the comment section below.
We'll happy to know your views.Do expect a quick reply.
Stay tunned for more updates.Thank You.
Best Performance mods to extract evry pinch of power
PROS
Best Rated Mods
Value for Money
Performance boost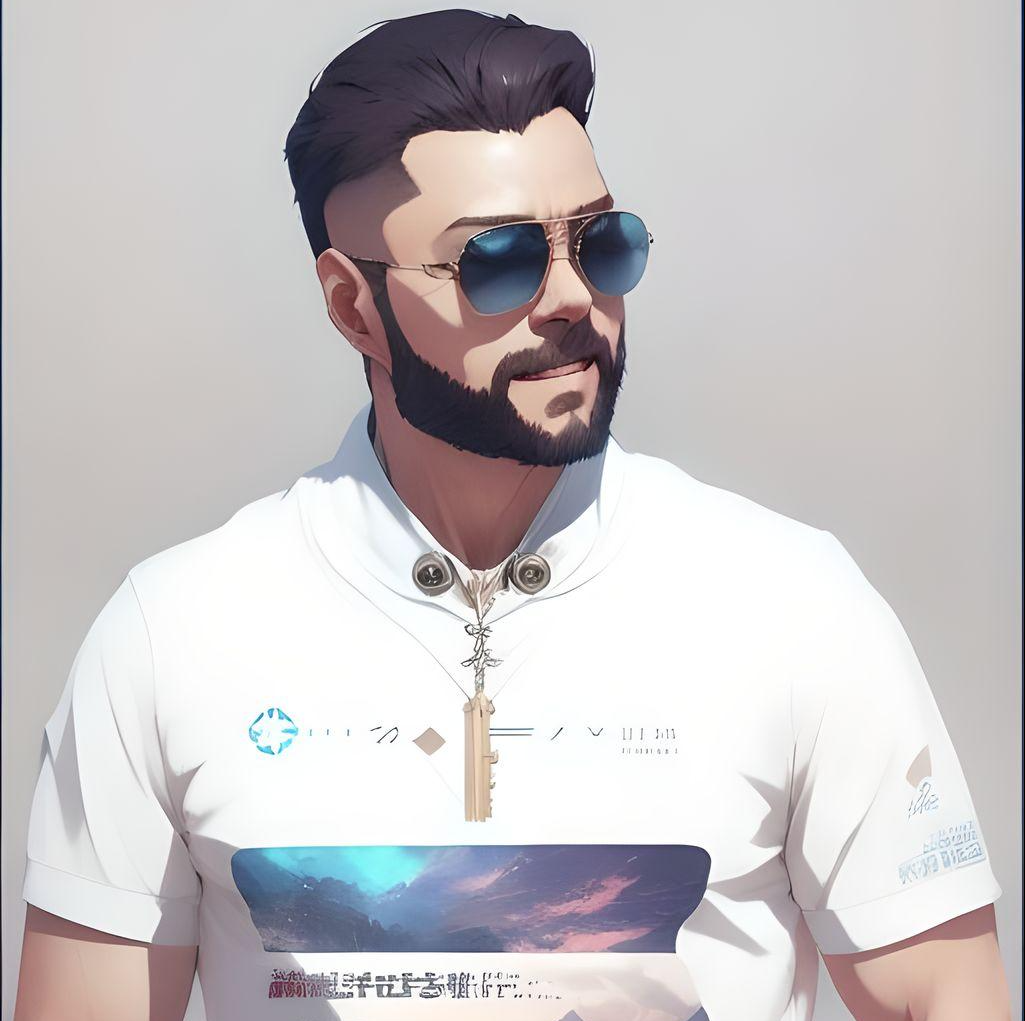 Vicky Dwaj, Founder and CEO of TrucksEnthusiasts ,  is an automobile engineer passionate about pickup trucks and accessories. Follow his journey to discover the latest trends in off-road accessories, cars, and truck parts.