5 Best Cold Air Intakes for 2016-17 Toyota Tacoma, Increases HP, torque and MPGs
Are you sucks up with your truck performance and wants to upgrade the mods?
If yes!
Then you must be at right place to boost up the performance level of your truck.
Let me tell you how?
Here we talking about the Air intakes.. yes the Air intakes -that replaces your truck's stock air intake kit and gives you the monster gain in HP , torque and somewhat MPGs.
Before starting let's us first know what does the Air Intake Systems do?
Cold Air Intake are basically used to improve performance – this is not the new thing as everyone knows but how ?
Cold Air intake provides improved combustion rate by drawing in more colder air. There are many flow restrictions by means of tubes , bends and turns that basically slower down the incoming air for combustion with time. More Restrictions means more resistance and temperature and less air or oxygen delivered to combustion chamber causing a poor ignition of fuel rich air/fuel mixture. This leads to decrease in performance with time.
Cold air Intake system is designed to free up those restrictions and drawing in colder air or more oxygen and maximizing combustion in your engine and hence increasing performance of your truck.
Benefits of Using Cold Air Intake
#1 Power/Hp Gain : This is one of the most obvious benefits of using Cold Air intake in your vehicle. More air or oxygen means good combustion which allows good fuel rich air/fuel mixture to ignite properly hence increasing horsepower of your vehicle.
#2 Increased Throttle Response : With time you will find your vehicle becoming bit slow and lagging in the performance during tough paths. By increasing air flow and combustion in your engine you will be adding more throttle response to your vehicle. As performance air intakes gives your truck more throttle response whenever you press gas pedal.
#3 Boosted Mileage or Fuel economy : By using performance cold air intake you are basically increasing your gas mileage. As better oxygen level means better combustion and rick fuel/air mixture will burn properly and you get more energy out of every drop of fuel hence increasing mileage.
You will see 1-2 Miles per gallon increase in your mileage but along with this you have to maintain your driving habits also as in if you're driving hard using extra power and acceleration that will surely not lead to increase in mileage. So be cautious about that.
#4 Increase Engine Life: Installing a cold intake will increase your engine's life. As good combustion and cold air means less contaminants accumulated inside engine that leads to better engine life.
#5 Easy Installation : The best part of Performance Air Intake is that they're very easy to install with simple tools and installation instructions. If you're totally new then mechanic help is recommended otherwise you can install by seeing videos or reading installation manual also.
After knowing all of the benefits lets look into some of the things to consider before buying cold Air Intake
Things to Consider before Buying Cold Air Intake
#1 Filter: This is important to evaluate the quality of filter before buying the cold air intake as it is the important part. It should be reusable and washable. In this way it will last longer and saves your money also as there is no need of replacement just clean it and use it again.
#2 Size: Choose the right size according to your truck. Just look at the engine space and also look into some details regarding size while buying Cold Air Intake. You have to choose wisely which one fit easier and will not compromise with any of the above benefits.
#3 Durability: Evaluate properly the material of the cold air intake before buying. Choose that air intake which will prone to wear and tear and will last long and made from high quality material.
#4 Price: Price is obvious the main thing to consider as everyone wants to buy cheap and best but don't compromise with quality and performance with price and after all with best air intake you will be saving indirectly (on fuel mileage).
These are some of the points you should keep in mind before buying Cold Air Intake. If you have any doubt fell free to comment below.
You'll find plenty of options from internet to buy the Air intake kit but it's difficult for you to choose the best air intake .
Solving this issue we've listed the top 5 best and most rated cold air intakes for 2016-17 Toyota Tacoma trucks that not only adds Hp and torque but also increases Miles per gallon.
So without wasting time let's start our list!
Here we Go!

Unlocks your engine' trapped performance with the Injen Technology Power-Flow Intake system.
The Injen Technology Power flow Intake systems are engineered to deliver maximum output by supplying a blast of oxygen at the perfect moment for perfect combustion .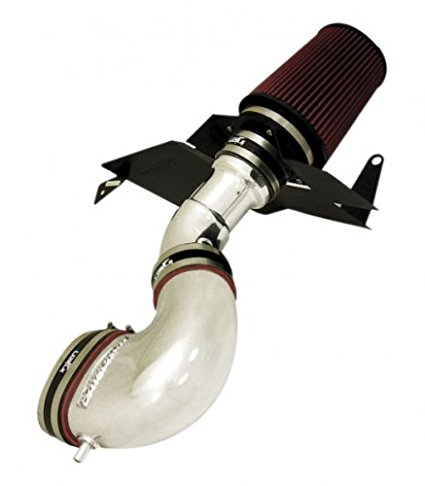 Developed specifically for the truck and SUV market, Injen Technology's Power-Flow series intake system comes with a myriad of built in features.
Power-Flow Cold Air intake replaces the stock kit with its high-flow air filter, fully integrated Air inducer, Air Stabilizer and Velocity Stack.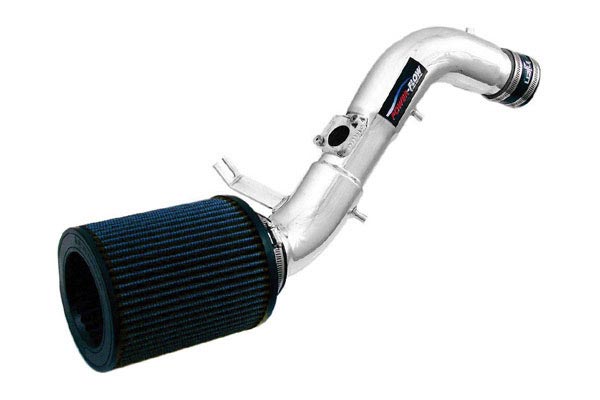 Integrated velocity stack allows the pressurized air to be at a more stable state, which equates to a consistent transition of air into the MR calibrated tube.
Through a step down process, MR Technology will regulate the airflow at certain strategic points, ultimately controlling the rate and density.
By doing so, the MR Technology process tunes the intake system to avoid the necessity of calibrating MAF sensors.
Overall, the MR Technology process was developed in order to compensate for the vast change in technology and the need for a safe, reliable performance product.
The Air intakehas simple bolt-on installation with no drilling.
The Power-flow air intake is backed by lifetime warranty.
Check out Customer Reviews & Ratings
Key Features
Boost your truck' performance with Lighting-fast throttle response and consistent power gains across the RPM Range
Tuned with Injen's patented Mega Ram (MR) Technology –that allows injen to tweak the diameter and shape of intake pipe while maintaining maximum horsepower and torque gains
Dyno-tested to ensure maximum performance
Replaces Stock kit with high-flow air filter, fully integrated Air Inducer , Air Stabilizer and Velocity Stack
Brackets and flanges are TIG welded for extra strength and durability
High performance filters provide better airflow while maintaining a high filtration rate
Simple Installation with no drilling required
Backed by Injen Technology's limited lifetime warranty
---
Outflow your Vehicle stock intake with the aFe Power Magnum Force Performance Intake System.
Depending on the performance needs of your engine, aFe replaces restrictive stock parts with custom- tuned components. Most kits include an aFe performance filter of your choice and all come with a powder-coated steel heat shield to keep the air flow cool.
Actually it works in two stages-First it replaces factory air box and air filter and then it replaces factory air box, air box and intake tube.
And some kits actually replace the entire stock intake system. You'll get maximum flow rate and most efficient air intake possible and monster gains up to 56 HP.
What more your need!
Basically, This intake system has completely sealed rotomolded plastic housing with a black powder-coated aluminum cover keeps warm engine air out and allows for a cooler, fresher, denser air intake charge.
The sealed housing features an auxiliary air inlet that allows for increased air volume into the intake for increased performance and improved throttle response.
One-Piece 2.75 inches Mandrel-Bent Wrinkle-Black Powder-Coated aluminum intake tube directs unrestricted airflow from the filter to the throttle body for more horsepower and torque.
Every aFe Cold Air Intake includes the filter and everything you need to optimize performance .The installation is quite simple.You can install in just 30 min with ordinary tools.
The aFe air intake system Is backed by lifetime warranty.
This product is not currently CARB exempt and is not available for sale in California or for use on any vehicle registered with the California Department of Motor Vehicle.
Check out Customer reviews & ratings
Key Features
Outflows the factory intake by up to 56 percent . Produces an additional 5 horsepower and 6 lbs. x ft. torque
3-Layer non-oiled, washable synthetic media for the perfect balance of performance, protection and convenience
Features a powder-coated one piece heat shield and 3-angle adaptor
75 inches Mandrel-bent wrinkle-black powder-coated aluminum intake tube
Replaces air box, air filter and air intake tube
Install in just 30 min
Backed by lifetime warranty
---
Enhance your Engine' performance with the Airaid Cold Intake system as it feed more air to the engine and unleash its trapped potential.
Before Talking about the features let's know about the manufacturer.
Airaid Intake Systems are specifically designed to take full advantage of today's vehicle technology. They are recognized throughout the world as the standard in high-performance intake system upgrades with a price that makes it even more sensible for the motorsports enthusiasts.
The AIRAID MXP Air Intake System represents the ultimate in AIRAID's cold air induction systems and delivers higher levels of horsepower and acceleration gains for specific Toyota Tacoma models.
This air intake starts with a replacement one-piece roto-molded air box that addresses all the shortcomings of the restrictive factory design.
Housed inside the air box is an AIRAID premium air filter for outstanding air flow and filtration.
Air is directed through a new air intake tube constructed of cross-linked, high-density polyethylene that is designed using extensive computer modelling to maintain proper mass air flow readings and calibration.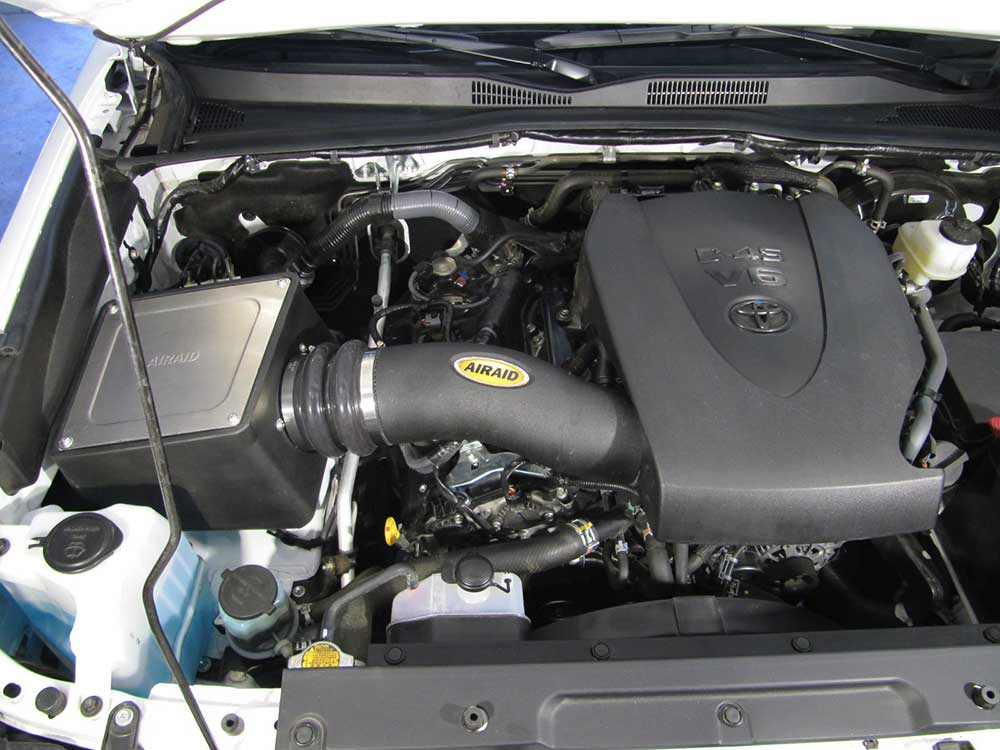 This MXP air intake system also has a built-in velocity stack, which further promotes airflow.
Install in Just 30 minutes with ordinary tools there is no need of drilling or cutting for its setup.
The Airaid MXP Air Intake system is backed by lifetime warranty.
Check out Customer reviews & Ratings
Key Features
Increases performance and mileage
Replaces restrictive factory air filter and intake tube
Easy to install with no cutting or drilling
Red oiled premium air filter recommended for durty dry driving conditions
High airflow Washable and reusable air filter
Tuned velocity stack for maximum air flow and mass air sensor functionality
Install in less than 30 minutes with ordinary tools
Lifetime No Hassle Warranty
---
Outflow your engine flow rate with the K$N 77 series Performance Intake Kit.
Whether to Haul ,tow or climb the stope the K&N Performance Cold Air Intake Kit is your best bet to boost up your performance level of your truck.
Built for performance and show utilizing the highest quality components, the K&N 77 Series High-Flow Performance Air Intake is a free-flowing mandrel-bent aluminum tube induction system designed for Trucks and Sport Utility Vehicles.
K&N intake systems replace your vehicle's restrictive factory air filter and air intake housing.
K&N intakes are designed to dramatically reduce intake restriction as they smooth and straighten air flow.
This allows your vehicle's engine to inhale a larger amount of air than the OEM air filter assembly. More air means more usable power and acceleration throughout the engine's RPM range.
The filters on these kits are washable and reusable.
Most of our intake kits are relatively easy to install using tools commonly available (see installation instructions).
77-Series air intakes come with K&N's Million Mile Limited Warranty.
Check out Customer Reviews & Ratings
Key Features
Outburst the flow rate
Estimated horsepower gain of 10.18 HP at 4996 RPM
Designed to improve throttle response and engine sound
Feature an aluminum intake tube in Polished or Gunmetal Gray
Easy to install, usually in 90 minutes or less
Replaces entire factory air intake system
Provided with washable and reusable filters
Lasts up to 100,000 miles before service is required (depending on driving conditions)
---
Wait for the First position is over- K&N Performance Cold Air Intake Kit stands at #1 Position in our list of Top 5 best Air Intake kits.
Before moving forward let's take a look on manufacturer- K&N Engineering, of Riverside, California, is the inventor and leading innovator of reusable cotton gauze filter technology for automotive applications.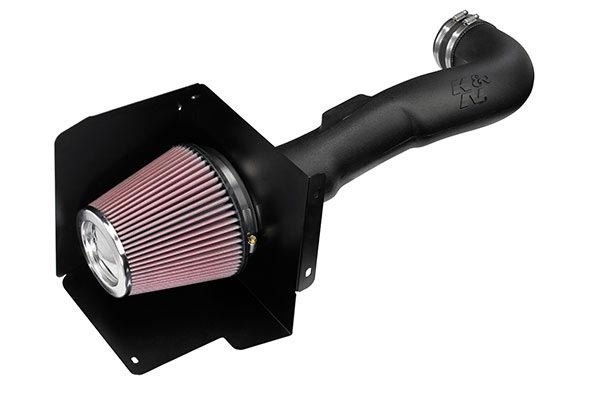 K&N exists as both the sales and brand leader for performance filters, and maintains a stocking catalogue of over 3,500 part numbers, including an extensive line of both factory replacement drop-in filters, FIPK (Fuel Injection Performance Kit) applications, and its line of innovative Performance Gold oil filters.
The K&N 63 Series Air Charger Intake Kits virtually eliminate restriction between the air filter and the engine by replacing the air filter and the entire air path to the engine in Toyota Tacoma models.
These intakes use only non-metallic rotationally molded tubes that can reduce intake air temperature and decrease intake sound over a metal tube.
The aerodynamically engineered tube drives a massive amount of air into the engine, which translates into power.
The K&N 63 Series Intake Kits are not legal for street use in California.
This air intake is relatively easy to install, usually in 90 minutes or less using your vehicle's existing factory mounting points. The tools needed are a screwdriver and an Allen wrench.
The Air Intake is backed by 100,000 mile warranty.
Check out Customer Reviews & Ratings
Key Features
Guaranteed to Increase Horsepower and performance
Designed to improve throttle response and engine sound
Add up to 7.41 horsepower at 4600 RPM
Comes with Largest posibile K&N Filtercharger cotton-gauze filter (washable & Reusable)
Lasts up to 100,000 miles before service is required (depending on driving conditions)
Replaces entire factory air intake system
Easy installation with details instructions and a complete hardware kit
---
Conclusion
We hope you enjoyed the article 5 Best Cold Air Intakes for 2016-17 Toyota Tacoma, Increases HP, torque and MPGs to its entire bits.
We do hope that this article helped you in making a definitive choice when it comes to choosing an Best Air Intake for your 2016-17 Toyota Tacoma truck.
If it really helped you,We'll be glad if you could share this article on social media services like Google+,Twitter,linkedin,Stumple Upon and Facebook using the Sharing buttons on the Top and End of this articles.
If you have any query Feel free to add you thoughts in the comment section below.
We'll happy to know your views.Do expect a quick reply.
Stay tunned for more updates.Thank You.