4 Best lift kits for Toyota Tacoma | 6inch lift tacoma
Upgrade Your Tacoma with the Best 6 Inch Lift Kits: Find the Perfect Fit 
Choosing a right lift kit always being a tough task as there are lot of options in the market and most of the brands claimed to have a best lift kit.
But how to choose best one?
As a beginner, it is very diffucult to check various parameters and differentiate between good kits and bad lift kits. Good and bad kits are nothing but just rated as per quality and how durable they are.
If you're also stuck in same kind of confusion then this article is your go to guide to get best lift kit for your Toyota Tacoma. Whether you're pro or beginner this article will defenitely helps you in choosing the best lift kit.
Before starting our article let's discuss first why 6inch lift kits are so popular among Toyota Tacoma owners:
Why 6inch Lift is popular for Toyota Tacoma 
A 6-inch lift is a popular choice for Toyota Tacoma owners who want to enhance the vehicle's off-road capabilities and overall appearance. Here are some reasons why:
Increased ground clearance: A 6-inch lift raises the Tacoma's body and suspension system higher off the ground, which increases the distance between the vehicle's undercarriage and obstacles on the trail, such as rocks, logs, and uneven terrain. This helps reduce the risk of damage to the vehicle and improves its off-road capabilities.

Larger tire size: With a 6-inch lift, Tacoma owners can install larger tires, which further improves the vehicle's off-road performance. The larger tires provide better traction, improved grip on slippery surfaces, and more stable handling.

Improved visibility: A lifted Tacoma provides a better view of the road ahead, which can be helpful when driving in off-road conditions.

Enhanced appearance: A 6-inch lift can give the Tacoma a more aggressive and rugged look, which many owners find appealing.
Overall, a 6-inch lift can significantly improve the off-road performance and appearance of a Toyota Tacoma, making it a popular choice among off-road enthusiasts.
Check out Complete Buying Guide for Suspension Lift kits, starting from Why suspension lift kits are important featuring all benefits and drawbacks and also important points to consider while choosing any lift kit. Apart from that buying guide consists of all types of suspension lift kits that will give you fair idea which one to choose and why. 
In this article of best lift kits for Toyota Tacoma ,  we have drilled down into the web and came up with some of the best 6 inche lift kits for Toyota Tacoma (All years & models) that are listed from bottom to top.
There are multiple factors that you can consider to differentiate between different suspension lift kits and choose which one is better and which is not. These factors includes- components of that kit, Build quality (material), Fitment and compatibility, Price, Ease of installation and Customer & overall reviews. We are going to cover all of the best lift kits basis on these factors which will helps you getting the perfect lift.
 Best Toyota Tacoma Suspension Lift kits
Fabtech is one of the well-respected brand in the off-road industry with positive review about the products. It is based in California, USA and founded in 1991 and a leading manufacturer of aftermarket suspension lift kit.
Coming to the 6inch Lift Tacoma – Fabtech k7019 lift kit w shocks– it stands at 4th position in our list . let's check some of the features and factors.
Components and Build Quality
What's in the box
(1) Coilover Spacer Box
(2) Rear Performance Shocks
Installation Hardware
The performance shocks feature a twin tube design and comes with closed cell foam insert and 9/16-inch hardened chrome piston rods. Apart from this it also comes with extended length ductile iron steering knuckles that can gives you full control over the vehicle even with increased rig height.
Not only this, the Steel coil over shock spacers by Fabtech with Performance shocks are designed to utilize the stock front coil over shocks of your Tacoma and offers you hassle free installation.
This basic lift kit is entirely made out of premium quality material and gives your truck 6 in additional road clearance.
Fitment and Compatibility: Fabtech 6 inches Lift kit can easily be compatible with 05-14 6-Lug Toyota Tacoma (2.7L l4 and 4.0L V6 All Modes)
Always check for compatibility before buying lift kit as it impacts on your truck looks and improves driveability. If have Toyota Tacoma models apart the above-mentioned list then you can check our lift kits for proper fitment.
Ease of Installation: This definitely requires mechanic or professional installation and takes around 1 day to install.
Price: This is one of the reasons to put this lift kit at 4th position in our list of best 6 inch lift kits for toyota tacoma. This is quite expensive than others in the list. And with mechanic installation recommended, the overall cost increases more.
Overall Review:
This kit is overall good one to choose with great amount of stability and looks. If you have installed previously any lift kit then there is no need to go for professional installation, you can do it by yourself saving additional mechanic cost. Moreover, you will get all hardware and installation instruction that helps you in doing so. You can also check online resources or video to install this in lesser time.
After installing you will definitely get aggressive looks and better off-road experience. You will have to do the alignment work after installation.
Key Features:
6 Inch Suspension lift kit with performance shocks
Compatible with 05-14 Toyota Tacoma Models
Comes with steel coil over shock spacers
Requires Mechanic installation
Enhance Ride quality, height and appearance
---
Make your Tacoma ready for off-road with MaxTrack Suspension lift kit. This lift kit will give you 6 inchs of additional ground clearance.
MaxTrac Suspension® was founded in 2010 by a group of automotive enthusiasts who were passionate about building premium suspension products at the budget-friendly price.
MaxTrac Suspension offers proven steering knuckle technology to the second generation 2WD Toyota Tacoma and becomes best fit for Toyota Tacoma trucks.
Components & Build Quality:
MaxTrac 6 inch Suspension lift kit includes:
706840- Front 4″ Lift Spindles With DOT Approved Brake Lines : Spindles are constructed out of ductile iron from a case mold which proves to be greater upgrade then your stock.
836825-Front 2.5 Strut Spacer: This 2.5″ strut spacer is extremely high quality & fabricated from 1/4″ steel, stamped top plates, and standardized hardware across all applications
810040-Rear 4″ Lift Blocks : These rear 4″ lift blocks made out of solid steel, fabricated to be much stronger than cast steel blocks typically found in this industry.
910104-U-Bolts for 4″ Lift Blocks: use to carry 3-4" lift blocks
616800-Carrier Bearing Bracket and Brake Line Brackets : Use to eliminate driving line vibrations
2900SL-7 Rear MaxTrac Shocks : These are twin tube, black body, universal gas charged shocks.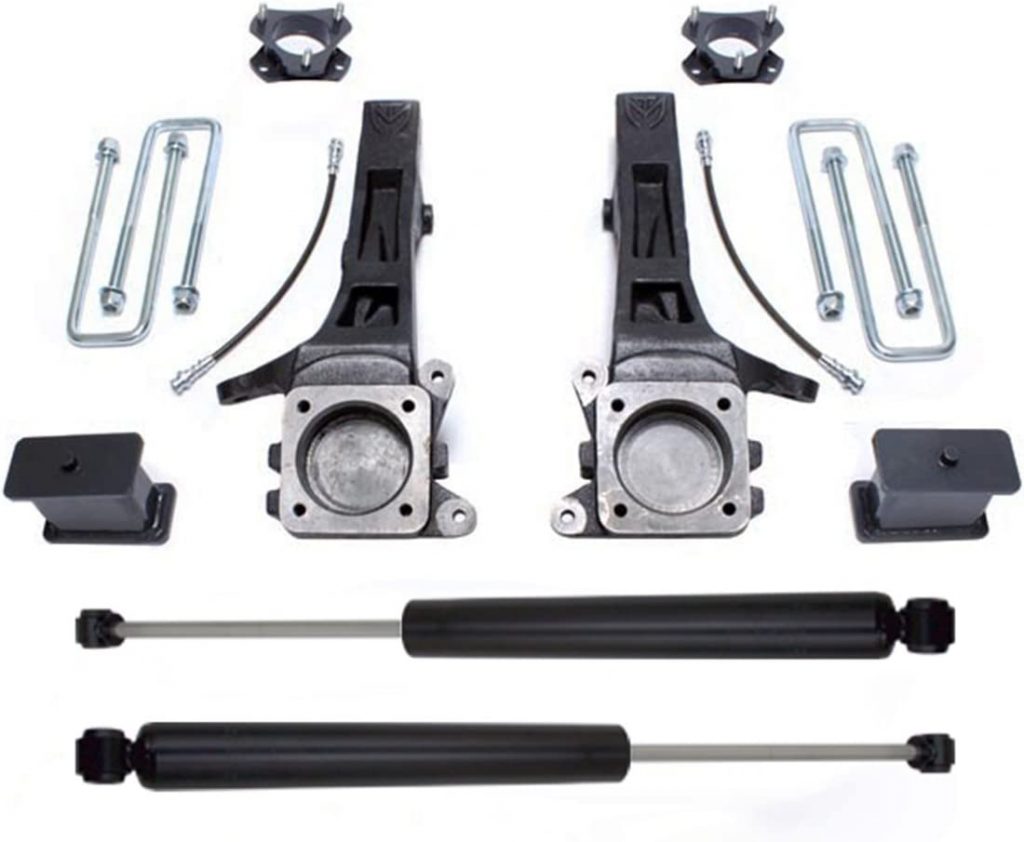 Fitment and Compatibility: The MaxTrac 6in suspension lift kit is made for 2005-2023 Toyota Tacoma (6 Lug) 2wd
Ease of Installation: This suspension kit is easy to install and take only 6-8 hours to install with included hardware installation instructions. No need to go to mechanic if you're aware about the installation even little bit also.
Price:  Coming to the price, this is one of the least expensive suspension lift kit with high quality build. You can save installation cost also with this lift kit. It can provide you option of accommodating 35" tires which might increases the cost but overall this is less expensive lift kit with all features.
Overall Review:
MaxTrac Suspension lift kit is one of the sturdiest kits that is made to stand even toughest road conditions giving you ultimate off-road experience. This lift kit will install in just 6-8 hours with just bolt on parts and no drilling & cutting required. It can also accommodate and hold 35" of tires that enhances the looks of your vehicle without compromising stability of the vehicle.
You can also accommodate 17" wheels with 4.75" Max backspacing and it give your truck +0.75" Track width increase. This lift kit is best in all aspect starting from better build quality, less price range and ease of installation.
Key Features:
Compatible with 2005-2023+ All Toyota Tacoma Models
Fast and Simple installation process
Utilizes extended sterring knucles
All hardware included
No drilling cutting required
Made in USA
Check out Related Video of MaxTrac Suspension lift kit
Get ready to increase the height of Mid-sized Tacoma truck with ReadyLift 6" big lift kit with • Bilstein 5100 series rear shocks that stands at 2nd in our list of best 6 inch lift kit for Tacoma
ReadyLIFT® Suspension Inc. was founded in 2006 on the principals of developing a line of economical yet innovative suspension leveling products that would allow Truck and SUV owners to be able to "level" their vehicle in order to install Plus-size wheels and tires.
With the drop-bracket style engineering, Readylift offers this new Tacoma 6″ big lift kit power packed with great features that improves installation effort while providing a great ride and handling with the ability to run up to a 35″ tall off-road tire!
Components and Build Quality
Readylift 44-5660 lift kits comes with high-quality precision engineered components which includes:
Front/Rear laser cut CNC machined cross members : Main high quality members to lift and support the vehicle (critical component)
Top mount strut extensions– : Use to extend the length of strut and increase the overall height
Cast iron lift knuckles: Typically made of cast iron and Replaces factory knuckles. Durable and stronger
Bump stop extensions: These are used to extend the length of bump stops. Typically made up of rubber or foam.
Sway bar drop spacers: Helps to lower the sway bar and helps to reduce body roll and increases stability
Differential drop assemblies: This can be used to lower the differential position (which becomes higher with lifting) maintaining stability and proper functionality of differential.
Brake line brackets: These are brackets that reposition the brake lines which can be disturbed with lifting and make it work normally.
4″ tall rear lift blocks with longer u-bolts : These are made of metal to raise rear height of your rig and enhance handling experience.
Heavy-duty skid plate : Strong and durable made up of heavy quality metal – designed to protected vehicle's critical components during off-road driving or rough terrains.
Bilstein 5100 series rear shocks : This rear shocks are premium-grade performance coil over shock features monotube design reservoir coil-overs which is designed for the most extreme terrain. It also features customized valving tested on Tacoma trucks. Absorbs shocks and dampen the movement of suspension.
Fitment and Compatibility: The Readylift 6in suspension lift kit is made for 2016-2022 Toyota Tacoma (SR, SR5, TRD Sport, TRD Off-Road & Limited models)
Ease of Installation: This suspension kit is not that easy to install and take about 1 day to install with included hardware installation instructions. Mechanic installation is recommended as it required cutting and drilling while installing cross members.
Price:  Coming to the price, this lift kit is not less expensive not too expensive- This kit proves to be best buy for buck with all the high components and features. Additional installation cost also increases the overall price.
Overall Review:
This Readylift kit is one of the best kit with all included feature and high build quality . This proves to be your superior choice and worth-for-money lift kit.
This lift kit offers great features with its the precision engineered cast iron lift knuckles that provide perfect alignment geometry throughout the suspension cycle and the retention of the factory sway bar mounting locations that drastically improve handling and overall driving experience.
You can accommodate larger 35" tires with a 9"wide wheel with +12, 0 or -18 offsets.
Apart from this, the lift kit is highly durable and last longs after 1000 miles also without impacting handling experience also.
Only the installation part is difficult as you need cutting and drilling for cross members to install and also requires professional installation. Moreover, this lift kit is designed to be used with factory control arms which might create an issue in longer run.
Key Features
Compatible with 2016-2022 Toyota Tacoma
Gives your truck 6 inch of lift
High-quality Build
Increased front spring rates to improve stopping and turning performance
Can accommodate 35" Tires
Includes performance-tuned Bilstein 5100 Rear Shocks
Made in USA
Most reliable and durable lift kit
Check out related video on you tube on ReadyLift suspension lift kit 
---
Wait for the First position is over- Rough Country 6 inch Suspension lift kit stands out at first position in our list of best 6 inch lift kit for Tacoma
Rough Country started back in 1975 as a manufacturer of shocks . Soon after that they extended their product line and became one of the top most aftermarket accessories making brand. Starting from suspension system to Tonneau covers, Bumpers, wheels, tires and more.
Now moving towards the rough country 6 inch lift tacoma kit- Made with premium-quality material this lift kit is the best lift kit wining over all aspects either in price, compatibility or build quality. Let's start with components first!
Components and Build Quality
This Rough country 6 inch suspension lift kit comes with following components:
Front and Read Cross members: Made of heavy and premium quality steel with lifelong durability .
Lifted knuckles : Rugged Cast Knuckles for Extreme Durability.
Strut spacers : increases distance between strut and body providing room for larger tires . Comes with Metal Spacers
Front skid plate and Lower skid plate: Made from heavy quality material- safe essential components during rough terrain
Differential drop brackets : Drops the differential location to provide more stability while driving
Steering stops : Maintain stability of vehicle by restricting the movement of wheels from turning it too far which can cause the tires to rub with body. This is essential when accommodating larger tires with higher lift kits.
Bumpstops: Bumpers stop or shock absorber stops are used to limit the movement of suspension and are designed to absorb and dampen the impact
Bumpstop extensions : Increases the length of bumpstops – mainly used during larger tires
Sway-bar relocation brackets : Made of high quality , these are used to prevent the body roll or lateral movement
Front and Rear Brake line brackets : Reposition the brake lines and normalize the effect of lifting
4in Fabricated Rear lift blocks : Fabricated blocks are stronger and offer a longer lifespan than cast blocks.
Rear U-bolts :Fasteners to secure the rear leaf springs to the axle of the vehicle-distribute weight among leaf springs and axle.
Rear Carrier bearing shims : Thin metal or plastic spacers that adjust position of rear carrier bearing in vehicle.
(2) Premium N3 Shocks: Premium application valved N3 series shock absorbers which offer the best in balanced performance for on and off-road use.
Compatibility and fitment : This lift kit is compatible with all models of TOYOTA TACOMA 2WD/4WD (2005-2015).
Ease of Installation: This suspension kit is easy to install and take only 6-7 Hours to install with included hardware installation instructions. Mechanic installation is not recommended if you're aware of installation similar lift kit before. This definitely requires little amount of cutting and drilling.
Price : This proves to be best return on investment lift kit with all premium features and no flaws. The price is very reasonable and will not go out from your budget. You don't have to spend extra on installation part also as you can easily install it by your own.
Overall Review:
With premium N3 Shocks that offers best in balanced performance for both on-road and off road and high-quality cross member and other components- This lift kit is perfect from all other lift kits in terms of price, Build quality and ease of installation.
Made to accommodate larger tires up to 33" inches, this lift kit comes with steering stops that maintains stability of vehicle by not allowing tires to rub with body. Moreover, stronger and highly durable rear fabricated rear lift blocks are made to give your truck 4inch lift from read and make your truck more aggressive than ever and improves overall ride quality.
Not only this, you will also get U-bolts that is being used to fasten the leaf springs to rear axle and also distribute weight among the two. This is one of the important fasteners for handling and stability of vehicle.
At last, combining all the factors and High-quality build components- this lift kit is an ultimate lift kit that enhances your overall off-road quality by lifting your truck to new heights.
Key Features
High End performance Lift kit with 6 inch of lift
Premium Shocks for enhanced vibrations free ride
Fabricated lift blocks that will last forever than cast iron blocks
Strut spacer kit requires no strut disassembly or strut compressor for installation. [747.20]
Easy Installation with all hardware and installation instructions
Rough Country 6 Inch Suspension lift kit 2005- 2023+
---
Conclusion for best 6 inch lift kit for Tacoma
We hope you enjoyed the article Best Suspension Lift kit 6 Inch for Toyota Tacoma to its entire bits.
We do hope that this article helped you in making a definitive choice when it comes to choosing an Best and most affordable suspension lift kit that is best for your beast for off-road driving.
Still Need Expert advice? Don't worry ! Comment below and we will definetely comes back on this. 
If this articel really helped you,We'll be glad if you could share this article on social media services like Google+,Twitter,linkedin,Stumple Upon and Facebook using the Sharing buttons on the Top and End of this articles.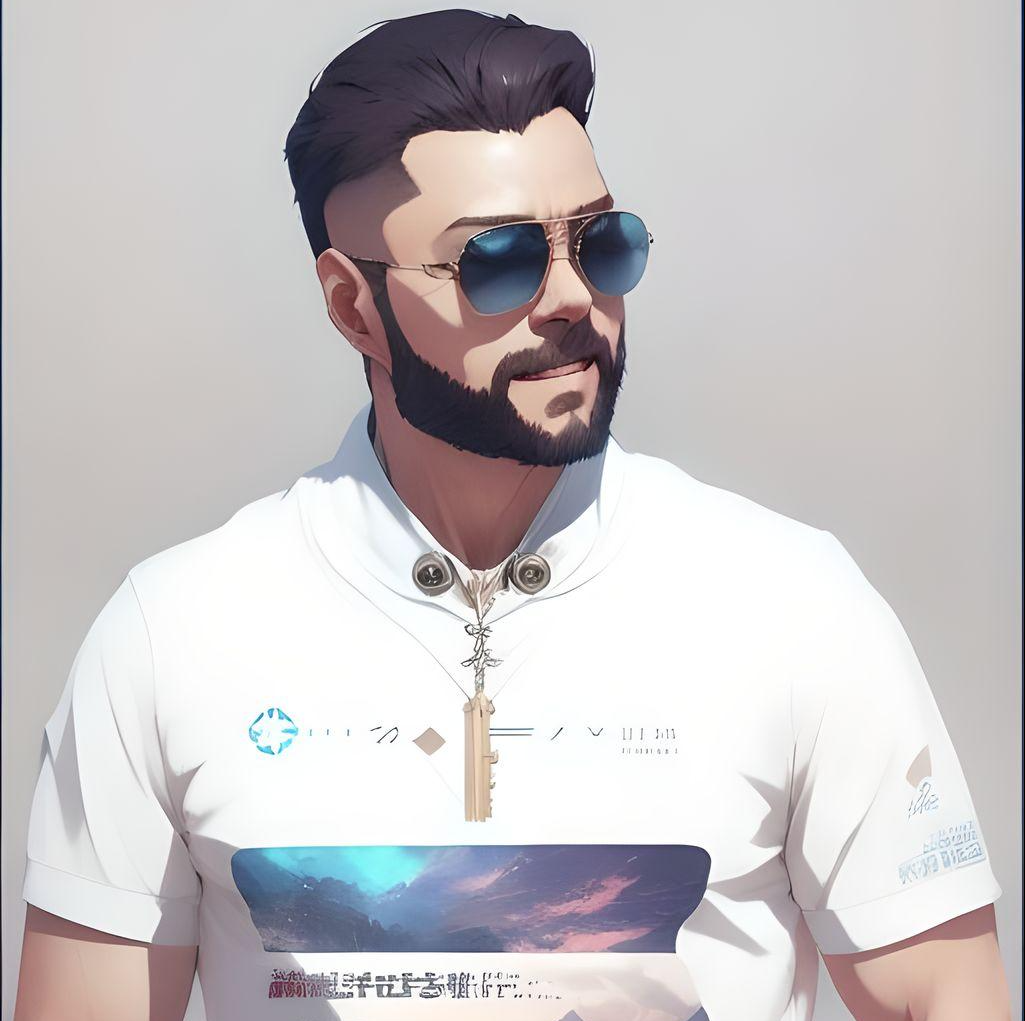 Vicky Dwaj, Founder and CEO of TrucksEnthusiasts ,  is an automobile engineer passionate about pickup trucks and accessories. Follow his journey to discover the latest trends in off-road accessories, cars, and truck parts.