TruXedo vs Extang Tonneau Cover? Which is best | Benefits,Types
All weather protection
High Grade material
Increase fuel Economy
If we are talking about a truck, then a full protection for a load is the important thing to take care and a best tonneau cover is the only the option what you need for it.
There is no substitute known till now for a well-made, all around protective easy-to-use Tonneau Cover.
For customers who use their truck the way it was intended, a bed cover proves an invaluable source for protecting your truck so the good times keep on rolling.
If you're planning to buy tonneau cover and confused in choosing which one if best from TruXedo and Extang- then you landed at right place..
Here at Trucks Enthusiasts, we come with comparison of two biggest brands that will surely help you in choosing the best tonneau cover for your truck.
But before starting with two brands let's see what points to remember while buying best tonneau cover for your truck.
Thinks to Consider Before Buying Tonneau Covers
Things to consider before buying Tonneau Covers
Compatibility
The first and foremost thing to consider while buying tonneau cover is compatibility. You should always make sure that tonneau cover that you're planning to buy is compatible with your truck. For that always check the size of your truck and tonneau cover.
Moreover, if you're having some extra accessories in your truck that can be truck bed liner, bed extenders, truck tool boxes, utility track system or anything else, then make sure the tonneau cover that you're choosing gives you perfect fit with all these upgrades. And, this is bit important also to get cover that matches with your existing upgrades otherwise you will feel that you could have wasted your money.
Need
The 2nd most important point to take care of while getting tonneau cover for your truck is your need or purpose of buying. Tonneau covers are meant for protection and security though you can also` get good looks along with improved efficiency `but primarily they are made to protect your cargo or anything that is in your truck bed from foreign elements.
So, it depends upon your requirement and purpose for which you're buying for. There are multiple types of tonneau covers in the market that comes with various functions and qualities like Hard covers offers excellent protection with good looks while soft covers offer less protection as compared to hard covers and also comes in less price.
Whereas, there are also Retractable tonneau covers available in the market that will totally convert your truck into fully armored truck with its ultimate level of protection. These cover also offers easy operation with its remote controlled functions. It totally depends upon your requirement.
So, this is our recommendation if you're buying just to add good looks and coolness to your truck then go for soft tri fold covers as those are least expensive and serves best to your purpose while if you're looking for some extra protection for your cargo then go for the Hard covers. Retractable covers are one of the expensive covers with some comes even with remote control functions so only go for retractable covers if you're ready to spend more…
Installation
Everyone like quick and easy installation. Mostly all of the tonneau covers comes with installation guide and instruction along with necessary hardware. But some can be installed in 10-15 mins while other take 1-2 hours also. It's totally depend upon the cover as some comes with bolt on option while other clamped easily on bed rails. And some covers require even drilling holes also. So, it depends upon you whichever you thing would be better for you – you can take according.
Maintenance (How to Clean and maintain)
As tonneau cover comes under one of the expensive and important accessory for the truck that's the reason it requires that level of maintenance also. The more you maintain it the more time it will stay with you.
Maintenance is not that difficult task. Just you have to do some regular checks that everything is working fine or not. Keep checking for any debris, dust, corrosion or anything else that does not look normal. Always make sure that clamps, bolts and other mounting hardware won't be loose otherwise it will damage your cover also.
Double-check your bed rails and never leave any heavy gear or load on the tonneau cover for its long life. Moreover, you can also clean Use water and mild soap to keep your tonneau cover clean.
The soap is easy on the truck and won't harm your cover. If you have a vinyl cover, use vinyl cleaner to keep it looking new and working properly. You can also use soft cotton cloths or sponges to dry it off.
Price
Last but not the least, this is one of the most important factor that you need to consider while buying tonneau cover for your truck. Its obvious everyone wants to buy that only cover which comes under the budget and offers the best quality.
Always choose tonneau cover according to your requirement, that will decide the price for the cover. The most cheaper ones are soft covers that offers low to medium level of protection along with good looks whereas hard covers are the expensive than soft ones and offers high level of protection along with good fuel economy and looks.
The most expensive ones are Retractable tonneau covers that not only offers protection, security and fuel economy but also comes with remote control operation- that means, to open or close the cover you just need a button and that's it. These are also the strongest tonneau covers of all.
So, it depends upon You-go for best tonneau cover that comes under your budget.
back to menu ↑
TruXedo Tonneau Covers:-
TruXedo, a manufacturer in rolling tonneau covers, has led the industry with new and innovative truck bed cover concepts that emphasize style, quality, durability and functionality.
TruXedo being an attractive roll-up truck bed cover includes all the top qualities with the one best is the reasonable price that will not let you to think twice of buying this tonneau cover.
It is easy to install and mounts on top of the truck bed rails providing fascinating looks that will truly complement your truck.
This also offers weather resistance so you don't worry about heavy rains and winds and off course UV rays also.As this covers will gives you all around protection from any weather.
This cover has basic operational system that is not very hard to understand. Once installed, the pre-set tension control will help you to maintain its great looks. Moreover mostly the model of this cover is backed with a 5 Year warranty.
BENIFITS OF TRUXEDO:-
It has a pre-set tension controls that are conveniently integrated into the dual latching system to keep the cover tight.
It provides top mount design above the truck bed giving fascinating looks.
This cover is made of the Quality grain fabric which is built to help protect your truck from the harshest of elements.
Its dual paddle latches are easily accessed at both sides of the truck which operates very efficiently.
The looks of the cover are very sleek and Stylish with straight cross tubes that provide a smooth, flat look when the cover is closed
Models in TruXedo
Made in USA, TruXedo PRO X15 is one of the  best selling cover with best style and performance.It also comes with unique self-leveling design feature that allows more accurate installation .It comes with New 15 degree rails that delivers an Xtra-low profile, flush-mount look on the truck bed, and superior-grade woven fabric that provides a stylish matte-black appearance.
TruXedo LO PRO is North America's #1 selling roll-up truck bed cover. with its stylish design, simple functionality, and durable bed protection.Made in USA,  it comes with heavy-duty construction and the patented automatic tension control that keeps the cover looking great in any weather condition. Moreover, sleek, low-profile design is the signature of the Lo Pro. With the Quick release system that allow to remove it in minutes without using any tools you get the 100% access of bed.
TruXedo truxport is an attractive roll-up truck bed cover that includes top quality features and benefits  and comes with unique top mount design that allow cover to sit 1.5″ above the truck bed providing distinctive good looks.Comes with Sleek and stylish look, it comes with Straight cross tubes that provide a smooth, flat look when the cover is closed.Once installed, the pre-set tension control will help maintain the TruXport's great looks all year round.
TruXedo All new Sentry CT is the hard roll up tonneau cover features Xtra-low profile look and equipped with premium matte black woven fabric . This high-end material delivers a remarkable and stylish matte black finish that has dirt resistant characteristics to help it stay clean for longer.This is one of the strong & resilient and easy to use cover . When rolled up tightly at the cab, the cover provides full bed access without blocking rear view visibility or the third brake light.
TruXedo Sentry cover is the best cover that combines all the same great features of the Sentry CT but with an industrial-strength, leather-grain vinyl fabric.With the xtra low profile and quick release system , you can remove the cover in seconds, without tools, providing true 100% full bed access..This cover provides ultimate protection and durability with the vinyl fabric is pressure bonded to heavy-duty matte black aluminum slats for increased durability and security.It comes with slam latches at the tailgate and an additional security latch, located towards the center of the truck bed, enhances the security of this cover.
back to menu ↑
Accessories for TruXedo Tonneau Cover
Last update was on: September 20, 2023 9:04 pm
back to menu ↑
Extang Tonneau Covers:-
Extang has been crafting high-quality truck accessories for more than 25 years. They offers wide range of tonneau covers for any budget and need.
Extang tonneau covers are made with the highest quality materials with superior designs that install easily and look great.Their tonneau covers are available in aluminum, fibreglass and vinyl—and each cover is made with high quality and manufactured to give ultimate protection and performance.
Extang manufactured multiple types of tonneau cover for every situation- doesn't matter if you're looking for hard or soft, tri fold or bi-fold or whatever your budget will be – Extang always has a best truck bed cover for you!!
From aluminum to fiberglass and vinyl , Extang produced high quality tonneau cover that can resist any extreme conditions.
This includes toolbox tonneaus, folding Extang Bed Covers, soft-top tonneau, and hard-top Extang Truck Bed Covers.
Extang also has toolbox tonneau cover that will prove best to look down your tools while protecting the cargo in bed.
Extang always keep on building tonneau covers by looking the success of the previous models and giving the customers exactly whatever they want.
BENEFITS OF EXTANG:-
Extang tonneau cover is custom-made to fit your truck bed perfectly.
These tonneau covers are available in aluminum, fibreglass and vinyl—and each cover is made with high quality.
There are more than 12 models are available of this brand.
Extang also provides 10-Year for Vinyl tarps, Lifetime all other hardware warranty.
Models in Extang
Extang comes with its latest generation of hard folding tonneau cover -Solid Fold 2.0 that includes Extang's exclusive, patented Jaw-Grip and EZ-Lock clamps, 1″ thick EnduraShield panels, revolutionary snap-on perimeter seals that protect from the elements, and integrated corner and hinge seals. Made to withstand in every situation,it feature an automotive grade polymer that resists dents, scratches, and UV induced fading better than other aluminum or fiberglass panels.
Extang Trifecta 2.0 is one of the selling roll-up truck bed cover.The Trifecta 2.0 has softer curves and sleek design that creates smoother, more contoured, low profile appearance. Offering ultimate protection., the frame is made of lightweight aircraft grade aluminum. Moreover, the tarp is constructed of heavy-duty, leather grained fabric with an integrated corner tuck system that enhance the look of your truck.
Extang's Trifecta 2.0 Signature Tri-Fold Tonneau Cover has all the features of the Trifecta 2.0, but with a premium canvas tarp. With the clamps and no drill installation this is the premium series of Extang that gives your truck  smooth, sleek looks with unmatched durability. Not like vinyl material, the heavy duty canvas protects your cargo from any extreme weather meaning maintaining the looks of your truck.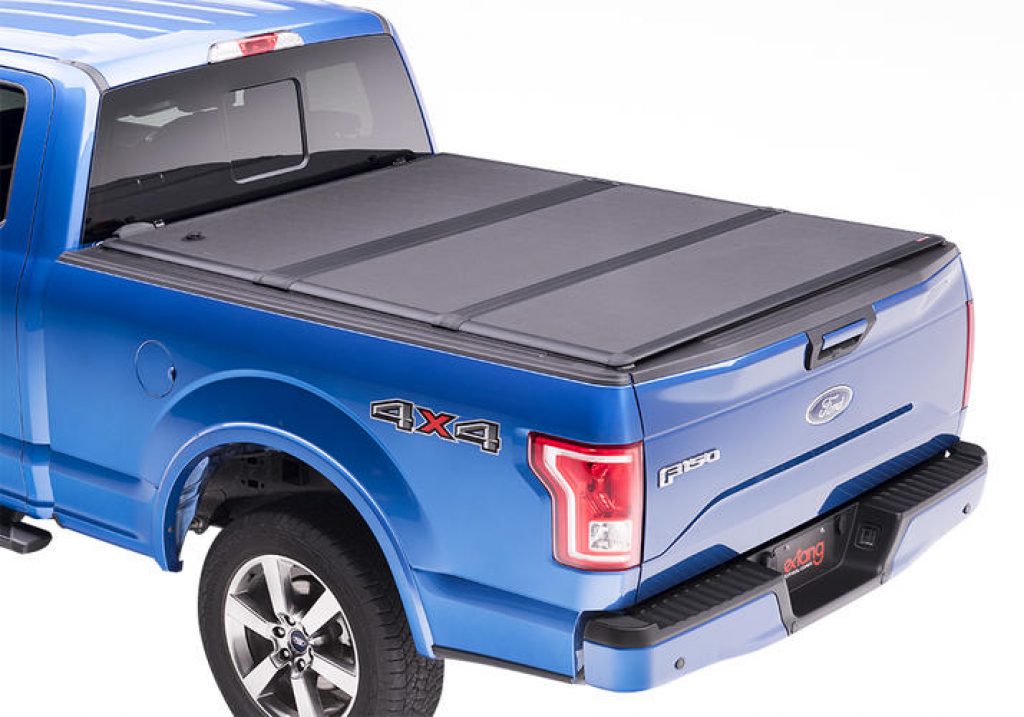 Extang Encore Tonno cover comes with low profile design and matte look that allow the bed cover to sit only 1/2″ above the sleek and decent look. It feature special BOLT® breakthrough one-key lock technology that uses your truck's ignition key to lock the front panel.Moreover it comes with self-positioning for pain-free installation and self-latching for extra security and protection. You will get high grade aluminum polymer panel that can resist any dents, scratches and UV induced fading.
Extang e-MAX tonno is no other type, it's just the advanced version of Extang Trifecta. Extang re-engineered to enhance it's features. This tonneau cover include all the features of Trifecta plus you will also get Secure Shut Latching System that keeps your cargo protected than before. Moreover, it is easy to carry bike, large appliances and ATVs with the Extang e-MAX tonno because it provides you option to fold it at 90 degree angle that will give you full access of bed.
Extang Revolution ultra low profile tonno cover is one of the best roll-up tonneau cover with all advanced features . Made to withstand in any weather condition,this bed cover features a groundbreaking roll-up design with no snaps or hook and loop fasteners! You will get ultra low profile look while having this cover installed on bed.It comes with spring-loaded bows conveniently roll up within the tarp when not in use.
Extang's Epress tonno cover is most convenient and easy roll-up tonneau cover in the market. It comes with low profile clamps and unique side rail design gives you full truck bed usage and sleek low profile look. Comes in hassle free easy installation this cover will did not let you down in any weather. Whether there will be heavy rains or high winds, it comes with the Self adjusting tension system that keeps tarp taught in any situation.It also includes dual seal that keep your cargo safe in every weather.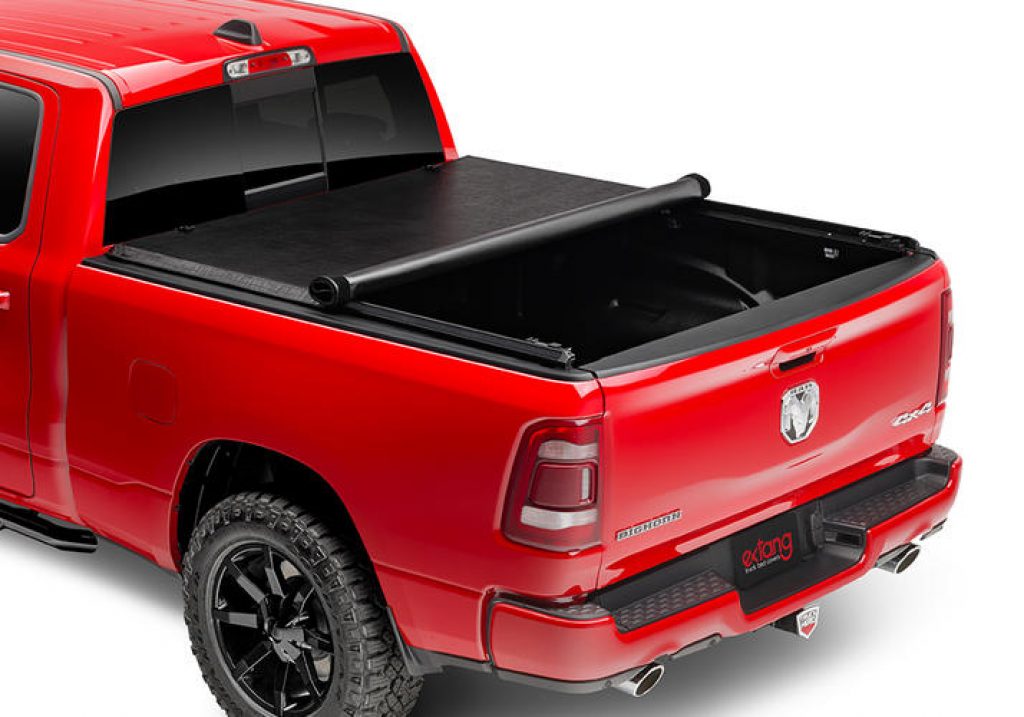 Extang snap/snapless covers are unique covers with premium fabric and custom designed for a perfect fit .It comes with no-drill installation and have a strong, smooth look. In this category mostly you will get peel and seal type covers and hinged covers.These covers comes with very strong and high grade perfectly sewn, tight fitting tarp with anti-curl corners. These covers gives your truck extremely good look in all weather conditions.
Extang Toolbox covers are best for those who already have toolbox in their truck or wants to buy in the future. These tonneau covers are especially is engineered with exclusive features that provide instant truck bed protection with top-notch looks and superior performance. These covers will perfectly fit with the toolbox at one side and comes with weather seal that protects your tools and cargo from any weather condition.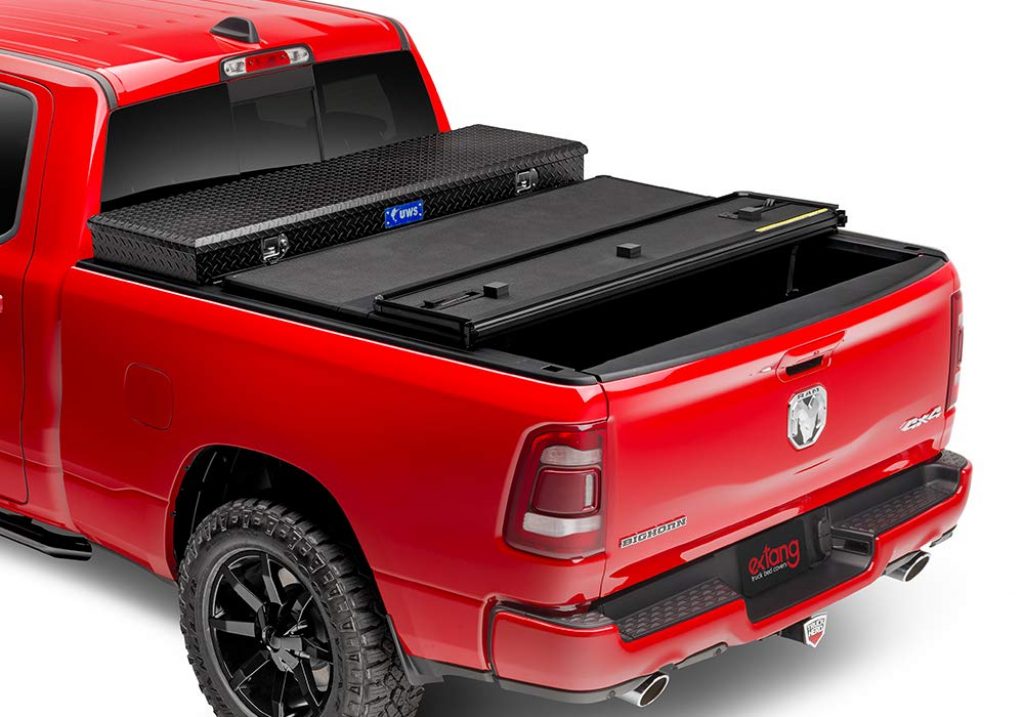 back to menu ↑
Specifications Comparison Table
| | TRUXEDO | EXTANG |
| --- | --- | --- |
| Starting Price | $302.40 | $233.10 |
| Cover Matereials | Vinyl tarps, Aluminum frames | Vinyl tarps, Aluminum frames, fiberglass panels |
| Number of Models Available | 5 | 12 |
| Standard Tension Adjusters | Yes | Yes |
| Accessories Available | Soft Tonneau Protectant Spray, Tailgate Seal, Tonneau Lighting System, Truck Toolbox | None |
| Special Designs Available | Harley-Davidson Tonneau Cover | Soft top, hard top, rolling, folding |
| Drilling Required for Installation | No | No |
| Warranty | 5-Year or Lifetime, depending on cover | 10-year for Vinyl tarps, Lifetime for all other hardware |
back to menu ↑
WHICH TONNUE COVER IS BETTER?
If we are talking about two of the most affordable and popular tonneau covers in the market today then there are no other better options then Truxedo and Extang.
Each company offers a great product line with variety of Tonneau Covers to please different tastes. But here my choice goes to Extang as its affordable with full length models and constructed with high quality material.Moreover you will also get different price range and multiple types from which you can choose according to your needs.
Not only just vinyl and aluminum but Extang manufactured covers in fiberglass also that also move Extang one step forward to Truxedo.
So, it's totally depend upon your need and budget… don't just go with our words…go for only that cover which suits your truck and fits according to your requirement.
I hope this article will help you in choosing the best tonneau cover between the two biggest brands.
If yes, then do share our article on social network and let us know if you want to add something in the comparison.
We will add your content by mentioning you name.
Feel free to comment. We are happy to assist you.
PROS
All weather protection
High Grade material
Increase fuel Economy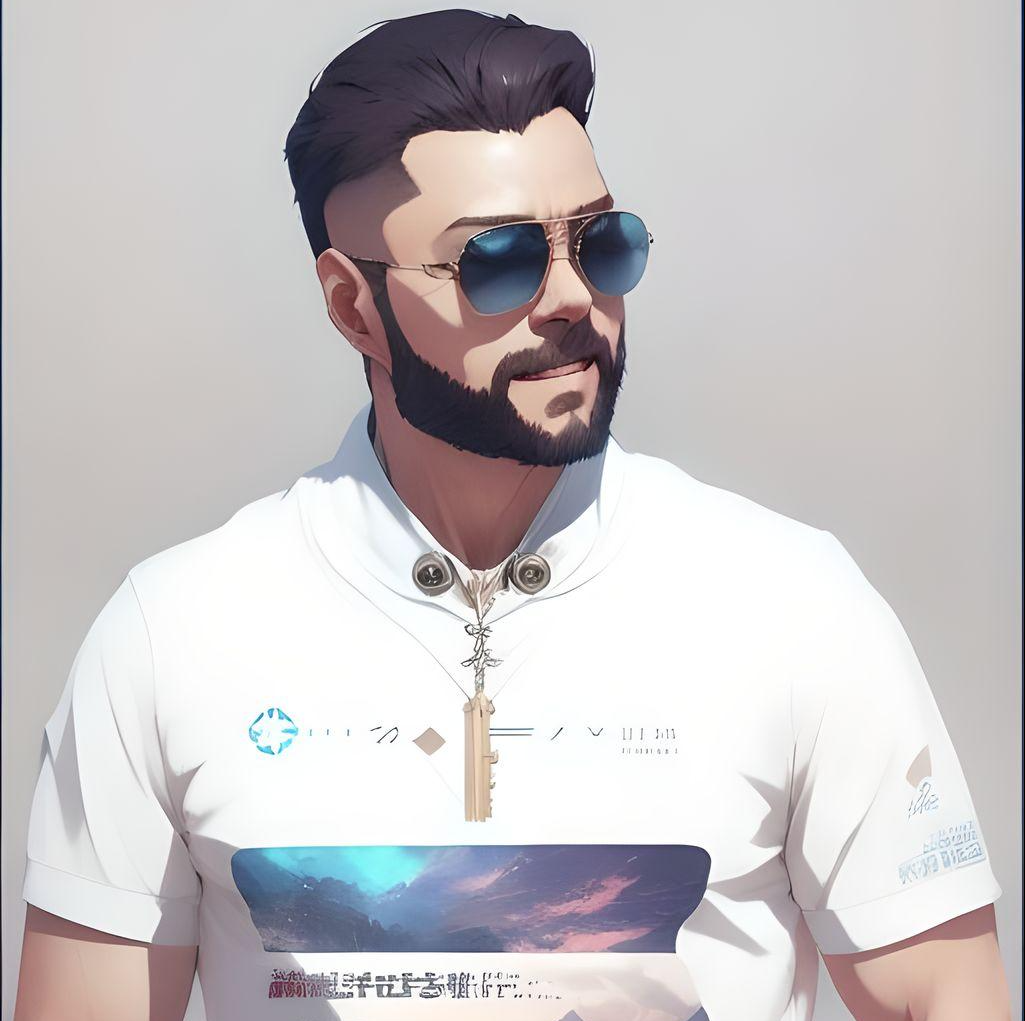 Vicky Dwaj, Founder and CEO of TrucksEnthusiasts ,  is an automobile engineer passionate about pickup trucks and accessories. Follow his journey to discover the latest trends in off-road accessories, cars, and truck parts.