5 Best Hard Fold Tonneau Covers for Ford F150 | Complete Buying guide
Best Hard Folding Tonneau Covers for Ford F150
Sick in seeing your cargo and valuables being soaked by rain or blown away due to high winds !
If yes!
Then you must be in the need of tonneau cover for your bed.
Tonneau covers are basically protects your cargo by covering or locking your truck bed. You can secure your valuables from thieves and also restrict the entry of any foreign particle in the truck bed.
There are mulitple type of tonneau cover available in the market like soft covers and hard covers depending upon your need and application.
But here in this article we only talk about Hard Tonneau covers, so Firstly you should be clear about hard tonneau covers.
Hard tonneau covers are basically solid covers made from aluminum or fiberglass and are stronger ,durable than soft covers and they provide more security and strength to your bed cover.
They can withstand the greater weight rating and even converts your truck bed into vault when tailgate is locked.
But before starting the list , let's first discuss about the types of tonneau covers available in the market :
Types of Tonneau Covers
Types of Tonneau Covers
Folding Tonneau Covers
Availble in both hard and soft options -Folding Tonneau covers are one of the most popular tonneau covers. These comes in tri-fold or bi-fold style. Hard Cover mostly comes in aluminium or metal panels whereas Soft covers comes with vinyl or fabric panels.
Roll-Up Tonneau Covers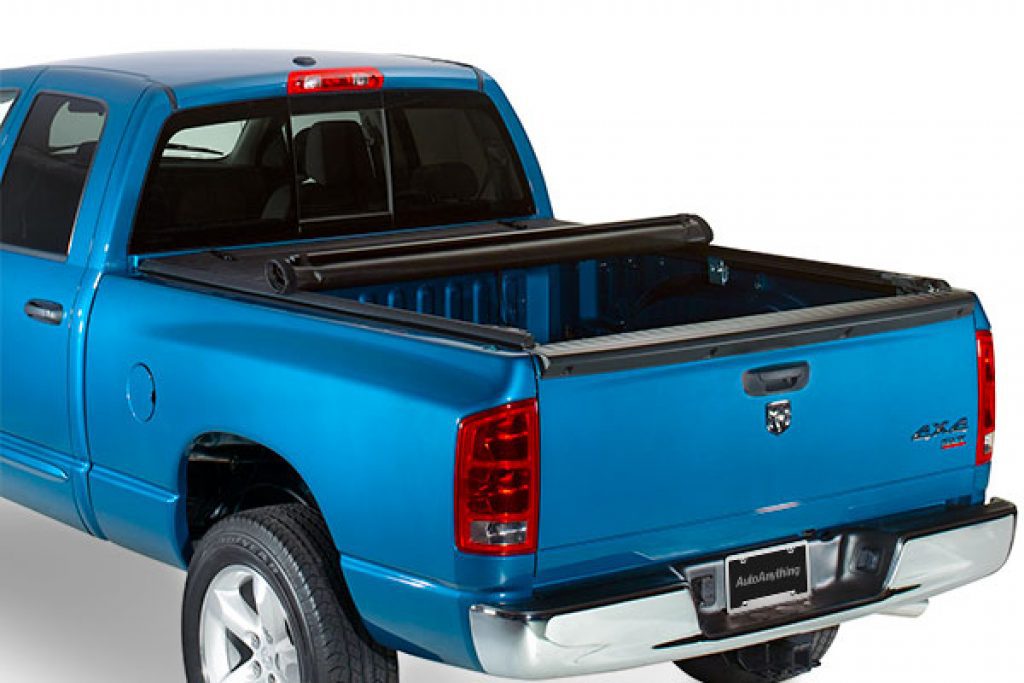 Roll-up tonneau covers also available with both soft and hard tops. Material used is different in soft and hard covers – Soft covers made up of tear-resistance fabric whereas hard covers comes with aluminium or metal rolling panels. These are one of the most affordable covers that provide ultimate protection along with instant installation.
Retractable Tonneau Covers
These covers are strongest covers that provide ultimate protection and converts your truck bed into vault. Comes in sleek, versatile and low profile design – these covers also comes with automatic locking, opening and closing system making them the most luxurious covers of all. These are somehow expensive than others but will worth for the money.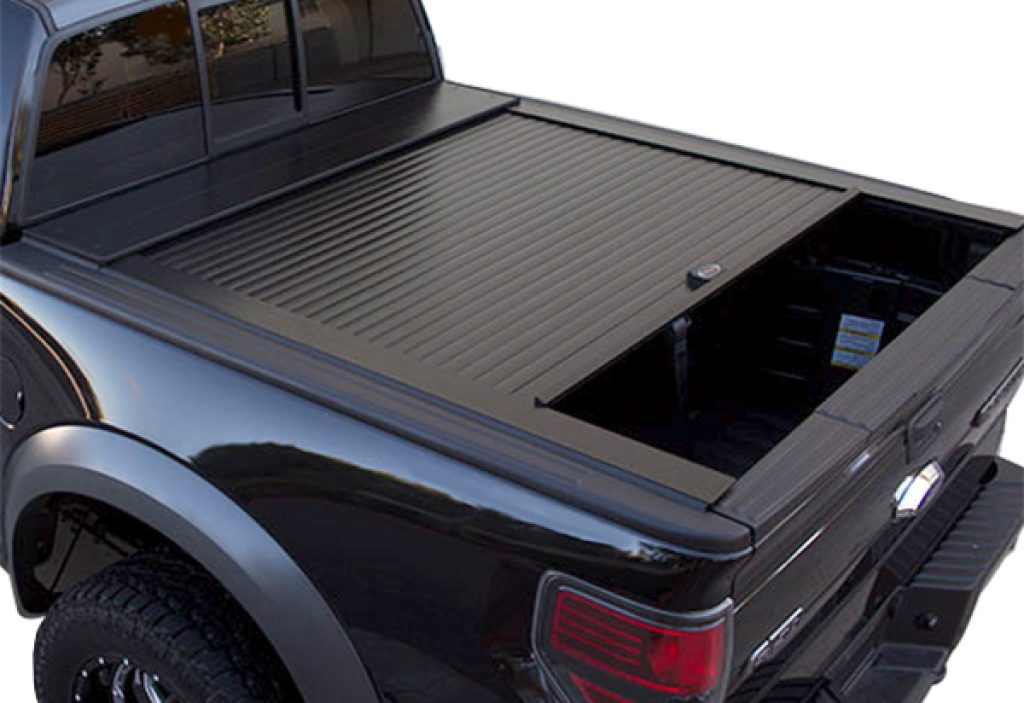 Hinged Tonneau Covers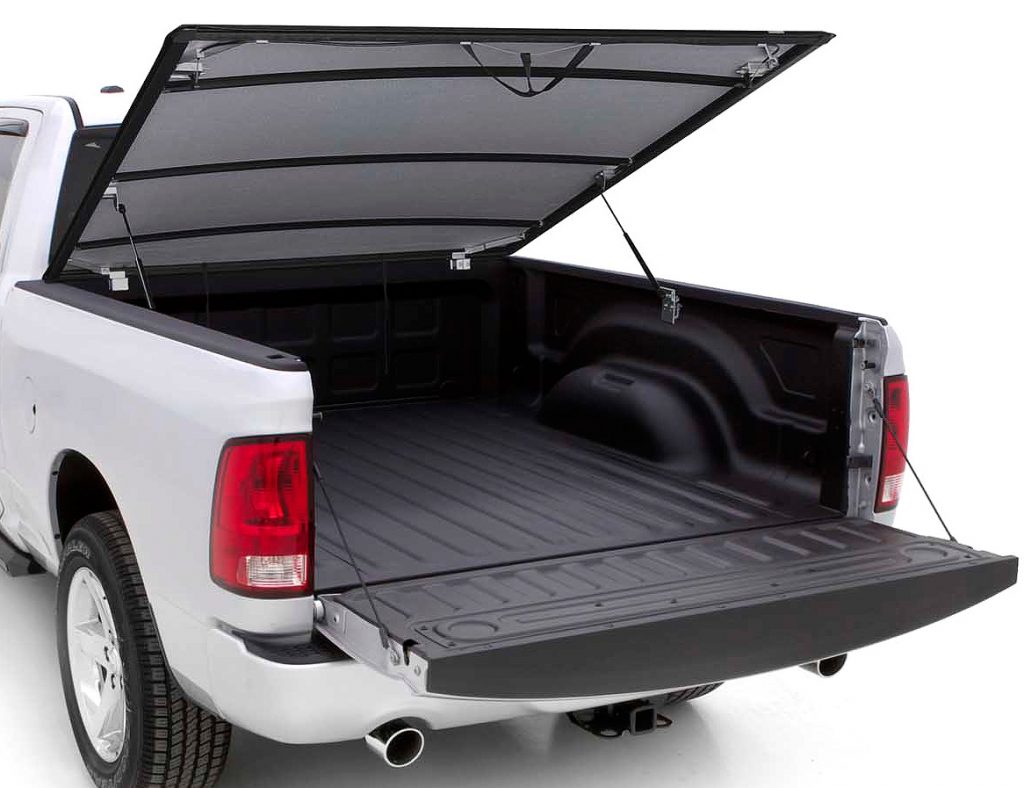 Comes in both hard and soft tops options- these are another type of tonneau covers. The tonneau cover is hinged with tailgate and you can open it even with single hand. Along with providing protection to your bed, it also offers perfect paint-matched option. So this will let you get tonneau cover similar to your truck's color. Like retractable tonneau covers these covers has high load capacity and shows ultimate level of protection.
Now before moving forwards let's check some of the basic differences in Hard Tonneaus and Soft Tonneau covers that will surely helps you in deciding which one is better for you!
Differences : Hard Tonneau Covers vs Soft Tonneau Covers
| | Hard Tonneau Covers | Soft Tonneau Covers |
| --- | --- | --- |
| Price | Mostly Expensive ($400-$2000) | Less Expensive Under $500 |
| Cover Matereials | Aluminum, polypropylene, and fiberglass | Polyster, Canvas, Vinyl Supported by Aluminum Frame |
| Security | More Security | less Secure |
| Locking | Locked Tailgate Converts bed into vault | Key or Padlock |
| Resist water from entering | less resistance | Complete Resistance |
| Weight Rating | can withstand upto 400-500 lbs | can withstand upto 30-40lbs |
| Overall Weight | Heavy Covers | Lightweight |
| Designs Available | Rolling, folding, Retractable, Hinged | Rolling and folding |
| Ease of Installation | Takes Time (Difficult to install) | Install Easily in no time |
| Truck Bed Access | Full Bed Access with Folding , Rolling & Retratable | Less bed Access than hard covers |
| Durablity | Highly Durable | Less Durable |
| Bed Accessories | Proves Best with Accessories | Less compatible |
| Looks | Rugged & Sturdy | Smooth and Uniform |
| Bed Profile Design | Low-Profile design sit on bed rails | Standard profile design sit an inch to 2 inches above the truck bed side rails |
| Protection from Foreign materials | Best in protection | Less protected |
We hope that this table will clear the major differences between hard & soft covers, you can decide accordingly.
Here, in this article we talk only hard fold tonneau cover, so if you're looking to buy soft one or any other types then you might not get benefit from this article.
So with the ultimate protection and security – the Hard Fold Tonneau covers rated at top among all other types.
Now, it's time to check some of the important things that we should remember while buying tonneau covers…
Things to consider before buying Tonneau Covers
Things to consider before buying Tonneau Covers
Compatibility
The first and foremost thing is to consider while buying tonneau cover is compatibility. You should always make sure that tonneau cover that you're planning to buy is compatible with your truck. For that, you should always check the size of your truck and tonneau cover.
Moreover, if you're having some extra accessories in your truck, that can be truck bed liner, bed extenders, truck tool boxes, utility track system or anything else, then make sure the tonneau cover that you're choosing gives you perfect fit with all these upgrades. And, the compatibility factor is quite important as you always buy that cover which matches with your existing upgrades otherwise you will feel that you could have wasted your money.
Need
The 2nd most important point to take care of while getting tonneau cover for your truck is your need or purpose of buying. Tonneau covers are meant for protection and security, though you can also`get good looks with improved efficiency `but primarily they are made to protect your cargo or anything that is in your truck bed from foreign elements.
So, it depends upon your requirement and purpose for which you're buying it for. There are multiple types of tonneau covers in the market that comes with various functions and qualities – like Hard covers offers excellent protection with good looks while soft covers offer less protection as compared to hard covers and also comes in less price.
Whereas, there are also Retractable tonneau covers available in the market that will totally convert your truck into fully armored truck with its ultimate level of protection. These cover also offers easy operation with its remote controlled functions. So, it totally depends upon your requirement, how you are planning to use it.
So, this is our recommendation if you're buying just to add good looks and coolness to your truck then go for soft tri fold covers as those are least expensive and serves best to your purpose, while if you're looking for some extra protection for your cargo then go for the Hard covers. However, there are Retractable covers also in the high range that comes with remote control functions , so only go for retractable covers if you're ready to spend more…
Installation
Everyone like quick and easy installation. Mostly all of the tonneau covers comes with installation guide and instruction along with necessary hardware. But some can be installed in 10-15 mins while other take 1-2 hours also. It's totally depend upon the cover , as some covers comes with bolt on option while other clamped easily on bed rails. And some covers require drilling holes . So, it depends upon you whichever you feel would be better for you – you can choose according.
Maintenance (How to Clean and maintain)
We all know tonneau cover is one of the expensive and important accessory for the truck – that's the main reason- it requires that much level of maintenance also. The more you maintain it, the more time it will stay with you.
Maintenance is not that difficult task. Just you have to do some regular checks that everything is working fine or not. Keep checking for any debris, dust, corrosion or anything else that does not look normal. Always make sure that clamps, bolts and other mounting hardware won't be loose otherwise it will damage your cover.
Double-check your bed rails and never leave any heavy gear or load on the tonneau cover to ensure its long life operation. Moreover, you can also clean it with water and mild soap.The soap is easy on the truck and won't harm your cover.
If you have a vinyl cover, use vinyl cleaner to keep it looking new and working properly. You can also use soft cotton cloths or sponges to dry it off.
Price
Last but not the least, this is one of the most important factor that you need to consider while buying tonneau cover for your truck. Its obvious everyone wants to buy that cover only which comes under the budget and offers the best quality.
Always choose tonneau cover according to your requirement, that will decide the price for the cover. The most cheaper ones are soft covers that offers low to medium level of protection along with good looks whereas hard covers are the expensive than soft ones and offers high level of protection.
The most expensive ones are Retractable tonneau covers that not only offers protection, security and fuel economy but also comes with remote control operation- that means, to open or close the cover- you just need a button and that's it. These are also the strongest tonneau covers of all.
So, it depends upon You-go for best tonneau cover that comes under your budget.
If you also in the need of Hard tonneau cover for your Ford F150 then you landed at right place.
This article is your go to guide if you're surely in the mood to buy hard Tonneau Cover for your Ford F150. We have dig deep and came out with most affordable and durable tonneau covers in the market.
So without wasting much time let's start our list of best Hard tonneau covers.
Here we Go!

5 Best Hard fold Tonneau Covers For Ford F150
Safeguard your valuables from outside weather with UnderCover Ultra Flex Hard Folding Tonneau Cover.
Undercover brand is the product and company to meet all of your needs and expectations and its main goal is to build a company that sets the standard for high product quality, value and superior customer service.
The UnderCover Ultra Flex is a hard folding tonneau cover that gives you the ultimate control of your truck bed, offering three secure riding positions.
The Three positions are full coverage, 3/4 bed access, and full bed access with the cover in a propped position for maximum storage.
The cover is easy to remove, requires no drill for installation, and is mounted flush with your trucks bed rails making it the most water-tight hard folding cover on the market.
Each panel is made of high quality FRP composite material; which is lighter, stronger, and more dent resistant than aluminium.
Moreover the Care is also very easy as it can be hand washed with mild soap and water or cleaned in a car wash. Just ensure not soap residue is left over.
The bed cover comes with Slam latches that attached flex panels to the covers mounting rails making it simple to operate from either side of the truck.
The Ultra Flex also features an integrated LED bed rail light for added visibility, & full perimeter seals to help prevent water intrusion.
It comes with a 5-year, hassle-free guarantee, is proudly made in the USA with globally sourced materials, & is backed by a US-based customer support team.
Check out Customer Reviews & Ratings
Key Features
Made to Fit: 2015 – 2020 Ford F-150 5′ 7″ Bed (67.1″)
Keeps your bed & cargo clean & dry
Lightweight and Easy to install
Heavy duty frame to ensure long lasting durability & protection
New design provides Quick & easy access to your bed
Improves fuel economy up to 10%
Improve styling & Appearance
Include Installation instructions
---
If you are looking for a secure tonneau cover without the weight of fiberglass or the bulk of particle board tonneau, Rough country has the answer.
With the optimum safety level the Rough Country Hard Folding cover made of durable Aircraft Grade Aluminum with a Protective Black Textured Finish.
This is most affordable cover in our list that features low profile design and improves the look of your truck.
Don't worry about your cargo from coming out from your truck as when in closed position, Rough country Hard folding tonneau cover becomes a vault that gives your truck complete security.
Once you lock your tailgate it will be totally secure from most break-ins.
There is nothing to assemble, just take it out of the box and mount it on your truck- you can install it in minutes!
And whenever you want to use your truck bed, either fold back the HardFold or easily remove it in less than a minute.
Made to fit the 2015-20 F150 with a 5.5′ Short Bed – this tonneau cover is backed by limited lifetime factory warranty.
Check out Customer Reviews & Ratings
Key Features
Made to fit the 2015-20 Ford F150 with a 5.5' short bed
Best Buy for buck – Most affordable Tonneau
Made of Aircraft Grade Aluminum with a Protective Black Textured Finish.
When closed converts your bed into vault
Flush, Low Profile Design improves the look of your truck
Folds open along leak–proof hinges for fast cargo access
Reduces wind drag for enhanced fuel efficiency
Install in minutes
Comes with lifetime limited factory warranty
Installation of Rough Country Tri-fold Tonneau cover
Check out this detailed video on How to Install Rough Country Tri-Folding Tonneau cover
---
Make your ride smooth without worrying about your valuables with the Leer HF650M hard folding Tonneau Cover that gives your truck ulitmate protection.
With its Quad-fold design and attractive appearance , it gives you safer and secure ride by protecting your cargo without slowing you down.
This is one of the most finest and premium cover in the list with all features that a perfect tonneau cover requires.
Comes in Matte Black color the hard Quad-Fold style tonneau cover made with lightweight, durable, dent-resistant panels made of fiberglass reinforced plastic polymer that does not allow the water to be accumulated on the top and gives you complete weather resistance.
Made from premium quality fiberglass ,the top panels can carry weight rating up to 450 lbs (evenly distributed) and can resist scuff and dents.
The folding cover comes with 12MM low-profile design with thinner rails, allowing for a true flush mount and more cargo space inside the bed.
It is one of the most durable, weather-resistant cover that is engineered to provide high quality reliability and performance.
The Leer covers are especially designed to save aditional space and for that they have designed it such a way that it does not requires a separate drain channel, allowing more space for your cargo.
With an easy and fast installation process, the HF650M comes with the tools and instructions to install your tonneau and allows you to install in 2 simple stepls just Intall rails, , Install Clamps and place over.
The HF650M from LEER comes with a 3-Year Limited Warranty.
Check out Customer Reviews & Ratings
Key Features
Made for 2015+ Ford F-150 with 5.6 FT Bed
fibreglass reinforces polymer top panels and aluminium bottom panels for its perfect security
Prevents water to accumulated on the top
Scuff and Dent Resistant
Can withstand weight up to 450+ lbs
Sleek, 12MM low-profile design with thinner rails
Easy to fold from front and back- allow to use full truck bed
Lightweight design permits easy removal and installation with no drilling and tools required
Installation of LEER HF650M Quad-Folding Tonneau cover
Check out this detailed video on How to Install LEER HF650M Quad-Folding Tonneau cover
---
Equipped your beast with Gator FX Quad-fold hard tonneau cover that gives unbeatable protection against thieves , weather and any foreign particle.
If you're not aware about Gator then let me tell you Gator is well known brand that offers best in class products and customer service. Gator offers high class truck bed covers that protects your valuables from being damaged.
You don't have to compromise when choosing a tonneau cover for your truck as the Gator Fx hard encompasses the best features of different types of covers.
The Gator Fx Hard Quad-fold Tonneau Cover is one of the most unique folding covers on the market.
Panel made from the Light yet strong aluminium provides a very durable exterior surface and the light weight makes its operation easy.
The Aluminum panels are extremely impact resistant and can also resist scuff and dents. The quality finish will last for years.
Looks attractive with its low profile design and impressive gross black color.
The cover mounts inside of the bed rails for a very sleek look. A Flush two-panel design enhances the style of your truck.
You don't need to worry about your cargo whenever the tailgate is locked as it becomes the vault and secure the contents of your bed safely.
The lightweight panels make it easy to open and close the cover. With one flip, you have access to half of your bed. Prop the cover up with the prop rod and access the rest of your bed
Coming to the box- it comes with rails , no drill clamps , drain tubes and instructions manual.
No drill clamps allow you the easy installation without drilling or any special tools required .
Check out Customer Reviews & Ratings
Key Features
Fitment Available :

2015+ All Models Ford F150 (all bed sizes)

Unique Quad-fold Tonneau cover in the market
Contracted from high quality light yet strong aluminium
Panels are extremely durable and impact resistant
Low profile design and gross black color make it attractive
Increases fuel economy by reducing wind drag
Completely secure your cargo from outside weather and from other particles
Easy to open and close
Installation of Gator FX Tonneau cover
Check out this detailed video on How to Install Gator FX Hard Folding Tonneau cover
---
Safeguard your cargo and valuables from the outside weather and thieves with the top rated BakFlip Mx4 Truck bed cover.
Let me tell you why the Bakflip bed cover stands at #1 Position in our list!
From its sleek contemporary styling to its state of the art function, the BAKFlip MX4 hard folding heavy-duty truck bed cover has been enhanced with a premium density foam core, upgraded latch housing components, and an all-new integrated tailgate seal that allows the tailgate to be closed with the cover up or down.
The Bed cover has all the features along with ultimate security.
This hard folding tonneau cover easily clamps on with no drilling and provides outstanding security against rain, snow, theft, dirt and sun.
Built with heavy duty aircraft grade aluminum panels coated with a premium matte finish for superior UV and scratch resistance.
All Panels flip open in the same direction to reveal 100% of the bed if desired.
Moreover the BAKFlip MX4 is relatively light, yet offers heavy duty durability. You can easily rely on this bed cover while travelling, camping or going anywhere.
The Bed cover comes with corrosion proof EPDM rubber hinges for complete security to your truck.
It operates easily from either side of the truck, gives you full access to your truck bed and provides unparalleled style. With this you can easily haul largo cargo without even remove the truck bed cover.
It can secure your cargo by locking you tailgate as it comes with durable prop rods that secures it in upright position and also folded in minutes.
Talking about the maintenance-you can simply wash normally with soap and water.
It combines a resilient infrastructure with a sleek, flush-mount, low –profile design finish that makes it more attractive.
It comes with 5 year warranty and you don't have to drill anything for installation as it comes with entirely clamp on installation.
Check out Customer Reviews & Ratings
Key features
Made to fit on (2004+ All Latest Models) of Ford F150 (Comes in option for All bed Sizes)
Next Generation tonneau cover for ultimate protection
Black scratch and UV resistant ABS panels
The cover is rated up to 400 lbs of evenly distributed weight
Provides instant access to your entire truck bed
Easily removable with just 2 fastening knobs
Built from extremely tough, scratch resistant UV protected laminate panels
Revolutionary ' living hinge' system ensures water resistance
Panels automatically latch to both sides of the truck bed
Clamp on installation. No drilling required!
Installation of Bak Bakflip Mx4 Tonneau cover
Check out this detailed video on How to Install Bak Bakflip MX4 Hard Folding Tonneau cover
---
Benefits of Having Tonneau Cover
Benefits of Having Tonneau Covers
Protection and Security for your Truck bed
The main benefit of having tonneau cover is the protection and security of anything whether it is cargo or anything else that you keep in your bed. Tonneau cover locks your bed and make it complete closed vault that will safe your cargo from being jumping out and also provide protection against any thieves.
Moreover it protects your cargo or bed from being exposed to UV rays while in rainy season keeps your cargo dry all the time. With some of the tonneau covers that comes with complete locking mechanism you can even safeguard your valuables along with other items.
Increase Durability and Life of truck bed
It also provides protection to your bed as due to rain, dust or UV rays or any other foreign material, there are high chances that your truck bed will damage due to corrosion– But with tonneau cover, you can ultimately increase the life of your truck bed by not letting it exposed to external weather.
Safe Transportation of Luggage or Cargo
Apart from providing security to your cargo, the tonneau covers also provide safe transportation of your luggage or any cargo. So whether you're hauling or going to camping with your family, tonneau cover will allow you safely carry your camping gear or any other valuable without getting exposed to rain, snow, wind or any other foreign material.
So, if you're planning to go out with your family or friends and finding difficulty in carrying your gears or tent with yourself then you must need a tonneau cover in your truck.
Even if you're going to your work, you can easily keep your equipment safe in your truck bed with the bed cover installed in it.
Improved Fuel Economy
This is the other most important benefit you will get along with the first 2 advantages. This is one of the advantage of the tonneau cover that most of the truck owners fail to observe.
After installation of tonneau cover you will get to notice increase in fuel economy of your truck, no doubt that will not very high but yes… it will create impact in long run.
A tonneau cover will help reduce aerodynamic drag and can improve gas mileage. It will cover your truck into vault and your bed will generate less air drag as compared to open bed as showing in the pic below. This will increase your mileage by around 5%, some vehicles area also able to save even 10%.
Better Organisation of Cargo
With the tonneau cover installed in your bed you can better arrange your cargo in organised way as it will eliminate any impact of wind on the cargo. This will allow you to add more cargo or valuables in your bed as if you keep your cargo in proper organised way then then every inch of your bed is being used effectively.
Increase Resale Value
This is the long run benefit you will get after installing tonneau cover in your truck. As the cover protects your truck bed by not letting it exposed to external weather condition, it will make your truck look like new without any wear or corrosion signs that will automatically increase the value of your truck while reselling.
---
Frequent Asked Questions about Hard Tonneau covers for Ford F150
Is hard tonneau cover worth it for Ford F150 ?
Ans. There is no doubt that hard tonneau covers are way better than soft tonneau covers. While hard tonneau covers are expensive but they have much more benefits than any traditional soft cover. Worth every penny, these can last long , give ultimate protection , gives impressive looks and multiple other benefits. So, the Answer is yes, hard tonneau covers are worth to buy.
How do you measure a Ford F150 Truck bed?
Ans. It is easy to measure Ford F150 bed with 3 simple steps
STEP 1 : Place your measuring tape at the bulkhead of your F150 truck bed.
STEP 2 : Moving along your bed rail, extend the measuring tape to the inside edge of the top of your tailgate. Record the measurement in inches.
STEP 3: Divide the number of inches by 12 to determine the length of your truck bed in feet. Your bed length is the number of feet and residual inches (i.e. 5'8″) For instance if it comes out to be 67 inches then divide it by 12 to make it 5 feet 7 inches.
Does hard tonneau covers keep water out from your bed?
Ans. There are multiple premium options in the market that claims to give complete waterproofing, but there will always be some space left around the hinges alongside the cab or through the openings around the tailgate, where few drops of water might come. So, no tonneau is perfectly watertight. Be ready to experience little or no amount of water. But if you're getting premium tonneau covers by spending thousands of dollars then that will definitely enhance the chances of getting less water into thr truck.
How much does hard tonneau cover cost for pickup trucks ?
Ans. Tonneau covers basically comes in different price options depending on the type of cover you're buying. For instance, soft tonneau covers are less expensive whereas hard tonneau covers are sometimes double the cost of soft covers. You can expect range of tonneau covers with prices as low as $200 up to $2,000 for premium options. On average, you can expect to pay about $500 for some of the better options with necessary features for your truck.
There are some premium tonneau covers also available in the market that can costs around as high as $3000 like electric powered retractable tonneau covers that comes with all premium features and ultimate level of protection with automatic operation.
How much time it will take to install a tonneau cover?
Ans. Usually it takes around 35-45 minutes to install a tonneau cover, depending upon the material – where soft covers are easy to install and takes less time whereas on the other hand, hard tonneau covers will take sometimes an hour to install if you're installing it first time.
Do tonneau covers increase gas mileage?
Ans Tonneau covers improve your gas mileage by sealing your pickup truck bed from this airflow, which improves the aerodynamics. A tonneau cover will help reduce aerodynamic drag and can improve gas mileage. It will cover your truck into vault and your bed will generate less air drag as compared to open bed as showing in the pic below. This will increase your mileage by around 5%, some vehicles area also able to save even 10%.
Can you go on a carwash with hard tonneau cover installed on it?
Ans. While there is safe to get wash while having hard tonneau cover installed on it but you can also keep in mind with which material hard cover is made of. A hard-top tonneau made of fiberglass or hard plastic should be able to go through a car wash without causing any damage. If your tonneau is painted, you may want to go through a touchless car wash so as to not scrape the finish.
What material is a tonneau cover made from?
Ans. Tonneau covers mostly comes in 5 different materials (hard tonneau covers are mostly made from sturdy aluminum panels with a polymer top surface or with fiberglass also.)
Fiberglass: Most expensive and sturdy tonneau cover with tones of features
Vinyl: Softer and most popular one
Aluminum: Lightweight but tough, aluminum will keep your bed safe and secure. Easy to use and highly effective.
Plastic / ABS: Molded plastic and ABS tonneau covers are extremely tough and weather resistant, while lightweight and easy to move around. It is stronger and durable than vinyl. However, vinyl covers are more flexible and sound proof.
Canvas: Cheaper and lightweight for occasional use
What are some popular Hard tonneau covers available in the market?
Ans . There are multiple brands in the market but there are some most popular brand that you can definitely have a look.
Gator Tonneau covers: Overall best with reasonable price and best overall protection
BAK industry Tonneau covers: Best protection with ultimate list of hard rolling covers
Truxedo: best waterproof covers and affordable prices
Tonno Pro : They provide best tri-fold covers in tight budget
Rock N roll: Best Retractable tonneau covers with good price range
LEER tonneau covers : Premium one with ultimate level of protection (comes in every type)
---
Conclusion
We hope you enjoyed the article best Rated Hard Tonneau Covers for Ford F150 to its entire bits.
We do hope that this article helped you in making a definitive choice when it comes to choosing an Best and affordable tonneau cover for your ford F150 Truck.
If it really helped you,We'll be glad if you could share this article on social media services using the Sharing buttons on the Top and End of this articles.
If you have any query Feel free to add you thoughts in the comment section below.
We'll happy to know your views.Do expect a quick reply.
Stay tunned for more updates.Thank You.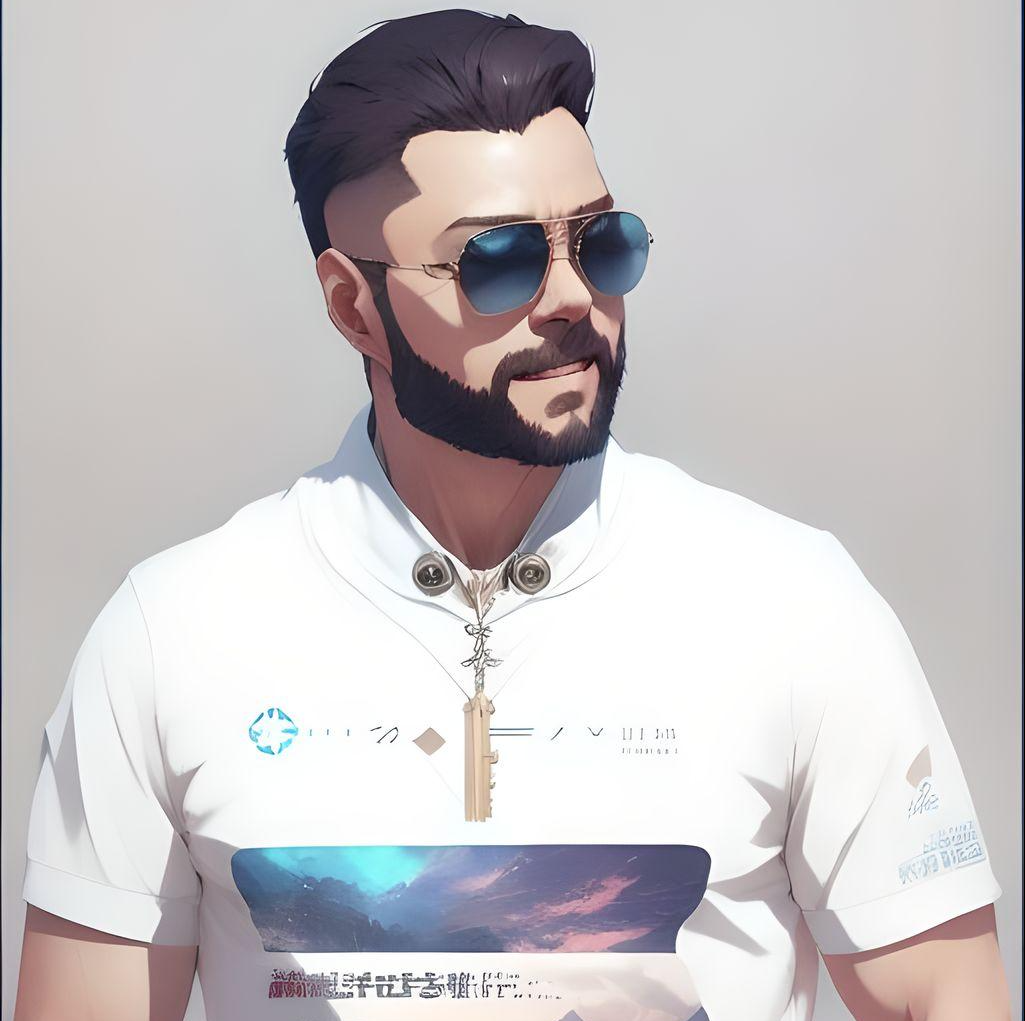 Vicky Dwaj, Founder and CEO of TrucksEnthusiasts ,  is an automobile engineer passionate about pickup trucks and accessories. Follow his journey to discover the latest trends in off-road accessories, cars, and truck parts.