Top 5 Hard Folding Tonneau Covers for Dodge Ram 1500 | Complete Buying Guide
Best Hard Tonneau Covers for Dodge RAM 1500
Buying a tonneau cover is quite a difficult task, as there are plenty of options available in the market.
And choosing the right one which suits your truck and gives you unbeatable protection always being the confusing!
So if you are in the same confusion, then this article is your go to guide to buy best tonneau cover for your dodge ram 1500 truck .
In this article we've listed the top 5 best tonneau covers from the market that not only protects your valuables but also improves your fuel economy and gives your truck attractive look.
Here, in this article  we talk only hard fold tonneau cover, so if you're looking to buy soft one or any other types then you might not get benefit from this article.
Now before moving forward let's know about some of the benefits of Hard Tonneau covers over softer ones.
Hard tonneau covers are basically more stronger and durable than soft covers and they provide more security and strength to your bed cover.
They can withstand the greater weight rating and even converts your truck bed into vault, when tailgate is locked.
So with the ultimate protection and security – the Hard Fold Tonneau covers rated at top among all other types.
Complete Buying for Tonneau Covers
Looking for the best tonneau cover for your truck? Look no further than our complete buying guide! Discover everything you need to know, from the different types of covers available to the key features to consider when making your purchase. With our expert advice, you'll be able to find the perfect tonneau cover to protect your truck bed and enhance your vehicle's appearance. Start reading now!
Now without wasting much time let's start our list of best 5 top rated tonneau cover for Dodge Ram 1500.
Here we Go!
Top 5 Hard Folding Tonneau Covers for Dodge Ram 1500
Safeguard your cargo and valuable from outside weather , dust or heavy winds with the Lnd Hard Tri-fold Tonneau Cover.
Constructed with Heavy-duty, marine-grade vinyl sits on top dent & scuff resistant aluminum panels, the Lund hard Tonneau Cover gives excellent durability and strength.
Lund new Hard Tri-fold Tonneau Cover combines attractive low-profile styling of a soft fabric tonneau with increased protection and convenience.
With modern storage-protection system, you can even drive with the cover in the open (folded) position due to its integrated clip and strap system.
The LUND Hard Fold truck bed cover comes equipped with an easy-locking clamping system to provide simple operation when opening and closing your truck bed cover.
With its fully stackable design the panels easily fold up behind the cab for neat appearance and secure built-in buckle straps.
Thanks to its extended hinge seal that ensure weather resistance in all climates.
Moreover the attractive low-profile appearance can improve gas mileage by reducing wind drag.
Coming to the Installation – Lund Tri-Fold hard tonneau cover is completely assembled in the box with no assembly of loose parts needed. From box to truck in 5 minutes! Simply square up cover to your bed, secure clamps, & hit the road. Comes completely assembled with no drilling required, and is backed by a limited lifetime guarantee
Check out Customer Reviews & Ratings 
Key Features
Made for 2019 – 2022 Dodge Ram 1500 5′ 7″ Bed (67.4″)
Excellent protection against all weather conditions
Completely assembled in the box
Easy lock handles
Ready to install in minutes with no tools required
Constructed with heavy-duty and strong aluminum top panels with textured surfaces
Mounting clamps are the part of cover itself so no misplacing!
Tri-fold design for easy operation
Attractive appearance also increases the gas mileage
Specifications
| | |
| --- | --- |
| Brand | Lund |
| Price | Moderate |
| Installation | Install in Minutes |
| Maintenance | Easy |
| Material | Heavy-Duty Aluminum |
---
If you are looking for a secure tonneau cover without the weight of fiberglass or the bulk of particle board tonneau, TonnoPro HardFold has the answer.
With the optimum safety level the TonnoPro Hard Folding cover made of durable aluminum metal panels with a marine grade vinyl covering.
The Tonneau cover is made to withstand weight rating of 350 lbs (evenly distributed).
Don't worry about your cargo to coming out from your truck as when closed the TonnoPro HardFold Hard folding tonneau cover becomes a vault.
Once you lock your tailgate it will be totally secure from most break-ins.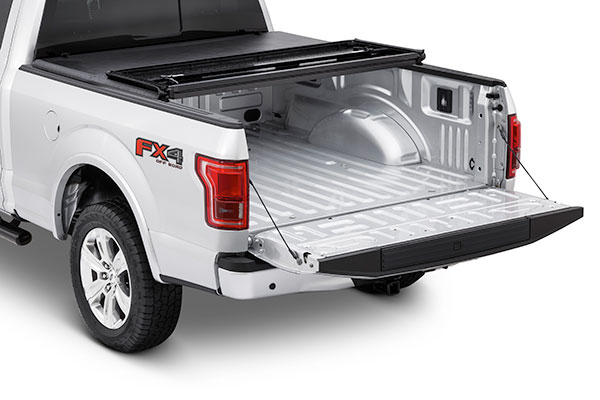 There is nothing to assemble, just take it out of the box and mount it on your truck- you can install it in minutes!
And whenever you want to use your truck bed, either fold back the HardFold or easily remove it in less than a minute. With the E–Z clamping system—no tools and no drilling is required.
You can also improve fuel economy of your truck as it reduces wind drag and enhanced fuel economy.
Made to fit the 2002-2022+ Dodge Ram 1500/2500/3500  this tonneau cover is backed by limited lifetime factory warranty.
This truck bed cover will last the life of your truck.
Check out Customer Reviews & Ratings
Key Features
Made to fit the 2002-2022+ Dodge RAM 1500/ 2500/ 3500
Provides complete security & Safety to your cargo and to your bed
Made of durable aluminum metal panels with a marine grade vinyl covering.
When closed converts your bed into vault
E–Z clamping system—no tools, no drilling
Folds open along leak–proof hinges for fast cargo access
Reduces wind drag for enhanced fuel efficiency
Install in minutes
Comes with lifetime limited factory warranty
Specifications
| | |
| --- | --- |
| Brand | TonnoPro |
| Price | Low to Moderate |
| Installation | 40-45 Mins |
| Maintenance | Easy |
| Material | ABS Plastic and aircraft grade aluminum |
---
Hit the road with LEER Hard Quad-Fold  Tonneau Cover to achieve ultimate protection to your payload. With its Quad-fold design and attractive appearance , it gives you safer and secure ride by protecting your cargo without slowing you down.
This is one of the most finest and premium cover in the list with all features that a perfect tonneau cover requires. The reason to put it on 3 place is the price. These covers are bit expensive than other.
Comes in Matte Black color the hard Quad-Fold style tonneau cover made with lightweight, durable, dent-resistant panels made of fiberglass reinforced plastic polymer that does not allow the water to be accumulated on the top and gives you complete weather resistance.
Made from premium quality fiberglass ,the top panels can carry weight rating up to 450 lbs (evenly distributed) and can resist scuff and dents.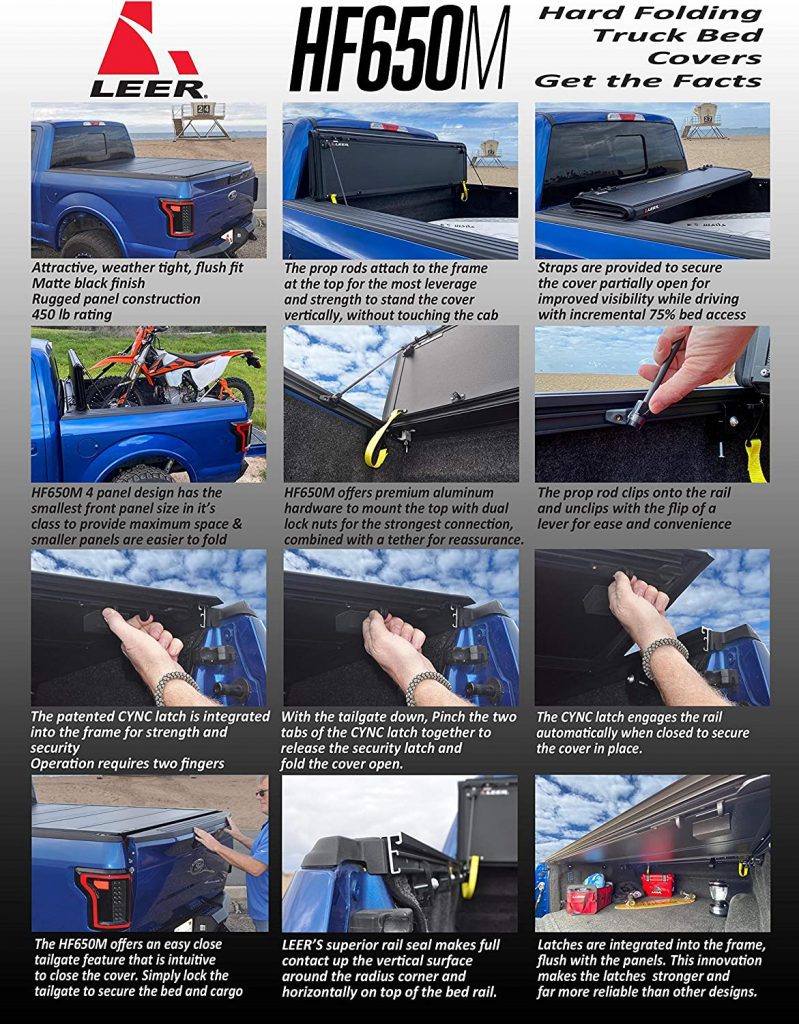 The folding cover comes with 12MM low-profile design with thinner rails, allowing for a true flush mount and more cargo space inside the bed.
It is one of the most durable, weather-resistant cover that is engineered to provide high quality reliability and performance.
The Leer covers are especially designed to save aditional space and for that they have designed it such a way that it does not requires a separate drain channel, allowing more space for your cargo.
With an easy and fast installation process, the HF650M comes with the tools and instructions to install your tonneau and allows you to install in 2 simple stepls just Intall rails, , Install Clamps and place over.
The HF650M from LEER comes with a 3-Year Limited Warranty.
Check out customer reviews & Ratings.
Key Features
Made for 2019-2022+ Dodge Ram 5.7 Ft Short bed
Constructed with premium fiberglass material
Prevents water to accumulated on the top
Scuff and Dent Resistant
Can withstand weight up to 450+ lbs
Sleek, 12MM low-profile design with thinner rails
Easy to fold from front and back- allow to use full truck bed
Lightweight design permits easy removal and installation with no drilling and tools required
Specifications
| | |
| --- | --- |
| Brand | LEER |
| Price | High |
| Installation | 20-25 Mins |
| Maintenance | Easy |
| Material | Fiberglass |
---
Safeguard your cargo and valuables from the outside weather and thieves with the top rated Bak BakFlip G2 Truck bed cover.
From its sleek contemporary styling to its state of the art function, the BAKFlip G2 hard folding truck bed cover is sure to impress the most ardent critic.
The BakFlip G2 tonneau cover is available for most domestic and imported pickup trucks.
If you're in the market for a solid, robust, impact resistant, all season truck bed cover that performs as well as it looks, the BakFlip hard folding tonneau is built for you.
The BackFlip hard tonneau cover has Black Scratch and UV resistant ABS panes for providing unbeatable protection to your cargo against the fast winds and UV rays.
The innovative BAKFlip G2 cover folds all the way forward and up against the truck's rear cab (rear window) giving you access to all of your truck bed without removing the cover.
All Panels flip open in the same direction to reveal 100% of the bed if desired
The BAKFlip is built from extremely tough, scratch resistant UV-Protected and comes revolutionary "living hinge" system that ensures water resistance.
The BAKFlip is also easily removable with 2 fastening knobs and weighs only 40 lbs!
Moreover The BAKFlip does not interfere with stakehole pockets on your truck, so it works perfectly with side rails, headache racks, tie downs, overhead truck racks, etc.
Differnce between bakflip G2 and Bakflip MX4
You can also check Bak industries BAKFLIP MX4 for Dodge RAM 1500 that comes with premium matte finish and gives up to 400lbs weight rating.
You don't have to drilling for installation as it comes with entirely clamp on installation.
Check out Customer Reviews & Ratings
Key features
BackFlip G2 Hard Tonneau Cover is custom built to fit ALL Dodge RAM 1500 (66.75 inch) truck bed models
Next Generation tonneau cover for ultimate protection
Black scratch and UV resistant ABS panels
Provides instant access to your entire truck bed
Easily removable with just 2 fastening knobs
Weight only 40 lbs
Built from extremely tough, scratch resistant UV protected laminate panels
Revolutionary ' living hinge' system ensures water resistance
Panels automatically latch to both sides of the truck bed
Clamp on installation. No drilling required!
Specifications
| | |
| --- | --- |
| Brand | Bak Industries |
| Price | Moderate to high |
| Installation | Clamp on Installation take less than an hour |
| Maintenance | Easy |
| Material | High grade metal panels |
---
Wait for the #1 position is over  as with the unbeatable protection against thieves , weather and any foreign particle -the Gator FX Hard Quad-Fold Tonneau Cover stands at #1 position in our list of best hard tonneau covers for Dodge Ram 1500.
If you're not aware about Gator then let me tell you Gator is well known brand that offers best in class products and customer service. Gator offers high class truck bed covers that protects your valuables from being damaged.
You don't have to compromise when choosing a tonneau cover for your truck as the Gator Fx hard encompasses the best features of different types of covers.
The Gator Fx Hard Quad-fold Tonneau Cover is one of the most unique folding covers on the market.
Panel made from the Light yet strong aluminium provides a very durable exterior surface and the light weight makes its operation easy.
The Aluminum panels are extremely impact resistant and can also resist scuff and dents. The quality finish will last for years.
Looks attractive with its low profile design and impressive gross black color.
The cover mounts inside of the bed rails for a very sleek look. A Flush two-panel design enhances the style of your truck.
You don't need to worry about your cargo whenever the tailgate is locked as it becomes the vault and secure the contents of your bed safely.
The lightweight panels make it easy to open and close the cover. With one flip, you have access to half of your bed. Prop the cover up with the prop rod and access the rest of your bed
Coming to the box- it comes with rails , no drill clamps , drain tubes and instructions manual.
No drill clamps allow you the easy installation without drilling or any special tools required.It comes with 4 years extended warranty.
Check out Customer Reviews & Ratings
Key Features
Made for Dodge Ram 1500 (2009+ – till Latest) 5.7 ft Bed w/o RamBox
Unique Quad-fold Tonneau cover in the market
Contracted from high quality light yet strong aluminium
Panels are extremely durable and impact resistant
Low profile design and gross black color make it attractive
Increases fuel economy by reducing wind drag
Completely secure your cargo from outside weather and from other particles
Easy to open and close
No Drill Clamps!
Easy Installation without any drilling or special tools required
Specifications
| | |
| --- | --- |
| Brand | Gator |
| Price | Moderate to high |
| Installation | Clamp on Installation take less than an hour |
| Maintenance | Easy |
| Material | High grade Aluminum panels |
---
Frequent Asked Questions about Hard Tonneau covers for Dodge RAM 1500
Is hard tonneau cover worth it for Ram 1500?
Ans. There is no doubt that hard tonneau covers are way better than soft tonneau covers. While hard tonneau covers are expensive but they have much more benefits than any traditional soft cover. Worth every penny, these can last long , give ultimate protection , gives impressive looks and multiple other benefits. So, the Answer is yes, hard tonneau covers are worth to buy.
How do you measure a RAM 1500 Truck bed?
Ans. It is easy to measure a RAM 1500 bed with 3 simple steps
STEP 1 : Place your measuring tape at the bulkhead of your RAM truck bed.
STEP 2 : Moving along your bed rail, extend the measuring tape to the inside edge of the top of your tailgate. Record the measurement in inches.
STEP 3: Divide the number of inches by 12 to determine the length of your truck bed in feet. Your bed length is the number of feet and residual inches (i.e. 5'8″) For instance if it comes out to be 67 inches then divide it by 12 to make it 5 feet 7 inches.
Does hard tonneau covers keep water out from your bed?
Ans. There are multiple premium options in the market that claims to give complete waterproofing, but there will always be some space left around the hinges alongside the cab or through the openings around the tailgate, where few drops of water might come. So, no tonneau is perfectly watertight. Be ready to experience little or no amount of water. But if you're getting premium tonneau covers by spending thousands of dollars then that will definitely enhance the chances of getting less water into thr truck.
How much does hard tonneau cover cost for pickup trucks ?
Ans. Tonneau covers basically comes in different price options depending on the type of cover you're buying. For instance, soft tonneau covers are less expensive whereas hard tonneau covers are sometimes double the cost of soft covers. You can expect range of tonneau covers with prices as low as $200 up to $2,000 for premium options. On average, you can expect to pay about $500 for some of the better options with necessary features for your truck.
There are some premium tonneau covers also available in the market that can costs around as high as $3000 like electric powered retractable tonneau covers that comes with all premium features and ultimate level of protection with automatic operation.
How much time it will take to install a tonneau cover?
Ans. Usually it takes around 35-45 minutes to install a tonneau cover, depending upon the material – where soft covers are easy to install and takes less time whereas on the other hand, hard tonneau covers will take sometimes an hour to install if you're installing it first time.
Do tonneau covers increase gas mileage?
Ans Tonneau covers improve your gas mileage by sealing your pickup truck bed from this airflow, which improves the aerodynamics. A tonneau cover will help reduce aerodynamic drag and can improve gas mileage. It will cover your truck into vault and your bed will generate less air drag as compared to open bed as showing in the pic below. This will increase your mileage by around 5%, some vehicles area also able to save even 10%.
Can you go on a carwash with hard tonneau cover installed on it?
Ans. While there is safe to get wash while having hard tonneau cover installed on it but you can also keep in mind with which material hard cover is made of.  A hard-top tonneau made of fiberglass or hard plastic should be able to go through a car wash without causing any damage. If your tonneau is painted, you may want to go through a touchless car wash so as to not scrape the finish.
What material is a tonneau cover made from?
Ans. Tonneau covers mostly comes in 5 different materials (hard tonneau covers are mostly made from sturdy aluminum panels with a polymer top surface or with fiberglass also.)
Fiberglass: Most expensive and sturdy tonneau cover with tones of features
Vinyl: Softer and most popular one
Aluminum: Lightweight but tough, aluminum will keep your bed safe and secure. Easy to use and highly effective.
Plastic / ABS: Molded plastic and ABS tonneau covers are extremely tough and weather resistant, while lightweight and easy to move around. It is stronger and durable than vinyl. However, vinyl covers are more flexible and sound proof.
Canvas: Cheaper and lightweight for occasional use
What are some popular Hard tonneau covers available in the market?
Ans . There are multiple brands in the market but there are some most popular brand that you can definitely have a look.
Gator Tonneau covers: Overall best with reasonable price and best overall protection
BAK industry Tonneau covers: Best protection with ultimate list of hard rolling covers
Truxedo: best waterproof covers and affordable prices
Tonno Pro : They provide best tri-fold covers in tight budget
Rock N roll: Best Retractable tonneau covers with good price range
LEER tonneau covers : Premium one with ultimate level of protection (comes in every type)
---
Conclusion for Best hard tonneau covers for Ram 1500
We hope you enjoyed the article Top 5 Most Durable Hard Tonneau Covers for Dodge Ram 1500 for Ultimate Security to its entire bits.
We do hope that this article helped you in making a definitive choice when it comes to choosing an Best and affordable tonneau cover for your Dodge Ram 1500 Truck.
If it really helped you,We'll be glad if you could share this article on social media services like Google+,Twitter,linkedin,Stumple Upon and Facebook using the Sharing buttons on the Top and End of this articles.
If you have any query Feel free to add you thoughts in the comment section below.
We'll happy to know your views.Do expect a quick reply.
Stay tunned for more updates.Thank You.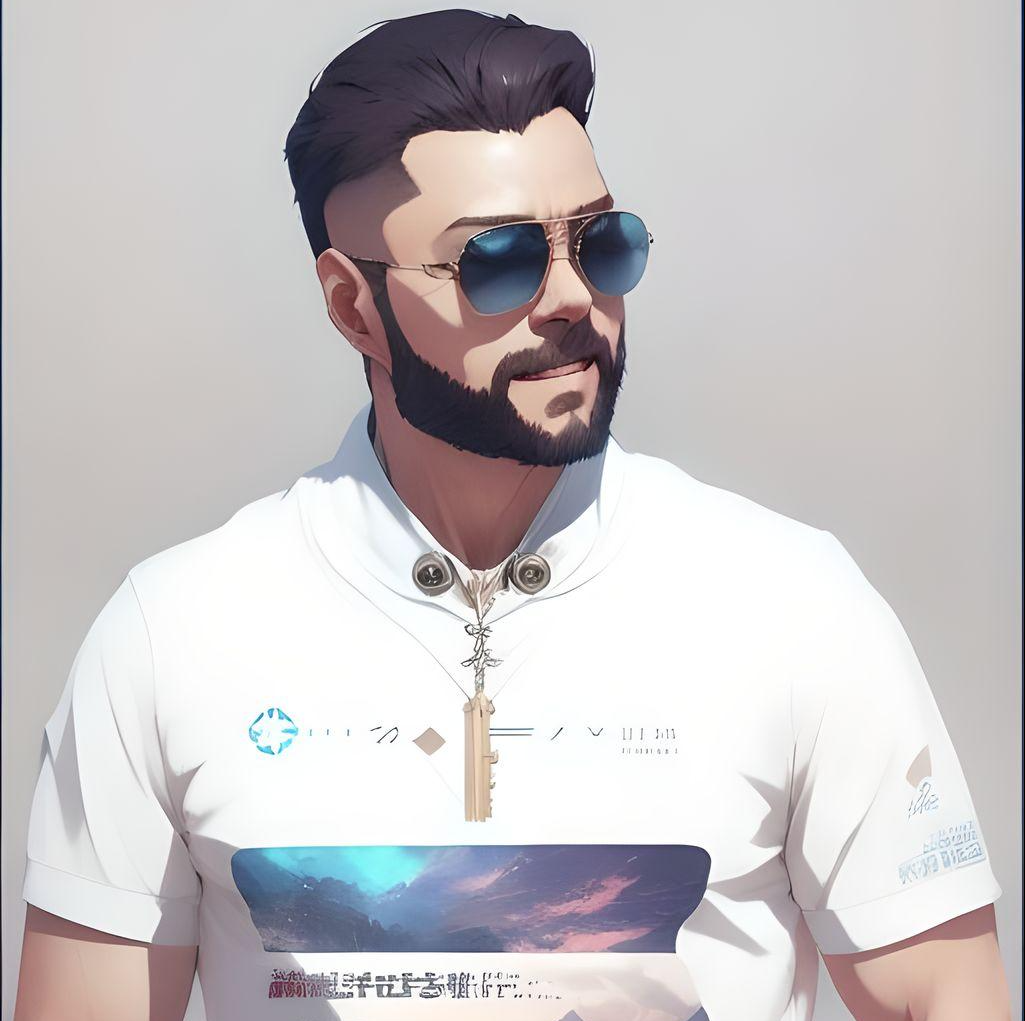 Vicky Dwaj, Founder and CEO of TrucksEnthusiasts ,  is an automobile engineer passionate about pickup trucks and accessories. Follow his journey to discover the latest trends in off-road accessories, cars, and truck parts.