Choose Best Retractable Tonneau Cover for Toyota Tundra From 3 Best Top Listed Covers
Are you are proud owner of Toyota Tundra and looking for some total security for your Beast?
If yes!
Then you landed at right place!
This article will help you in choosing the best Retractable Tonneau Cover for your Toyota Tundra.
Here in this article We listed the Best Retractable bed Covers for Toyota Tundra but if you're looking for Best Hard Tonneau Covers Then must read our last article.
Anyways, Coming back to Retractable Bed cover- These are strongest cover of all and offer hard-cover protection with easy –open convenience.
Sleep and Stylish, they give your truck an attractive and impressive appearance.
So if you're looking for total security , complete toughness and ultimate style then there is no better option then Retractable Tonneau Covers.
These covers open and close in seconds, while offering sturdy protection with their durable construction and built-in locks.
And, each cover offers you the convenience of smart latching options that allow you to keep your bed open at various positions for partial to full bed access.
What more you need!!
So cover your Truck with Retractable Tonneau Cover and make your valuables more secure.
Now Coming back to Toyota Tundra- here in this article we listed top 3 Best Retractable Tonneau Covers for your Toyota Tundra that gives the ultimate Security along with stylish looks.
Without wasting more time let us Move towards our list of 3 best Retractable Tonneau Covers for Toyota Tudnra for Ultimate protection.
Here we go!

If you're not aware about Gator then let me tell you Gator is well known brand that offers best in class products and customer service. Gator offers high class truck bed covers that protects your valuables from being damaged.
You don't have to compromise when choosing a tonneau cover for your truck as the Gator Trax Retractable MX encompasses the best features of different types of covers.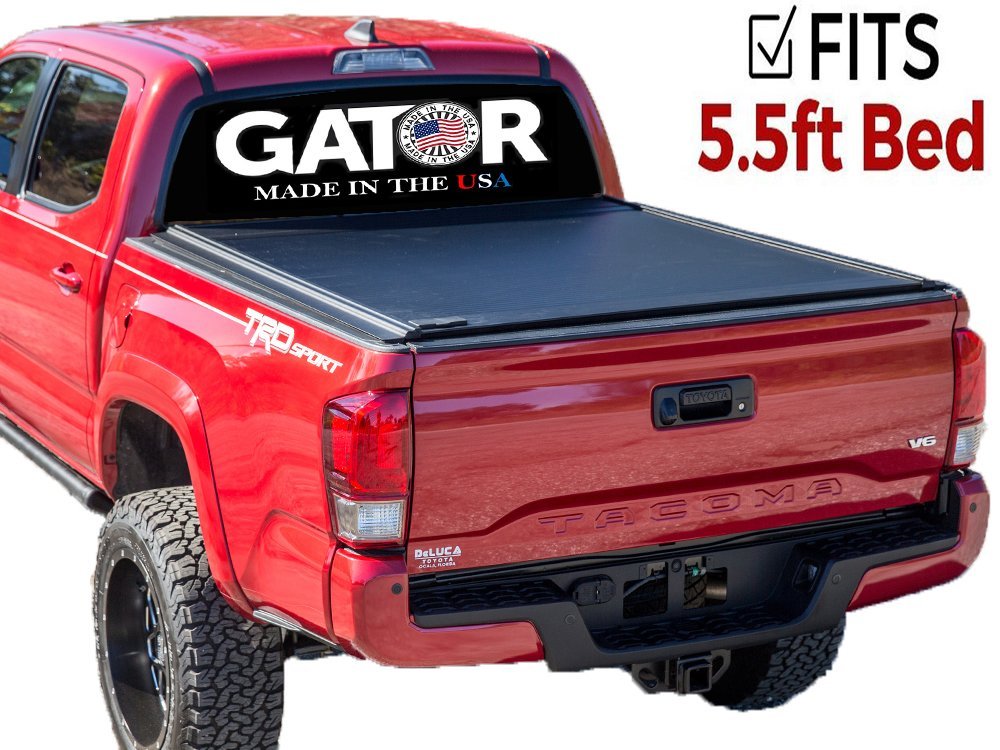 Made from Industrial strength heavy-duty aluminum the Gator MX can have load capacity more than 500 pounds.
It is one of the most durable cover you've ever seen and the top strongest cover in our list!
The GatorTrax MX cover is powder coated with a durable matte black finish which basically enhances its look.
Thanks to its exclusive use of ball-bearing that prevents the cover from binding when opening or closing it. Moreover the cover rolls up in canister without contacting itself so there will be no wear and tear over its lifetime cycle.
Time to good bye to old jammed bearings as Gator Trax MX rolls over the sealed ball bearing mounted on the rails which means you don't have to remember to lubricate the bearing.
The GatorTrax MX cover locked at any position where ever you want to lock it .
Being UV protected it will never fade and does not require any maintenance. It also improve mileage by up to 10%.
The attractive low profile design make it look more attractive. The cover comes with limited lifetime warranty.
Check out Customer Reviews & Ratings
Key Features
Custom fit to 2007-2018 Toyota Tundra 5.5 FT. Bed
Bed Incredible Strong and easy to use
Combines industrial strength aluminum construction with an incredibly resilient matte finish.
Low-profile design enhances the appearance of your truck.
Unlimited hauling flexibility and convenient use with a fifth-wheel trailer
Secures your valuable cargo or stays open whenever and wherever you need it
UV protected
Improve Mileage up to 10%
Limited Lifetime Warranty
---
Lock down you cargo with the strong Roll-N-Lock –Series Black Retractable locking Tonneau cover.
This cover has everything you need- from its retractable function to its rigid construction the Roll-N-Lock M series hybrid offers everything other covers do not.
Made from High grade vinyl-over aluminum laminated construction the Roll-N-Lock offers immense strength to your bed.
Thanks to its compact housing and flush handle for providing maximum storage space in your bed while draining water out of the housing unit of your Roll-N-Lock.
The hybrid M-series open and close in seconds with no effort.
Moreover it comes with built-in tailgate lock with key-slot cover that prevent its locking mechanism to being stuck. So no need to buy separate tailgate lock !!

So you don't need to worry about thieves as its patented locking system provide you complete protection and security.
With the strength of hard cover and feel of soft cover it gives you more and more durability day after day.
The bed cover comes with special finger insulator grip that protects your fingertips from getting burned when its hot outside. So no more burning!!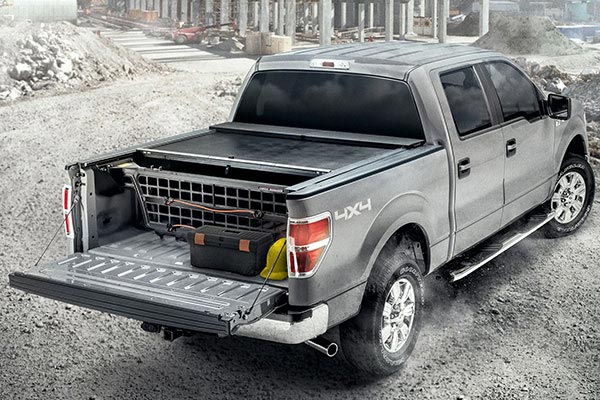 Being the most reliable cover the cover is equipped with heavy-duty torsion spring drive that housed in a 3" aluminum reel ensuring years of reliability.
Installation is also easy as it comes with clamp on installation so you just need to put the clamps and that's it !
Check out Customer Reviews & Ratings
Key Features
Custom fit for Toyota Tundra
Made with friction-less and Unique vinyl-over-aluminum laminated construction
Easy Clamp on Installation
Comes with patented ratchet-style locking mechanism latches in place at ¼, ½, ¾ or fully closed positions
M-Series features multiple latching positions, finger insulator grip and key-slot cover
Easy opening and Closing of Cover
Built-In Tailgate Lock and Four-Point Locking for complete security
Most Durable and Reliable with Heavy-Duty torsion spring
---
Conclusion
We do hope that this article helped you in making a definitive choice when it comes to choosing an Best and affordable tonneau cover for your Toyota Tundra.
If it really helped you,we'll be glad if you could share this article on social media services like Google+,Twitter,linkedin,Stumple Upon and Facebook using the Sharing buttons on the Top and End of this articles.
If you have any query Feel free to add you thoughts in the comment section below.
We'll happy to know your views.Do expect a quick reply.
Stay tunned for more updates.Thank You.