AF Dynamic Cold Air Filter intake Systems| Reviews & Ratings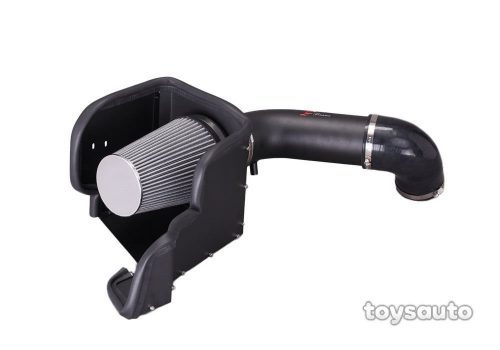 AF Dynamic Cold Air Filter intake Systems| Reviews & Ratings
Great Look
Sounds Awesome
Most reliable product
Best Buy for Buck
Boost up the flow rate of your intake system with the AF Dynamic Cold Air Filter intake system- more flow rate means more combustion and hence more power.
AF Dynamic Cold Air Intake kit replaces OEM filter and air box with 100% new quality parts.
Design
The kit comes with high-flow air filter and aluminium heatshield with insulation mat.The intake kit not only increases power, but will also provide better engine response compared to your restrictive stock air intake box.
The included reflective insulation mat material, when added to the heatshield, further reduces intake temperatures and heat soak from the engine bay.
Installed in just 30 minutes with simple hand tools – the setup requires no drilling, cutting or any other fabrication.
The Cold Air Intake System comes complete with everything necessary for installation, including comprehensive step by step instructions.
Performance
The AF Dynamic Air Intake system basically helps engine to more efficiently draw in colder air with its high flow air filter (washable and reusable) that results in better throttle response and consistently higher horsepower output.
Not only this it can improves up to 95% filtration efficiency over OEM paper filters.
With the impressive increase of 5 to 10 horsepower, 6 to 8 percent torque and more MPGs the AF dynamic uses only top quality stainless steel button head bolts , washers , locknuts and band clamps to ensure maximum quality.
The AF Dynamic Air Intake kit gives your engine a intense sporty sound.
Inside the Box
Coming to the box it comes with High flow Air Filter (Washable and reusable) , black powder Aluminum pipe and Heat shield , Reflective Aluminum Heat shield Mat material, 4 ply silicone coupler, 4 ply Silicone Elbow and silicone Vacuum Hoses.
Comes with All necessary hardware and installation instruction it's better ifyou install itby taking help of professional.
The kit comes with 60 days factory warranty.
Made For: 2009-2016 Ram 1500/2500 Pickup 5.7L V8
Replaces OEM filter and air box with 100% new quality parts
Washable and reusable filter
High Quality silicone coupler, elbow and hoses
Works with Original Equipment Manufacturer System
Helps Engine to draw more colder air
Increases Horsepower again of 5 to 10 HP
Torque gain of 6 to 8 percent and more MPGs
60 days factory warranty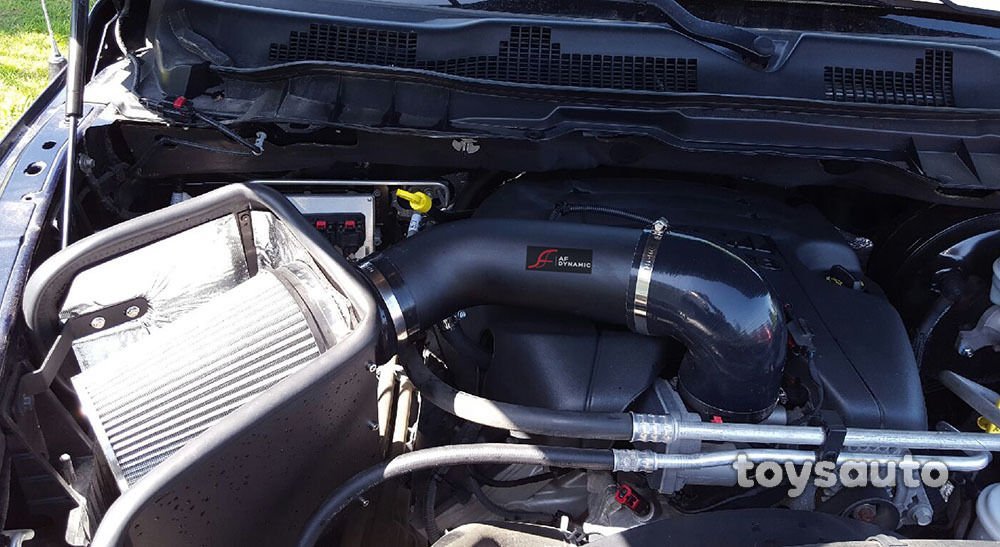 Great Product
Great Product...It is a great product for Dodge Ram Reble 4x4 hemi and it was a quick install and gives best sound with increase in performance
PROS
Great Look
Sounds Awesome
Most reliable product
Best Buy for Buck
CONS
Professional Installations Required
Not proper instruction manual
Cold Air Intake System comes complete with everything necessary for installation
Color: Black
Material: Replaces OEM Filter And Air Box With 100% New Quality Parts. Uses Only Top-Quality Stainless Steel Button Head Bolts, Washers, Locknuts and Band Clamps and High Quality Silicone Coupler, Elbow and Hoses "Not Cheap Rubber"
Function: Helps Engine To More Efficiently Draw In Colder Air, Resulting In Better Throttle Response And Consistently Higher Horsepower Output. Improves Up To 95% Filtration Efficiency Over OEM Paper Filters. Increases Of 5 To 10 Horsepower, 6 To 8 Percent of Torque, And Improved Gas Mileage of Your Vehicle. Intense Deep Sporty Sound
Installation & Warranty: Professional Installation Is Highly Recommended. 60 days Factory Warranty. Works With Original Equipment Manufacturer Computer Systems